Home | Contents | Photos | News | Reviews | Store | Forum | ICI | Educators | Fans | Contests | Help | FAQ | Info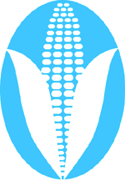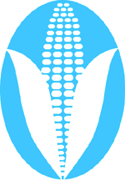 Comic Books Featuring Indians
Compiled by Todd Tamanend Clark and Rob Schmidt
(11/21/00)
---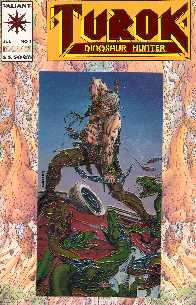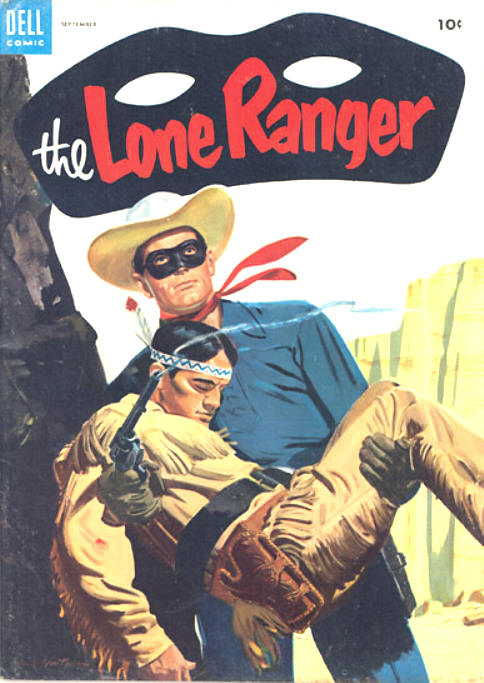 The concept of superheroes is not a new idea within Native cultures. For thousands of years, the oral traditions of these cultures has talked about beings with the power to create the universe, steal the sun, survive cataclysms, slay monsters, control the elements, and generally help humanity.

From the earliest dime-store novels to SCALPED, published in 2007, the media has portrayed Indians as savage heathens, noble redmen, mystical shamans, or simpleminded sidekicks. In recent years, the savage has become an angry military veteran or ruthless anti-hero, while the mystic has become a preternaturally wise elder or eco-warrior.

This stereotype-filled picture is changing as Native artists and tribes create comics not only to raise awareness of the problems they face, but to promote the positive aspects of their cultures. These tales use Native beliefs and traditions to help understand and celebrate what it means to be indigenous in the 21st century.

Adapted from "American Indian Super Heroes: Stereotypes & Realities" by Twig Johnson in Reflecting Culture: The Evolution of American Comic Book Super Heroes
*****
Natives have appeared in comics since the beginning. They've evolved over time: from types to individuals to modern individuals to complex individuals to a few characters who are fully realized people. But the more things change, the more they remain the same. The two main stereotypes—Indians as savage warriors and Indians as mystic shamans—are still common in comics.
Someone could write a book on the subject...and someone has. Native Americans in Comic Books by Michael Sheyahshe (Caddo), published in 2008, is an excellent source of information on the title subject.
The following is a list of comic books starring Native American or related characters.
Golden Age comics
A-1 Comics [issues featuring White Indian, Straight Arrow's Fury]
All-Star Western [Super-Chief]
American Graphics #1 [The Maid of the Mist, The Last of the Eries (Indian Legends of Niagara)]
Apache
Apache Kid
Apache Trail
Big Chief Wahoo
The Chief [becomes Indian Chief]
Chief Crazy Horse
Chief Victorio's Apache Massacre
Fighting Indians of the Wild West!
Firehair: White Daughter of the Sioux
Geronimo
Indian Braves
Indian Chief [White Eagle]
Indian Warriors
Indians
Indians of the Wild West
Indians on the Warpath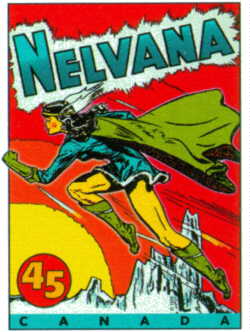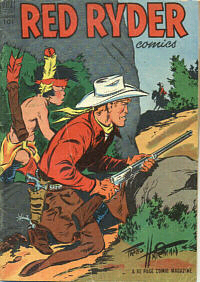 Lone Eagle
The Lone Ranger and Tonto
The Lone Ranger's Companion: Tonto
Midget Comics (Fighting Indian Stories)
Picture Parade #3 [Adventures of the Lost One (The American Indian)]
Redskin
Red Warrior
Straight Arrow
Tex Willer
Triumph Adventure Comics [Nelvana of the Northern Lights]
Triumph Comics [Nelvana of the Northern Lights]
Turok, Son of Stone
Warpath
Wendigo
Western Comics [Pow-Wow Smith]
White Chief of the Pawnee Indians
White Indian

Commentary on Indians in Golden Age comics
Apaches' Little Beaver celebration
Rick Masters and Twin Eagle
"Maid of Mist" comic
Princess Moki Hantas
Giant robot Indian!
All about Turok
Tintin in Redskin City
Western Comic Books [Pow-Wow Smith, Super-Chief]
The Winner of Western Comics [Pow-Wow Smith] (scroll to bottom)

Silver, Bronze, and Modern Age comics
The Adventures of Browser and Sequoia
Adventures of the Jaguar
Along the Canadian
Amazon Woman
Animal Man
Apache Dick
Arak, Son of Thunder
Arizona: A Simple Horror
Arizona: Wild at Heart
Arsenal
Aztec Ace
Aztec of the City
Aztek: The Ultimate Man
Battle Gods: Warriors of the Chaak
Besiin
BloodFang
BraveStarr in 3D
Broken Bow
Buddy Longway
The Butcher
Captain Gravity
Celui-que-est-né-deux-fois
C'eyiige' Hwnax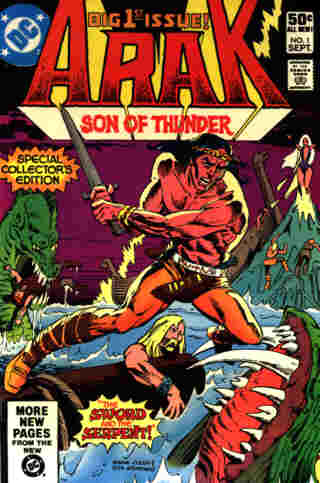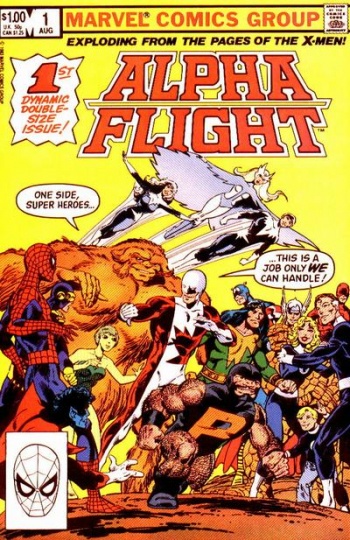 Chickasaw Adventures
The Chosen
The Chosen One: Legend of the Raven
Cloverleaf
Coyote
Dances with Demons
Dan Red Eagle Comics
Darkness Calls
Desperadoes: Buffalo Dreams
Dreams of Looking Up
Everwinds
Fala
Famous Indian Tribes
Firehair [in Showcase and Tomahawk]
Gen13: Medicine Song
Ghostdancing
Ghost Rider
Green Arrow
Gunpowder Girl and the Outlaw Squaw
Hawkman
A Hero's Voice
An Invited Threat
The Jaguar
Jaguar God
Jeffrey Nodelman's The Fourth Horseman
Jonah Hex
Just a Story
Koda the Warrior
The Last of the Mohicans
The Lone Ranger [Dynamite Comics]
The Lost Colony Book 2: The Red Menace
Love and Rockets
Luba
Luuna
March of Comics [issues featuring Indian Chief]
Marvel Spotlight #1 [Red Wolf]
Marvel Westerns: Western Legends
Muktuk Wolfsbreath
Northwest Passage
The Occult Files of Dr. Spektor [Indian assistant Lakota]
Omega Flight
On the Turn
Ozark
Path of a Warrior
Peace Party
Plasma Baby
Psi-Force
The Raven
Redlaw: Comanche Bounty Hunter
Red Prophet: Tales of Alvin Maker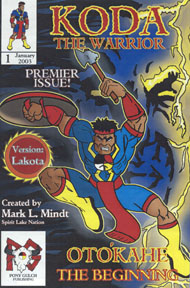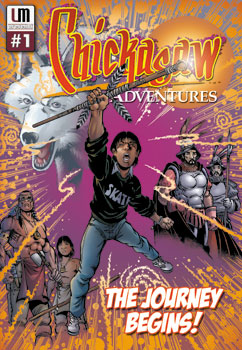 Red Raven: Lore of the Time Before
Red Wolf
Relentless Pursuit
Ripclaw
Ripclaw [volume 2]
Ripclaw Pilot Season
Rocking Raven
Sacred Circles
Saguarrior
Scalped
Scout
Scout: War Shaman
Shaman's Tears
She-Hulk: Ceremony
Silverback
Silverheels
Skinwalker
Snowman: Dead and Dying
Snowman: Flurries
Snowman: Horror Show
Snowman: 1944
Snowman: Squared
Spirit & Image
Stan Lee's Wonder Woman
Standing Together
Street Wolf
Strong Man
Super Shamou
Tales of the Beanworld
Tales of the Cherokee
Timespirits
Tobias
Tohubohu
Tomahawk
Tongue-Lash
Totem: Sign of the Wardog
Tribal Force
Tsaani
Turok
Turok: Dinosaur Hunter
Turok: The Hunted
Turok: The Empty Souls
Underground
Untold Tales of the New Universe: D.P. 7
Vengeance of the Aztecs
Wa-Tan-Peh
War Dancer
Warlace
The West Was Lost
Wilde Knight
Wild Stars
Yakari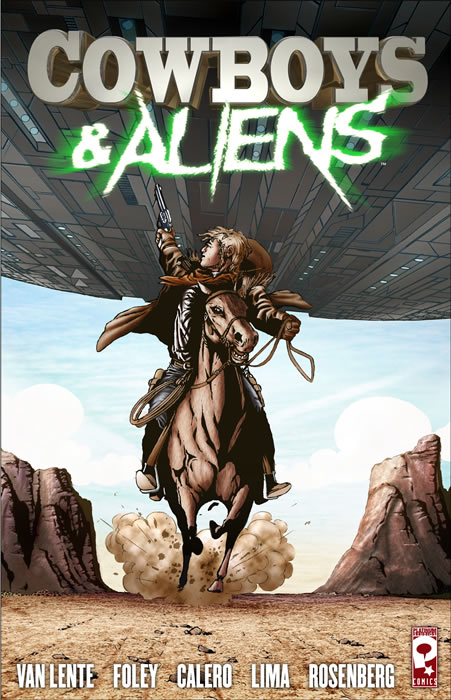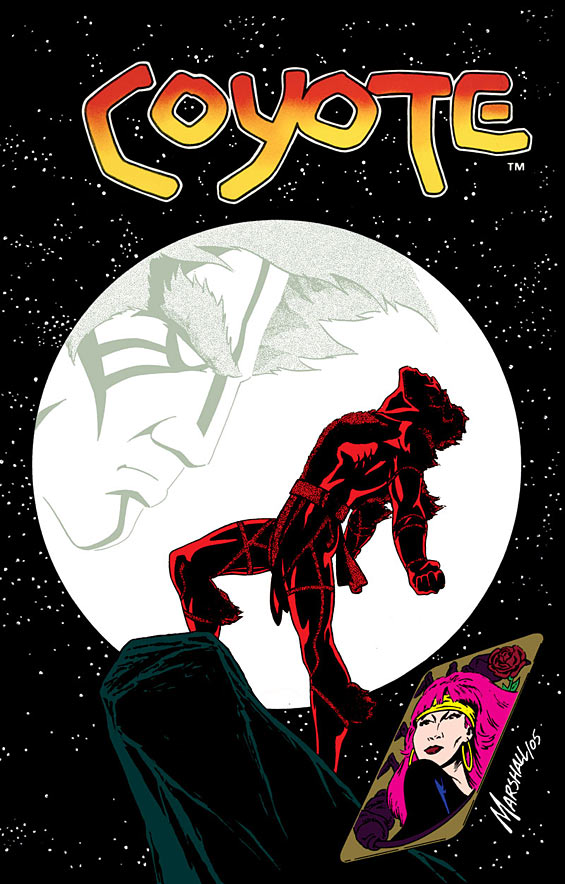 Graphic novels, trade paperbacks, and similar works
Alvar Mayor: Death and Silver
Batman: Shaman
Blueberry: The Ghost Tribe
Comanche Moon
Cowboys & Aliens
Dance Me Outside
Dead West
Echo: Vision Quest
From the Creators of Cowboys & Aliens: Worlds at War
Geronimo: The Last Apache Warrior
Green Lantern: Legacy
The Hero Twins: Against the Lords of Death: a Mayan Myth
I Am Coyote
The Illustrated History of the Chippewas of Nawash
Indian Lover: Sam Houston & the Cherokees
Indian Summer
Jefferson's Lewis & Clark Expedition: Heroes Unlimited
Lakota: An Illustrated History
Last Voyage of the Black Ship
The Lone Ranger
The Lone Ranger and Tonto
Lucifer: Devil in the Gateway
Native Heart
New Mutants: The Demon Bear Saga
Predator: Big Game
Rabbit and Bear Paws
Raven's Children
Rocking Raven: A LOUSY Tale
Scout: The Four Monsters
Scout: Mount Fire
Screaming Eagle
Secret of San Saba
Sitting Bull: The Life of a Lakota Chief
Snowman
Tale of Two Shamans
Tana's Secret World
Tecumseh!
Trickster
Wilderness: The True Story of Simon Girty
Worlds at War: Prelude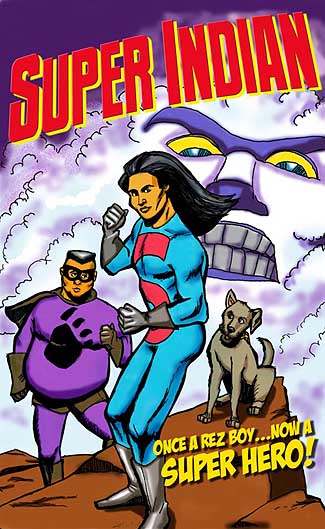 Commentary on Indians in modern comics
Hawk, Son of Tomahawk
Aztecs in AIR comic
2009 Eiteljorg comics event
Preview of FALA
Wolverine trailer
BUTCHER not a butcher?
Firehair, Joshua Brand, and Turok
Native steampunk Web comic
"(Not So) Funny Books"
CALIBER to become a movie?
A pop/native/comic-book collision
Boo-boo in LAST OF THE MOHICANS
Boo-boo in OMEGA FLIGHT
3rd SCALPED volume = masterpiece
Pueblos receive vote-stealing comics
Top five Native heroes
Manitou the Marvel god
Forge in the cartoons
Tracker Kwinn in GI JOE
Man-Thing the Native shaman
Chandler Hayes's Native heroes
Fala in Wonderland
Indian maiden in PISTOLFIST
Andrea Grant's MINX
Making progress on SUPER INDIAN
Rainmaker the environmentalist
Lewis and Clark graphic novel
A look at LIVING CORPSE #3
Dawnstar on GirlWonder.org
Red Raven the Western villain
Red Raven the Native hero
American Eagle triumphant
American Eagle reborn
Background on American Eagle
Preview of HELLCAT mini-series
Sheyahshe interviews Alvitre
Another look at CALIBER #1
Preview of A GATHERING OF NATIONS
Jason Garcia's Tewa Tales
Thoughts on an exhibition
Captain Thunder's Indian powers
Preview of MARVEL ADVENTURES SPIDER-MAN #42
Comic-book look at American empire
Yakari videos
Which Turok was the best?
King Arthur in the American West
Preview of DC's FINAL CRISIS
Indigenous comic art
Hummingbird fights fire
Irene Bedard as Jean DeWolff
Luuna coming to America
The scoop on TRICKSTER
ALL-STAR WESTERN #117
Chief Thunder in KILLER INSTINCT
Gory STREETS OF GLORY
TRICKSTER anthology in the works
Creating the "Super Indian" comic
My comics collection (2007)
The new, improved Dawnstar
Dawnstar returns
Comanche saves Bat Lash
Odjick on ON THE TURN
Review of PS 238
The origin of Tom Kalmaku
Grendel vs. Argent
Review of "Super Indian"
Silver Arrow
New low in Native comics
Review of JONAH HEX #23
Derib's Indian comics
Ryan Huna Smith at the Smoki
Native comic spurs lifelong interest
Derib's Indian comics
Bram Stoker's Indian comic
Captain America meets Geronimo
Comics taught about Indians
Fastest comics in the West
Punisher trained by Indian
"Super Indian" on the Web
Puma joins MODOK's 11
Review of THE KENTS
Review of Chickaloon comics
Review of CHIPPEWAS OF NAWASH
Chickaloon comics
Chippewa graphic novel
Review of LOIS LANE #110
Review of OMEGA FLIGHT #2
The Museum of Amexican History
Making comics more multicultural
Van Camp on aboriginal comics
Virginia Tech, Indians, and comics
Belgians like Indian comics
Compliment from Layla Lawlor
Black Crow to replace Captain America?
The trouble with comic books
All about Night Eagle
Loren Javier's favorites
Update on DARKNESS CALLS
The latest on DARKNESS CALLS
DESPERADOES: BUFFALO DREAMS #2
Mohicans in Marvel's future
Talisman to return
Diversity in comics--or not
The changing face of comics
Tlingit comic book debuts
More on NFL SUPERPRO #6
Worst Native comic ever?
Preview of THE RAVEN
Review of DESPERADOES: BUFFALO DREAMS
Reactions to Furey article
What publishers are saying
Major article on comic-book Indians
Reviews of RED PROPHET
Book to look for
Koda is back
Black Condor kicks ass
Completing the NORTHWEST PASSAGE
Black Condor takes off
SCOUT is out
Super-Chief lives
Rainmaker returns
Sham of a SHAMAN
Clarification on COMANCHE MOON
Natives in the military...comics
The pottery-comics connection
Eagle Free in PREZ
Western legends feature Indians
D.P. 7: Displaced paranormals vs. dead people Geronimo, the graphic novel
Hottest squaw since Pocahontas?
Ranting about Manitou Raven
Echo of the Cheyenne
The Indian-comic book connection
The Living Totem: From the sublime to the ridiculous
Tiki the Super-Shaman
Thunderbird the Shaman
X-MEN marks the spot
Thunderbird in the comics
Wingfooting it with Wyatt
Thunderbird in the cartoons
Thoughts on the San Diego Comic-Con 2000+
The future of comics
Indian Comics Irregular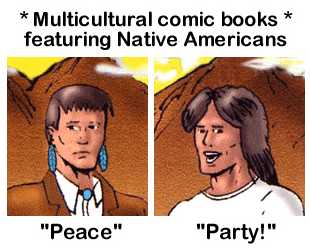 News about PEACE PARTY and Blue Corn Comics
Twitter about Blue Corn Comics
Thoughts on an exhibition
Montclair = one of 10 best
My banner ad
Wrapping up my trip
Rob on the screen
Photos of New Jersey
Comics program well received
Report on New Jersey
An evening of Native comics
New PEACE PARTY interview
The PEACE PARTY skateboards
Rob at the Montclair
Free files for you
My audio commentaries
Violence and PEACE PARTY
My PEACE PARTY video
Indian comics in Montclair exhibit
My documentary debut
Summing up the Eiteljorg event
Pix of my trip to Indianapolis
My PowerPoint presentations
Rob in Indianapolis
Blue Corn Comics at the Eiteljorg
PEACE PARTY and human rights
PEACE PARTY in the Author's Forum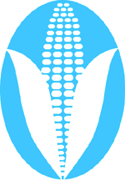 Criteria for inclusion
This list includes comics featuring Native characters in a starring role. It also includes comics with lead characters who are part Native, or who are imbued with Native culture or values—even if they're not, strictly speaking, Native American. It doesn't include comics with Native characters in supporting or team roles.
Disclaimer
Please note that some of these media productions may contain stereotypes, cultural inaccuracies, or other content that we don't necessarily approve of. In any case, we've included them here for research purposes.
Recommendations
The following are among Rob's recommendations for serious fans of Indian and indigenous comics (in rough chronlogical order):
New Mutants: The Demon Bear Saga
Super Shamou
A Hero's Voice/Dreams of Looking Up
Comanche Moon
Ghostdancing
Muktuk Wolfsbreath
Lucifer: Devil in the Gateway
Native Heart
Relentless Pursuit
Tales of the Cherokee
Skinwalker
Cloverleaf
Sitting Bull: The Life of a Lakota Chief
Darkness Calls
Red Prophet: Tales of Alvin Maker
An Invited Threat

Buy a graphic novel
Click here to buy one of Rob's recommended graphic novels now!
*****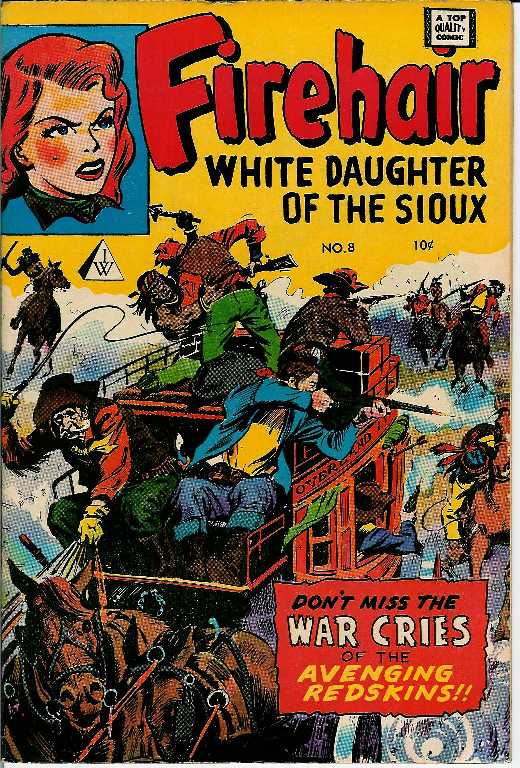 Gallery of Indians in comics
Selected images from the long history of Indians in comics:
Big Chief Wahoo
PSA in JACKPOT #8
Indians by Jimmy Thompson
RED RYDER COMICS
LITTLE BEAVER
Real American #1
Nelvana
Red Hawk (splash page)
Red Hawk (another page)
Mantoka, Maker of Indian Magic (page)
RANGERS COMICS #64
PIONEER WESTERN ROMANCES #6
FIREHAIR (page)
FIREHAIR #8
WHITE INDIAN #11
THE APACHE KID
INDIANS #1
INDIANS #5
TUROK, SON OF STONE #1
INDIAN CHIEF #30
Swift Deer makes a fool of himself in ALL STAR WESTERN #73 (Oct.-Nov. 1953)
RAWHIDE #22 (the Living Totem)
FANTASTIC FOUR #80
Tomazooma, the Death that Walks
AVENGERS #80
SHOWCASE #85 (Firehair)
TOMAHAWK #127
TOMAHAWK #137
TOMAHAWK #140
JOHNNY THUNDER #2
DOOM PATROL #117
OCCULT FILES of DR. SPEKTOR #2
ACTION #401
GREEN LANTERN #79
LOIS LANE #110
PREZ #2 featuring Eagle Free
Eagle Free (detail)
GIANT-SIZE X-MEN #1
UNCANNY X-MEN #95 (detail)
Thunderbird (detail)
Thunderbird (detail)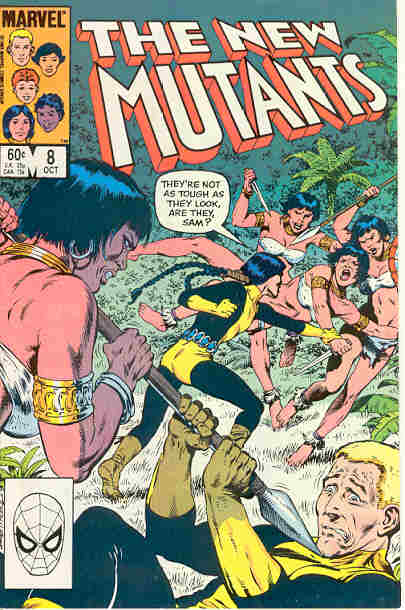 NEW MUTANTS #8
NEW MUTANTS #18
NEW MUTANTS #41
NEW MUTANTS: DEMON BEAR SAGA
Psyche (Dani Moonstar) (detail)
Moonstar (detail)
ARAK #1
ARAK #2
ARAK #3
ARAK #4
ALPHA FLIGHT #1
ALPHA FLIGHT #6
ALPHA FLIGHT #18
COYOTE (cover)
COYOTE (page #1)
COYOTE (page #2)
COYOTE (page #3)
COYOTE (page #4)
PSI-FORCE #1
BUTCHER #1
BUTCHER #2
BUTCHER #3
BUTCHER #4
SCOUT #19
SCOUT #20
SCOUT #21
SCOUT (detail)
SCOUT: THE FOUR MONSTERS
SHE-HULK: CEREMONY
SHAMAN'S TEARS #2
SHAMAN'S TEARS #3
SHAMAN'S TEARS #4
Manara's INDIAN SUMMER (detail)
COMANCHE MOON
WILD STARS #1
GEN13: MEDICINE SONG
Gen13's Rainmaker (detail)
Gen13's Rainmaker (detail)
Gen13's Rainmaker (detail)
RIPCLAW #3
TUROK, DINOSAUR HUNTER #1
Turok (detail)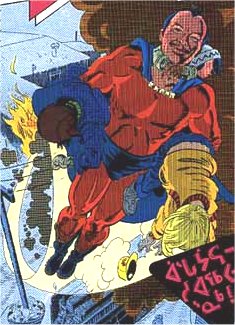 TUROK, DINOSAUR HUNTER #4
TUROK, DINOSAUR HUNTER #6
TUROK: THE EMPTY SOULS
HAWKMAN #1
Plainsman from TEAM TEJAS #1
THE CHIPPEWAS OF NAWASH, page 21
THE CHIPPEWAS OF NAWASH, page 22
THE CHIPPEWAS OF NAWASH, page 23
THE CHIPPEWAS OF NAWASH, page 24
AZTEK #1
A HERO'S VOICE
DREAMS OF LOOKING UP
DAN RED EAGLE #2 (detail)
DAN RED EAGLE #2 (detail)
DAN RED EAGLE #2 (detail)
"The True Path" religious tract (detail)
"The True Path" religious tract (detail)
"The True Path" religious tract (detail)
"The True Path" religious tract (detail)
SCREAMING EAGLE front and back cover
SCREAMING EAGLE (detail)
Detail of SUPER SHAMOU #1
Detail of TRIBAL FORCE #1
ARSENAL #4
Sequoia from THE ADVENTURES OF BROWSER AND SEQUOIA
PEACE PARTY #1
PEACE PARTY #2
Blue Corn Comics graphics
Keewazi reservation from FANTASTIC FOUR #25
Wyatt and Winona Wingfoot from FANTASTIC FOUR #25
Acrata (Mexican hero) from SUPERMAN ANNUAL 2000
WEIRD WESTERN TALES #4 (detail)
Stan Lee's Wonder Woman
LUCIFER #3
Taran from PETER PARKER: SPIDER-MAN 2001
TALES OF THE CHEROKEE #1
TALES OF THE CHEROKEE #2
John Proudstar as Shaman in EXILES #5
SKINWALKER #1
SPIRIT & IMAGE #1
SPIRIT & IMAGE #1 (detail)
KODA THE WARRIOR #1
Mark Mindt holding KODA THE WARRIOR #2
Maya Lopez—Echo
Manitou Raven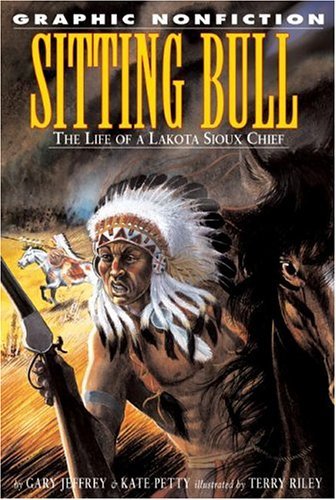 WILDE KNIGHT
TOBIAS by Jessica Moffett
CLOVERLEAF
Rocking Raven: A LOUSY Tale
CHICKASAW ADVENTURES #1
Sitting Bull: The Life of a Lakota Chief
Geronimo: The Last Apache Warrior
GUNPOWDER GIRL AND THE OUTLAW SQUAW
NORTHWEST PASSAGE #1
DARKNESS CALLS
Wesakichak from DARKNESS CALLS
RAVEN'S CHILDREN
MARVEL WESTERNS: WESTERN LEGENDS
The new Super-Chief from 52 #22
UNCLE SAM #3
Black Condor from UNCLE SAM #3
COWBOYS & ALIENS
SCALPED #1
Page from SCALPED #1
Image from SCALPED
RED PROPHET #1
DESPERADOES: BUFFALO DREAMS #1
THE RAVEN
STRONG MAN
OMEGA FLIGHT #1
THE LAST OF THE MOHICANS #1
Page from COWBOYS & ALIENS: WORLDS AT WAR
RIPCLAW PILOT SEASON #1
Jeffrey Nodelman's THE FOURTH HORSEMAN #1
The Lost Colony Book 2: The Red Menace
STREETS OF GLORY #4

More on Indians in comics
Native Americans in Comics
From Subhuman to Superhuman: Images of First Nations Peoples in Comic Books
Comic Book Images of American Indians Changing
Free downloads on Natives in comics
List of Native American superheroes
Super Native Americans list

Related links
Native comic strips vs. comic books
TV shows featuring Indians
The best Indian movies
The best Indian books

---
* More opinions *
| | | |
| --- | --- | --- |
| | . . . | |
---
Home | Contents | Photos | News | Reviews | Store | Forum | ICI | Educators | Fans | Contests | Help | FAQ | Info
All material © copyright its original owners, except where noted.
Original text and pictures © copyright 2007 by Robert Schmidt.
Copyrighted material is posted under the Fair Use provision of the Copyright Act,
which allows copying for nonprofit educational uses including criticism and commentary.
Comments sent to the publisher become the property of Blue Corn Comics
and may be used in other postings without permission.