Home | Contents | Photos | News | Reviews | Store | Forum | ICI | Educators | Fans | Contests | Help | FAQ | Info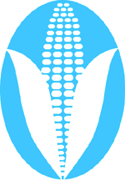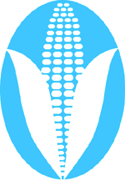 Q&A on TRICKSTER
(4/15/08)
---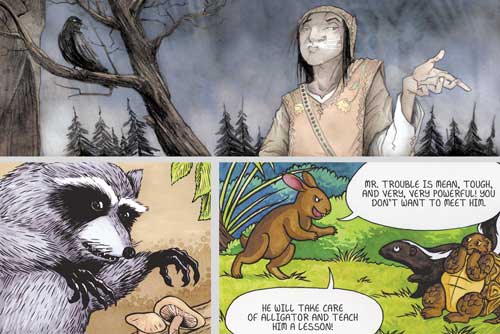 TRICKSTER is a graphic novel-style anthology of Native trickster tales created primarily by Native writers and artists. In an exclusive Q&A interview conducted by e-mail, writer/artist Matt Dembicki and publisher Christian Beranek give us the inside story on their project.
Let's start with a brief description: What is TRICKSTER?
MD: Trickster is a comics anthology, comprising more than 20 Native American trickster stories. Each story is written by a Native American storyteller and illustrated by a comics artist of the writer's choosing. The stories cover a range of trickster types—from the more well-know creatures, such as the rabbit and coyote, to less-known characters, such as raccoons and personified spirits such as Moshup—as well as types of American Indian tribes and geographic area.
What's your motivation for doing TRICKSTER? What objectives do you hope to achieve?
MD: The premise is to compile some wonderful Native American stories into one book so the general public can appreciate stories unknown to many of them and to renew a general understanding and appreciation of the Native American culture.
Where did the idea for this project come from?
MD: A few years ago, I picked up from a local library a copy of American Indian Trickster Tales (Myths and Legends) by Alfonso Ortiz and Richard Erodes. I really enjoyed the book, from the spot illustrations to the mythic stories, which ranged from cute to bawdy. I've always had an interest in fairy tales and similar culturally based stories where animals are personified. But I was never exposed to Native American stories. Schools and the American culture in general tend to focus on European-based stories. So to find something new, and something based on the indigenous people of this continent, was exciting. In fact, I wanted to draw some of the stories in comic book form, using different styles for different stories. But the more I thought about it, the more I wanted the book to have an authentic feel, so I decided to contact various Native American storytellers to write stories based on their tribe's or region's trickster. I also decided to seek out various artists to work on the project. I just had a gut feeling this would be something so fresh and appealing that I would have no problems finding illustrators—and I didn't.
How did the project proceed from initial concept to final product?
MD: I read Oritz's and Erodes's book about five years ago. As I mulled over how I might peruse a project using trickster animals and beings, I did more research, visiting the Museum of Indian Arts and Culture in Santa Fe, N.M., as well as the National Museum of the American Indian in Washington, D.C. I immersed myself in all aspects of the Native American culture, but focused on storytelling. I still wasn't sure how to proceed to how to contact prospective storytellers. Finally, in July 2007, after talking with Little Foot Comics publisher Christian Beranek about what could be a good next project for the all-ages small-press publisher, I decided to take the plunge. I began contacting storytellers, using various sources, from personal to community/tribe Web sites, to attending regional powwows and calling various museums, cultural centers, colleges—you name it. It was especially tough in the early going, as many storytellers either didn't have the time to participate or felt uneasy about being cold-called by someone they didn't know and not Native American. Luckily, I just had a graphic novel published through Little Foot, so I sent many of the storytellers a copy of the book, which seemed to easy their concerns. I think from that point, just a professional and courtesy approach smoothed the rest of it over. Regarding artists, it was extremely difficult to find Native American illustrators exclusively. I did manage to find a handful (such as Ryan Huna Smith, Dimi Macheras, Roy Boney, Rand Arrington), but I felt I had to broaden my pool of artists to complete the project. And I'm glad I did that because it turned out to be a wonderful educational and cultural experience for all the participating artists, including myself.
In terms of designing the book, I decided to go with a square look—9 inches by 9 inches—instead of the standard size comic or graphic novel, which is about 6 inches by 10 inches. Although it's a graphic novel/comic, it's more than that. It's something special that I hope transcends to the mainstream, to as many young kids and adults as possible.
Currently, the artists are illustrating the stories. About half are complete, with the remainder to be finished by the end of April.
What are the backgrounds and roles of Matt Dembicki, Christian Beranek, and any others involved in publishing TRICKSTER?
MD: I do comics on the side. (With two little kids—three years old and three months old—I've had to focus on fewer projects.) I mainly self-publish my work, but I have had my comics published by others, from small press endeavors to large publishing firms. In 2007, Little Foot Comics published a graphic novel about nature I did with my wife called Mr. Big. It won the 2007 Howard E. Day Memorial Award and received an honorable mention at the 2007 New York Book Festival. Last year, I also had a short story in the comics anthology Postcards, which was published by Random House. In addition, I run many kids' workshops on making comics, typically at libraries and schools. Last year I held a session at the International Children's Festival in Washington, D.C.
CB: I broke into comics as a publisher, running Silent Devil for many years. When that wound down and I switched my focus to writing and development I still had the passion to put out books, so I formed Little Foot, a small press entity that focuses on all-ages material of an education value.
Who are the writers and artists involved? Tell us about them.
MD: There are more than 40 writers and artists involved in the project. They range from well-known authors and artists and researchers to little-known talents. In terms of storytellers, we have college professors, Native American advocates, professional storytellers, children's programs coordinators, etc. It's a wide array of people, coming from different perspectives. Same thing for the artists—some are professional, some are semi-pro, again from all parts of the country.
Here's the list of storytellers, their stories and the artist paired with them:
1) Joseph and James Bruchac, Abenaki (New York)—Matt Dembicki
"Azban and the Crayfish"
2) Tim Tingle, Choctaw (Texas)—Patrick Lewis
"Rabbit's Choctaw Tail Tale"
3) Sunny Dooley, Navajo (Arizona)—J. Chris Campbell
"Mai and the Cliff-Dwelling Birds"
4) Roy Wilson, Cowlitz (Washington)—Jim Coon
"The Dangerous Beaver"
5) Jimm GoodTracks, Ioway/Otoe (Kansas)—Dimi Macheras
"Ishjinki, the Trickster"
6) Joseph Stands With Many, Cherokee (North Carolina)—Jon Sperry
"How Wildcat Caught a Turkey"
7) Eldrena Douma, Laguna/Tewa/Hopi (Texas)—Roy Boney
"Horned Toad Lady and Coyote"
8) Gene Tagaban (Alaska)—Ryan Huna Smith
"Box of Daylight"
9) Joyce Bear, Creek (Oklahoma)—Megan
"How the Alligator Got His Brown Skin"
10) John Bear Mitchell (Maine)—Jeff Benham
"Espun and Grandfather"
11) Tom Cummings, (Hawaii)—Paul Zdepski
"Puapualenalena, Wizard Dog of Waipi`o Valley"
12) Greg Rodgers (Texas)—Mike Short
"Giddy Up, Wolf"
13) Moses Jumper, Seminole (Florida)—Allen Freeman
"O-pa"
14) Beckee Garris, Catawba (South Carolina)—Mark McMurray
"The Yehasuri: The Little Wild Indians"
15) David Lee Smith, Winnebego (Nebraska)—-Jerry Carr
"Trickster and the Great Chief"
16) John Active, (Alaska)—Jason Copland
"Raven the Trickster"
17) Dayton Edmonds (Washington)—Micah Ferritor
"Coyote and the Pebbles"
18) Elaine Grinnell (Washington)—Michelle Silva
"Mink and Wolf"
19) Eirik Thorsgard (Oregon)—Rand Arrington
"When Coyote Decided to Get Married"
20) Jonathan Perry (Massachusetts)—Chris Piers
"Moshup's Bridge"
21) Michael Thompson (Arizona)—Mark Mandolia
"Rabbit and the Tug of War"
22) Jack Gladstone (Montana)—Evan Keeling
"The Bear Who Stole the Chinook"
I'd be more than happy to provide contact information to anyone, should you wish to chat with them about the project.
What are the stories they're working on? Can you tell us a little about each story?
MD: The titles above give you an idea of the types of stories. I'm hesitant to give more details at this moment. I'm kinda superstitious and want to keep the details under lid until the book is published.
How did you find these writers and artists?
MD: As I mentioned above, I found them at an array of places. The interesting part was some of the reactions I received. Some people were accommodating, some weren't, saying I had no right to do this. But most people saw the cultural value in the project. Having a few key storytellers on board early on (particularly Joseph Bruchac and Tim Tingle) definitely helped secure more participants. With the artists, it was a little different. I contacted some well-known and respected artists in the indie comics field. Some had full schedules and couldn't commit to a new project, but they usually gave me five or so people they new—mostly younger folks—who I should contact. (Jeff Smith, Nick Bertozzi and Jim Rugg were especially helpful.) So the book has artists who are veteran cartoonists as well as people who are fresh out of art school.
What special challenges or responsibilities are there for non-Natives working on a Native project?
MD: Not too many. There are some cultural sensitivity issues, which often vary among tribes and individuals. To make sure the writers and artists were on the same path, the writer selected the artist they wanted to work with, based on drawing samples. Then, before delving into illustrating, the artist sent the writer thumbnail sketches of the stories to make sure they were to their liking. At this point the writer would clarify a few things, such as the setting (the fauna, geography, etc.), clothes, etc. The open communication between the artist and writer is meant to overcome any discrepancies.
CB: For me, the challenge is to present the material in the best way possible. Thankfully Matt is an incredible editor and is doing quite the job. In terms of responsibilities involved in the project, the key is to respect the various tribes and their histories. We are honored so many storytellers want to take part in the book—we hope this will be viewed as an important tome for these tales.
Have you consulted with the people who originated these stories? If so, what do they think of your effort?
MD: To ensure an authentic feel, I sought storytellers who are enrolled members of their tribes. Most of the stories are retelling of tribal stories passed on between generations. In those instances, most of the storytellers received permission from their tribal elders or board of directors to participate in the project. In most cases, the elders felt it was a good way to preserve their stories and culture and to convey it to the public at large.
A number of stories in the book are original material, though based on tribal legends. For example, Jack Gladstone's "When the Bear Stole the Chinook" is a song written, composed and performed by Jack. Artist Evan Keeling is working from Jack's lyrics to the story. And Moses Jumper's "O-pa" is a poem he wrote about the owl.
Where are you now in the process? When can we expect to see TRICKSTER?
MD: Currently, the artists are finishing up the stories. About half are done. The rest should be completed by the end of April/early May. The plan is to premiere the book in September at a major comic book convention in Baltimore. We're trying to organize a panel discussion on the project at the event, bringing in storytellers and artists who participated. Since the Smithsonian's National Museum of the American Indian in Washington, D.C. is so close, we're going to try to have an event there as well that same week.
What are your plans to sell and distribute TRICKSTER?
CB: We have an excellent literary agent and there are many large publishers interested in publishing and distributing the book. Little Foot has a nice reputation, but we'll need a partner to help get this into as many hands as possible.
More on TRICKSTER
TRICKSTER cover
Response to TRICKSTER article
My TRICKSTER article

Related links
Comic books featuring Indians

---
* More opinions *
| | | |
| --- | --- | --- |
| | . . . | |
---
Home | Contents | Photos | News | Reviews | Store | Forum | ICI | Educators | Fans | Contests | Help | FAQ | Info
All material © copyright its original owners, except where noted.
Original text and pictures © copyright 2008 by Robert Schmidt.
Copyrighted material is posted under the Fair Use provision of the Copyright Act,
which allows copying for nonprofit educational uses including criticism and commentary.
Comments sent to the publisher become the property of Blue Corn Comics
and may be used in other postings without permission.