Home | Contents | Photos | News | Reviews | Store | Forum | ICI | Educators | Fans | Contests | Help | FAQ | Info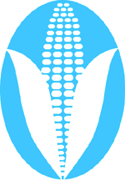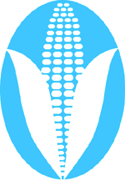 Black Condor Takes Off
(11/21/06)
---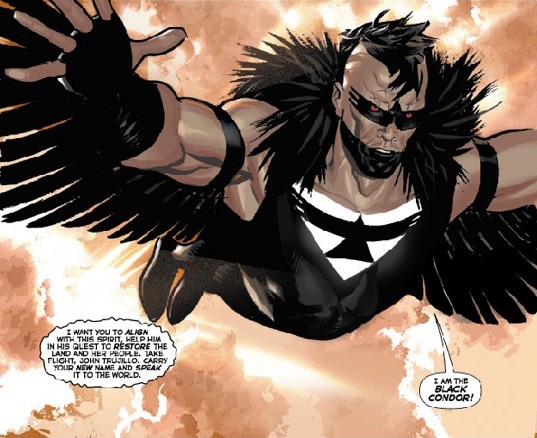 The recent UNCLE SAM AND THE FREEDOM FIGHTERS #3 comic introduced a third version of the minor superhero Black Condor. Last time he may have been a Native, but this time he definitely is.
The story opens with a nice retelling of the Navajos' Long Walk. It culminates with a young man climbing the wall of Canyon de Chelly, getting powers from "Tocotl the Spider-Woman," and becoming the original Black Condor. Cut to the present where another young Navajo, John Trujillo, does the same thing with the same results.
In Previewing UNCLE SAM AND THE FREEDOM FIGHTERS #3... you can read the five-page sequence introducing the Black Condor and see some early design sketches for him. In Recent Comics I Have Read, Hale of Angelthorne had this to say about the comic:
It's apparently Native American Superhero Revival Month at DC. I must say, though, Black Condor is considerably better-presented than (sigh) "Super-Chief." For one thing, Jimmy Palmiotti actually did his homework on the Navajo and grounded the origin in real history (The Long Walk; nice touch having Jonah Hex there, btw, though I always thought he fought for the Confederacy) and actual beliefs (the Spider-Woman). Of course, all Native American heroes have to have a magical/mythological origin (just as nearly all of them have to be either Navajo or Cheyenne) because there are no Indian scientists who might fall into a vat of radioactive chemicals or get bitten by a genetically-engineered wombat.
Good points, but the premise and character have several problems:
According to the comic-book version of the Long Walk, condors carried the souls of dead Navajos back to their homeland. I've never heard condors even mentioned in Navajo lore before. Like the Alaskan bat legend in BATMAN: SHAMAN, I believe this is a fabrication of Native lore. If so, real Navajos might find it offensive.
The story implies that all or most Navajos come from Canyon de Chelly, as if that's their homeland. Actually, Canyon de Chelly is only one small part of the vast Navajo reservation.
The Navajos' Spider Woman is named Na ashje'ii 'AsdzŠŠ, according to one website, not Tocotl. Tocotl sounds like it comes from Nahautl or some other Mesoamerican language.

There appears to be one posting on the Web referring to a Maya Spider God named Tocotl. Even if this reference is real, it has no connection to the Navajo deity. The Navajos came from Canada, not from Mexico.

In the Navajo cosmology, Spider Woman is primarily responsible for introducing weaving. From what I understand, she's not the kind of deity who would create a champion to save the world.
John Trujillo, the new Black Condor, looks like a standard brawny buck with long flowing hair.
Giving the Condor a Latino last name (rather than the standard Wingfoot/Proudstar/Strongbow/Lionheart/Rainmaker type of moniker) is a good touch. But giving him a simple, strong first name like "John" is almost another cliché.
Black Condor's costume is decent but his (transformed) face doesn't look Navajo to me. Rather, with his partly shaved head and painted face, he looks like the typical Pawnee villain.
In short, the Black Condor is nothing special in the pantheon of Native superheroes. He has a thin veneer of authenticity, but it crumbles if you look at it closely. If his origin was attributed to a genuine and appropriate Navajo deity rather than "Tocotl the Spider Woman," I would've liked him more.
In any case, this series isn't interesting enough for me to keep reading. No doubt we'll learn more about the new Black Condor eventually.
Related links
Comic books featuring Indians

---
* More opinions *
| | | |
| --- | --- | --- |
| | . . . | |
---
Home | Contents | Photos | News | Reviews | Store | Forum | ICI | Educators | Fans | Contests | Help | FAQ | Info
All material © copyright its original owners, except where noted.
Original text and pictures © copyright 2007 by Robert Schmidt.
Copyrighted material is posted under the Fair Use provision of the Copyright Act,
which allows copying for nonprofit educational uses including criticism and commentary.
Comments sent to the publisher become the property of Blue Corn Comics
and may be used in other postings without permission.