Home | Contents | Photos | News | Reviews | Store | Forum | ICI | Educators | Fans | Contests | Help | FAQ | Info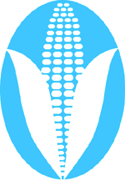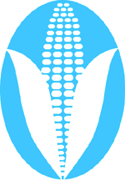 Brotherly Love, American Style
(9/18/01)
---
Continuing the analysis of the 9/11/01 terrorist attack on America....
Proving their time-honored belief in life, liberty, and the pursuit of happiness, Americans quickly began demonizing not only Islamic fundamentalists, but also Arab Americans and other dark-skinned but model citizens. From the LA Times, 9/14/01:
Arab-Americans Threatened, Attacked

By DEBORAH KONG, AP Minority Issues Writer

Tears welled up in Mohammad Kasmaei's eyes as he recounted the angry telephone calls that keep pouring into his Ali Baba Restaurant in Anaheim, Calif.

"You can't stay in the U.S.," was one message. Another caller simply reeled off bitter obscenities.

"I am an American citizen," the Iranian-born Kasmaei said Thursday, his voice despairing. "I'm very sorry right now."

While Kasmaei said he felt as deeply for the victims of Tuesday's terrorist attacks as he would for his own family, he and other Muslims and people of Middle Eastern heritage were increasingly being hounded by an angry public looking for someone to blame.

Twelve hours after the attacks in New York and Washington, a 40-year-old man allegedly stormed into a Seattle mosque and threatened to burn it down. He was arrested for malicious harassment.

Late Thursday, the city's Islamic community was rocked again when an armed man was arrested after allegedly trying to set fire to a mosque in Seattle's north end, police said. The mosque escaped damage, and the 53-year-old man was listed in satisfactory condition early Friday.

A mosque in Denton, Texas, was firebombed and another in Lynnwood, Wash., was splattered with black paint this week. Police in Bridgeview, Ill., turned back 300 people as they tried to march on a mosque.

In Laramie, Wyo., a woman and her children were chased from a Wal-Mart by angry shoppers.

"The people who screamed in her face wanted her to go back to her country," said Khaled Ksaibati, the faculty adviser for the Muslim Student Association at the University of Wyoming. "This is her country. She was born here."

Renee Hamel, 15, of Berlin, Conn., said in the wake of the attacks, her faith has become an obstacle to making friends.

"I'm afraid to tell people that I'm Muslim because I'm afraid they'll think negatively about me," she said.

Political leaders across the country called on people not to blame innocent Americans for Tuesday's deadly attacks on the World Trade Center and Pentagon. But often their admonitions were ignored.

"We should not hold one who is a Muslim responsible for an act of terror," President Bush said Thursday.

California Gov. Gray Davis asked people to avoid "finger-pointing and scapegoating," while Salt Lake City Mayor Rocky Anderson urged residents to be rational.

"The acts of 50 fanatics and lunatics should not be held against one group," Anderson said.

A day after the attacks, three teen-agers hurled a skateboard through the window of the Sinbad Ranch market, one of many Arab-American businesses in Anaheim. Police caught them and their parents apologized.

In Fair Haven, Mich., the windows of Mazen Mislmanion's family service station were shot up by vandals Wednesday night.

"It's like we did it or something," said Mislmanion, who planned to donate blood this week. "People are swearing at me."

The threats and swears also were directed at Islamic centers all around the country.

"You will all die" and "Get out of this country" were among the ones left on an answering machine at an Islamic center in Bellevue, Wash.

In California's capital of Sacramento, home to about 25,000 Muslims, security was increased at mosques and Muslim leaders asked women not to go outside in their traditional black robes.

In Washington state, the Islamic School of Seattle suspended classes out of concern for students' safety.

The second half of the Arab Film Festival was canceled in Berkeley, Calif., out of sympathy for victims and concern for the safety of participants, said festival publicist Tracey Bigelow.

In Los Angeles, there were at least eight hate incidents following the attacks, including one in which police said a gun was put to a woman's face.

"We've been fighting an uphill battle," said Nasser Beydoun, director of the American Arab Chamber of Commerce. "A lot of people left their homelands to escape this violence."

In the midst of the backlash, pockets of compassion could still be found.

Churches in Seattle were offering safe havens and around-the-clock security to Muslims. In Wyoming, somebody left flowers at the door of the Islamic Center of Laramie with a letter that said no Americans should be singled out for hatred.

"For every one bad action we're probably seeing 20, 30 good actions," said Ksaibati of the University of Wyoming.

*****

IN THE SHADOW OF LIBERTY
Calm Urged as Muslims Face Threats

Backlash: From the capital to Anaheim, Arab Americans are the targets of slurs and hate calls. Many are keeping a low profile.

By ERIC SLATER and REBECCA TROUNSON, TIMES STAFF WRITERS

CHICAGO — As they have more than once in recent years, many Arab Americans and Muslims are lowering their profiles and locking their doors as vigilantes seek revenge for Tuesday's terrorist attacks.

Most of the incidents thus far have been limited to threatening phone calls, ethnic slurs and promises of mayhem sent via letters, notes and voice mail. In one case in Washington, D.C., a note wrapped around a brick was tossed through the window of an Islamic bookstore.

Some actions, however, have been even more menacing. Police in Gary, Ind.—an hour south of downtown Chicago—said they were investigating reports that a man in a ski mask had fired numerous rounds from a rifle into a glass-encased booth at a gas station. Inside was Hassan Awdah, a U.S. citizen born in Yemen.

In suburban Chicago, more than 300 people, mostly teenagers, gathered late Wednesday and early Thursday in a rowdy pro-U.S. rally that made its way to a nearby Islamic center—and quickly took on the feel of an anti-Arab gathering.

About 20 police agencies sent units to the scene, and three people were arrested on charges of disorderly conduct.

"I'm proud to be American, and I hate Arabs and I always have," said 19-year-old Colin Zaremba, who marched with the group in the suburb of Oak Lawn.

Leaders Nationwide Ask for Restraint

The incidents piled up Thursday, with Muslim schools from coast to coast closing their doors as a precaution.

There are 3.5 million Arab Americans. Leaders across the nation pleaded with Americans not to lump all Arabs with the extremists believed responsible for crashing planes into the World Trade Center and the Pentagon.

"Our nation must be mindful that there are thousands of Arab Americans who live in New York City who love their flag," President Bush said Thursday.

His father—who made enemies as well as friends in the Arab world during the Persian Gulf War against Iraq—seconded that plea. "We've got to be tolerant," former President Bush said. "We should be mindful that these were not the acts of all Muslims, who—like Christians and Jews—believe in a god of love and mercy. Rather, these were senseless murders, committed by religious extremists who kill out of hate."

As leaders spoke, however, the Arab American Institute in Washington was being guarded by district police and private security after a series of threats, said the group's president, James J. Zogby.

One of the threats was personal and was left on the answering machine, he said: "Jim, you towel-head, I'll slit your throat and kill your kids."

"The problem here is the assumption of collective guilt," Zogby said, "the assumption that all Muslims or all Arabs condone [terrorism.]"

In San Francisco, the Minority Assistance Service, which helps Muslims with immigration matters, received a death threat Thursday, as well as crank calls.

"He said, 'I am going to kill all of you,' " said Xequina Berber, a 48-year-old paralegal. Another caller "cursed Allah," she said.

The day before, police said, someone threw a plastic bag, apparently containing pig's blood, against the front door of the office. A man phoned just as the bag was tossed, saying: "Is this the Islamic community center?" Berber recalled. "There's a package for [Osama] bin Laden in front of the building."

Officials at the Garden Grove office of the American-Arab Anti-Discrimination Committee said they had received seven venomous calls since the attacks.

In one, a man, his voice shaking with rage, said any sympathy he once felt for Middle Easterners was gone. "I hope you all die and burn in hell," he screamed.

The group's regional director, Michel Shehadeh, said the calls have heightened the jitters already felt by his staff members—who clearly were aware of the chilling potential of racial hatred.

In 1985, the committee's executive director, Alex Odeh, was killed by a bomb attached to the door of the office, which was then in Santa Ana.
Comment: Bush should put on his thinking cap, if he has one. Barely a day after the terrorist attack, he called for a long-term war against enemies he hadn't even identified. He labeled our people good and those unknown people evil. He quoted the Bible and exclaimed "God bless America" to show what a devout Christian he is.
In light of that, forget his one or two sentences supporting Arab and Muslim Americans. The predominant message is: Americans and Christianity good, Arabs and Islam bad. Which isn't surprising since "Americans and Christianity good" has been his message since he stole the election.
Bush should think outside the box around his head, for once. If he wants to appeal to peace-loving people in the US and Arab world, try quoting the Koran rather than the Bible. Show he acknowledges Islam's validity.
The first "war" casualty
From the LA Times, 9/16/01:
ARIZONA
Sikh Man Dead in Suspected Hate Attack
By Hector Becerra

MESA, Ariz. — A gunman fatally shot the Sikh Indian owner of a convenience store Saturday and sprayed bullets at two other locations in the span of a few minutes, authorities said.

Mesa police are investigating the shootings as possible hate crimes because the targets may have been Muslims, said Mesa police Sgt. Mike Goulet.

The Sikh Indian was killed at a Chevron gas station parking lot at 7956 E. University Drive, Goulet said. No injuries were reported at the second shooting, about eight miles away, apparently directed at a Mobile gas station employee, he said. About 20 minutes later, a residence in the city was fired at, Goulet said. There were no injuries.

About 8 p.m. Saturday, a man was detained by police for questioning.

The gunman in each case was apparently driving a black Chevy ST pickup truck, Goulet said.
Here's more on businessman Balbir Singh Sodhi, the "war's" first casualty. From the LA Times, 9/22/01:
To his family, Sodhi is as much a victim as those who died in the air crashes. He represents, in a sense, collateral damage in America's new war on terrorism.

"He was killed because of his turban," Sodhi's brother, Harjit, said. "It is what people see on TV. They are confused."

Sodhi was checking on the new landscaping in front his business when he was killed. Police said Frank Roque, a 42-year-old Mesa machinist, opened fire with a .38-caliber handgun as he drove past in his pickup truck.

Roque drove to a Mobil station a few miles away and allegedly fired at a Lebanese American clerk. He missed. Then it was on to a home Roque once owned, where he blazed away again, this time barely missing an Afghan man who was coming out the front door, according to authorities.

Two hours later, Roque was arrested at his home. As he was led away, he shouted: "I stand for America all the way!"
Yep, he sure does. The only difference between Roque's killing of an innocent person who "resembles" the terrorists and Bush's killing of innocent Afghans who "resemble" the terrorists is that Roque pulled the trigger first. That makes him the fastest draw in the West...the "baddest" gunslinger in town.
Two days before Sodhi died, one regular customer noticed that he came to work without his turban, the first time she had seen him without it.

"He said he did it out of respect, as a sign he was in mourning for what happened to this country," said the woman, fighting back tears.

Roque didn't like what had happened to his country either. Shortly after the shooting rampage, he burst into Papillion's Too, a Mesa sports bar, and was pounding his fists on the bar.

"He was shouting, 'We're going to take back our country from the Arabs! We need to stand up and fight!' " said Dan McLellan, the bar's manager. Then Roque added, "They're investigating the murder of a turban head down the street."

The bartender wouldn't serve Roque, and tried to ease him out, then called the police.
America's revenge is underway! One towelhead down, many more to go!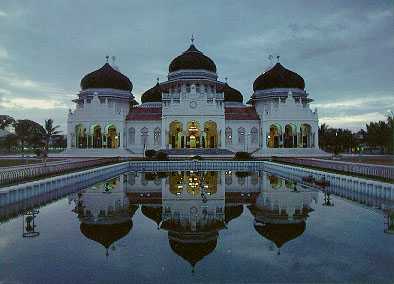 Americans unite...against other Americans
From the LA Times, 9/18/01:
AFTER THE ATTACK
Anti-Muslim Violence Up, Officials Say

Backlash: President Bush pleads for tolerance as the FBI investigates a surge in possible hate crimes.

By ERIC LICHTBLAU and JAMES GERSTENZANG, TIMES STAFF WRITERS

WASHINGTON — Even as President Bush visited a local mosque in a plea for tolerance toward Arab Americans, law enforcement officials Monday reported an alarming surge in violence and possible hate crimes against Muslims in the wake of last week's terrorist attacks.

The FBI is investigating more than 40 possible hate crimes since last week, including arsons, assaults and at least three slayings—including one in Southern California—that may have been driven by racial hatred, authorities said.

FBI Director Robert S. Mueller condemned what he called "vigilante attacks" and promised swift prosecution of those found responsible. But Islamic leaders suggested that the FBI has fueled the backlash against Arab Americans by detaining dozens of people of Middle Eastern heritage for questioning in its terrorist investigation, most of them on immigration charges unconnected to last week's hijackings. "There seems to be a 'round up the usual suspects' mentality out there" on the part of the FBI, said Ibrahim Hooper, a spokesman for the Council on American-Islamic Relations. "You've got a horrendous loss of life and property, and you've got heightened emotions bordering on hysteria because of it, and that's where this [wave of hate crimes] is coming from."

Bush sought to deliver a message of respect and tolerance for Arab Americans as he visited the Islamic Center of Washington on Monday for a 50-minute tour.

Removing his shoes as he entered the mosque out of respect for Muslim practice, Bush quoted from the Koran and highlighted Muslims' many contributions to American society as doctors, lawyers, professors, members of the military and entrepreneurs.

"They need to be treated with respect," Bush said, even as Americans grapple with the anger surrounding last week's attacks at the hands of 19 suspects with strong ties to the Middle East.

Describing terrorism as a perversion of the religion, Bush said, "That's not what Islam is all about. Islam is peace. These terrorists don't represent peace. They represent evil and war," and their violence "violates the fundamental tenets of the Islamic faith."

Bush offered accounts of Muslim women wearing traditional head coverings who have been afraid to go shopping or carry on their daily routines. "That should not and that will not stand in America," he said.

"Those who feel like they can intimidate our fellow citizens to take out their anger don't represent the best of America. They represent the worst of humankind, and they should be ashamed of that kind of behavior," the president said.

Among the possible hate crimes being investigated by authorities are the fatal shooting of an Indian immigrant gas station owner in Arizona on Saturday, as well as the fatal shooting the same day of a Pakistani Muslim grocer in Dallas.

In Phoenix, Maricopa County Dist. Atty. Rick Romley said Monday that the suspect in the Arizona killing targeted minorities in a shooting rampage that killed Balbir Singh Sodhi.

"Mr. Sodhi was killed for no other apparent reason than that he was dark-skinned and wore a turban," Romley said.

The suspect, a 42-year-old man who was jailed on $1-million bail on a murder charge, allegedly told police after the shooting: "I'm an American. Arrest me. Let those terrorists run wild."

In addition, authorities reversed course Monday and said they will now investigate whether the shooting death of an Egyptian man at the mom-and-pop store he owned in San Gabriel on Saturday was a hate crime. The Los Angeles County Sheriff's Department said initially that it thought the owner, Adel Karas, was killed in a robbery, but the FBI will now probe a possible racial motive.

Authorities nationwide have reported numerous other possible hate crimes in recent days, including assaults on individuals and attacks on Islamic-linked centers and shops.

On Sunday evening, an explosion from what was probably a cherry bomb on the sidewalk outside the Islamic Center of San Diego forced worshipers to evacuate the building during a prayer service, police said.

Meanwhile, a fire that destroyed much of an Afghan and Persian restaurant Monday in Encino may have been caused by an arsonist, but a Los Angeles police spokesman said, "There's no reason to believe this is a hatred incident."

However, the owner and the manager of the Restaurant Golestan said they had received several anonymous phone calls since Tuesday from people making anti-Afghan statements and threatening to burn down the building.

Civil rights advocates and Arab American groups have set up hotlines to track the violence. Hooper at the Council on American-Islamic Relations in Washington said he believes the wave of violence is much worse than authorities have acknowledged.

"We've had probably closer to 400 [hate crimes] than 40—everything from a child being taunted at school to someone being shot dead," Hooper said in an interview. "And from all the evidence, the attacks are intensifying."
Comment: Whew. I thought Bush was talking out of both sides of his mouth when he quoted from the Bible while warning against hating Muslims. But now he's ratcheted up the double-speak to new levels. While reading from the Koran and condemning attacks against Arab Americans, he vowed a "crusade" against "evil" and proclaimed, "Our nation is chosen by God and commissioned by history to be a model to the world."
Hello? Am I the only one who sees a grotesquely mixed message here? If our nation is a model for the world, why are we rushing to war abroad and threatening Arab Americans at home? If our nation was chosen by God, who chose the rest of the world for its people...Satan?
Most Muslims must shiver when they hear the world's most powerful Christian declaring a holy "crusade." Whether Bush realizes it or not, he's fomenting the very hate he decries. He may want to hire a communications specialist to teach him about his conscious and unconscious messages.
But I'm glad Dubya took me up on my suggestion to quote from the Koran. Surrounded by the "brightest" minds he could find, he came to this conclusion only three days after I thought of it by myself. If Bush needs an advisor who's more sensitive to America's ethnic tensions than the thousands of people he has on staff, I'm available.
As of 9/18/01, Americans have killed three Americans and zero terrorists in response to the 9/11 attacks. Keep up the good work, patriots!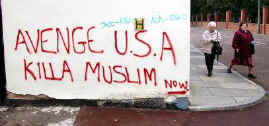 More physical attacks against Americans
A report on football player Audie Attar from the LA Times 9/20/01:
Like so many Americans, Audie Attar reacted in horror to last week's terrorist attacks. The UCLA linebacker grieves for the victims' families. He wants the terrorists held accountable.

Like so many Arab Americans, Attar fears that neighbors, classmates, maybe somebody in a car or on the street, will recognized his ethnicity or see the prominent Arabic tattoo on his shoulder that honors his dead brother and respond with rage.

A day after the attacks, a friend of Attar's mother was pulled out of her car in West Covina and beaten so badly she required hospitalization. Her crime: wearing a veil in the Muslim fashion.
And more:
Today I was witness to a sad and terrible act.

My good friend of more than 10 years was the random victim of a hate crime; her only fault was that she was of Iranian descent. A young man felt he had the right to take a baseball bat and hammer to smash in the car parked in her driveway. Little did he know or care that she runs a day care center (full of American children) and that she and her family are U.S. citizens, having lived here more than 20 years.

This family chose to leave Iran because they did not support the actions of the Iranian government, even though it meant leaving behind their relatives, home and life savings in order to pursue the American dream of freedom and happiness. They stand more for the American way than the person who chose to commit this heinous act. I beseech all Americans to stay united and not direct their sorrow and anger against other Americans.

Terry Saucier, letter, LA Times, 9/22/01
Psychological attacks against Americans
From the NY Times, 9/23/01:
Conflicts
Once Appalled by Race Profiling, Many Find Themselves Doing It

By SAM HOWE VERHOVEK

In interviews around the country, many people expressed revulsion at the spate of attacks on Muslims, as well as on Hindus and Sikhs, and the vandalism at mosques. Those interviewed spoke of national ideals of colorblindness — but in nearly the same breath they said that for the sake of national safety, the police should single out Arab-looking men for questioning.

Kathy Komlance, 43, who was wearing an American flag T-shirt as she worked at a taffy stand at the Mid-South Fair in Memphis, said she favored checking their credentials. "I think a person who is Arab should be questioned if they get on a bus or plane or go in a government building," Ms. Komlance said. "You don't want to be afraid of Arabs, Iranians or other foreign people. But how do you differentiate and figure out which one is the bad one from those who love freedom and our country?"

A CNN/USA Today/Gallup poll taken a few days after the attacks showed that Americans were supporting special measures intended for those of Arab descent. In the survey, 58 percent backed more intensive security checks for Arabs, including those who are United States citizens, compared with other travelers; 49 percent favored special identification cards for such people, and 32 percent backed "special surveillance" for them.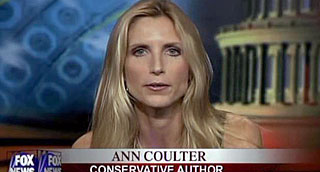 From the LA Times, 9/26/01:
It was a white-hot e-mail, still echoing with thunderous keystrokes: "Go back to your beautiful land of sand and pig dirt, and take your HATE with you!"

Culver City-based IslamiCity.com, a popular Islamic Web site, was an easy target after the Sept. 11 terrorist attacks.
From the LA Times, 10/7/01:
[National Review Online writer Ann] Coulter later weighed in on airport security, saying that tactics such as searching her purse were "useless" because there had been no "rash of hijackings by Connecticut WASP girls" and suggesting passport checks on domestic flights for "any suspicious-looking swarthy males." She also called for a "Terrorist Deportation Plan" to send all Muslims back to their countries of origin. "Not all Muslims may be terrorists, but all terrorists are Muslims—at least all terrorists capable of assembling a murderous plot against America that leaves 7,000 people dead in under two hours," she wrote.
From the LA Times, 11/6/01:
"Our hats are off to all the entertainers who have offered their time and stature to help the Sept. 11 relief efforts. Then again.... "

That editorial was aimed at, among other things, a Charlie Daniels song that has managed to become the talk of talk-radio while simultaneously offending many Americans of Middle Eastern descent. "This ain't no rag, it's a flag," begins the song that Daniels was politely asked not to play at the benefit Country Freedom Concert in late October. "And we don't wear it on our heads."

In a phone interview from Atlanta, where Daniels was explaining himself on CNN last week, the country music star said his "politically incorrect" song, written in the first emotional days after the attack, was aimed solely at "that Bin Laden and them murderous s.o.b.'s hangin' out with him."

"This ain't no time for healing—it's a time for gettin' madder 'n hell," he added, by way of explaining his decision to drop out of the televised Oct. 21 fund-raiser rather than refrain from performing his new song. Daniels said the Web site where the single is being sold has gotten some 400,000 hits in the last two weeks.
From the LA Times, 11/24/01:
IN BRIEF / LOMPOC
Panelist Faces Ouster Over Anti-Muslim Letter

The City Council will consider removing a committee member who wrote a letter saying that "Muslims are out to destroy our world."

The council on Dec. 4 could discuss a request that Justin Ruhge leave the Economic Development Committee, which works to attract new business to the community.

Ruhge wrote a letter that appeared in the Nov. 16 issue of the weekly Santa Maria Sun in which he supported U.S. foreign policy and criticized Muslims. On Tuesday, Councilman Jan Keller called the remarks offensive and asked colleagues to remove Ruhge from the advisory committee or ask him to resign. Ruhge, however, said he was referring to radical Muslims, not all who practice the religion.
Comment: Everyone "clarifies" their racist remarks after they're caught making them. But Ruhge wasn't speaking extemporaneously; he sat down and wrote a letter, which presumably requires something akin to thought. Like Jerry Falwell and others of his ilk, Ruhge said what he meant but couldn't defend his prejudice when confronted with it.
From the letters to the LA Times, 11/7/01:
Reactions to Stories on Muslims

Regarding: "A Stronger Voice for Muslims" (Oct. 29): I am suspicious of Muslims wanting more political clout and am sincerely concerned about the rising number of Muslims and mosques in this country.

Is it conceivable that the goal is to make this a Muslim state, a theocracy? I am not sure of their honesty nor their genuineness, and I have growing tension within myself regarding this religion of Islam and what I perceive as their growing arrogance. It is becoming increasingly more difficult for me to be tolerant.

JULIA REEVES
Los Angeles

Islamic spokesmen on TV and in print are trying to portray Islam as misunderstood. It is really a religion of tolerance and peace, they say. I don't believe it for a minute.

The Koran specifically advocates killing nonbelievers, i.e., non-Muslims. It is, in practice, a dark, angry and hateful view of life on Earth. The frowning faces and dark, depressing clothing of Muslims give me the creeps.

I hope that immigration of these people is stopped entirely. We are crazy to let these people come here in large numbers.

MIKE BURNS
Bakersfield
Comment: We can't let those dirty Muslims be arrogant too. We Americans are supposed to have a monopoly on arrogance!
If confronted, Reeves and Burns undoubtedly would deny they're racists. But since 9/11, white-supremacist groups are avidly recruiting people to join their cause. If not people like Reeves and Burns, whom are these groups recruiting?
White supremacists and other Americans...no difference?
From the Associated Press, 11/11/01:
Study: Midwestern white-supremacist groups use terrorism fears as recruitment tool

CHICAGO (AP) White-supremacist groups based in the Midwest are using the Sept. 11 terrorist attacks to recruit new members, according to a study by an anti-racism group.

The Center for New Community, a six-year-old faith-based organization in suburban Oak Park, counts 338 "white nationalist" groups in 10 Midwestern states.

Some of them are using images of the burning World Trade Center towers to advocate closing America's borders, the group says in a report titled "State of Hate: White Nationalism in the Midwest 2000-2001."

"These organizations have been responsible for several rallies, public events, distribution of literature and even a few crimes in recent months," said Devin Burghart, who directs the center's Building Democracy Initiative. "They're trying to use anti-Arab and anti-Muslim sentiment in the wake of Sept. 11."

The Center for New Community cites white supremacist groups in Illinois, Indiana, Wisconsin, Michigan, Iowa, Kansas, Minnesota, Missouri, Nebraska and Ohio.

The group's study found that in the last year 33 percent of white nationalist groups in the Midwest were actively recruiting young people. That compares to 10 percent in 1998-99, the last time the center studied the region.

The Neo Nazi National Alliance has distributed fliers in the Chicago area that feature the attacks on the World Trade Center and the phrase "Close our Borders!" and National Alliance members have handed out leaflets blaming the attacks on the Jews, Burghart said.

Members of the World Church of the Creator, based in East Peoria, attended demonstrations in suburban Bridgeview, where hundreds marched on a mosque.

"World Church of the Creator members were out amongst the crowd looking for recruits, handing out literature," Burghart said.
From the Christian Science Monitor, 11/21/01:
Hate groups try to capitalize on Sept. 11

Some extremists say immigrants threaten 'Aryan race.' Others praise terrorists' strike.

By Brad Knickerbocker | Staff writer of The Christian Science Monitor

Hate groups around the United States are using the recent terrorist attacks to promote their causes.

White supremacists, Christian Identity adherents, neo-Nazis, conspiracy theorists, skinhead groups, and other extremists are citing the events of Sept. 11 (and since) to recruit new members -- especially young people.

Many claim that the attacks on the US are the result of "the US government acting on behalf of the Jews instead of on behalf of the American people." This is one of the more subdued charges made by William Pierce, head of the West Virginia-based National Alliance, on his website. Mr. Pierce is also author of the book about race war that supposedly inspired Oklahoma City bomber Timothy McVeigh.

Such messages are seen in leaflets handed out at public gatherings, on Internet postings, and as part of the lyrics to "white-power music."

One recent development in recruiting is shortwave radio. A shortwave receiver is far cheaper than a computer, and hate-filled messages (some advocating violence) now are heard on 1,100 hours of broadcasting a month across the US, according to the Southern Poverty Law Center.

It's difficult to know for sure how effective such messages are. But experts are concerned that as the mostly-secretive world of hate shifts from robes and pointed hoods to cyberspace and cable TV, the message is at least being heard by more and more people susceptible to its message of exclusion, racial superiority, and violence.

In its recent report, "State of Hate: White Nationalism in the Midwest," the Center for New Community, a faith-based human rights organization in Chicago, details 338 such groups across the Midwest, many of which are actively recruiting young people.

This includes 95 neo-Nazi and racist skinhead groups, a 30 percent increase over the past two years. Pierce claims that his National Alliance has seen a 50 percent increase in website visits over the past year.

Old message, new twist

Much of the hate propaganda is merely the same old message with a new twist.

"As the bombs rain down upon Afghanistan, let us remember that it is the Jewish Occupational Government in Washington, D.C., that is gaining most by this event and that any victory in this campaign accrues to the benefit of the enemies of our White Racial Loyalist idea," writes Matt Hale, head of the World Church of the Creator in East Peoria, Ill., on the group's website. "As was the case with his father, George W. Bush is determined to spread his so-called 'New World Order' around the world making the world 'safe' for Jewish supremacy and corporate profits."

"Is Our Involvement in the Security of the Jewish State Worth This?" reads a headline next to a photo of the collapsing World Trade Center in National Alliance magazine.

Many such groups focus on the growing number of newcomers to the US as a threat to the "Aryan race," particularly in the weeks following the recent terrorist attacks.

"They're blaming immigration for the events of Sept. 11," says Devin Burghart, author of the Center for New Community's report. "They're out there trying to mobilize on that very issue."

Even before the recent attacks, such groups were seen as a danger to domestic security.

"On the national level, formal right-wing hate groups, such as the World Church of the Creator and the Aryan Nations, represent a continuing terrorist threat," former FBI Director Louis Freeh told the US Senate Select Committee on Intelligence last May.

But in a new and somewhat ironic development, some right-wing radicals find themselves supporting terrorists they might otherwise lump together with what they consider to be subhuman "mud people."

The Aryan Nations proclaims the Middle Eastern attackers in New York, Washington, and Pennsylvania to have been "Islamic freedom fighters."

There may even be ties between US hatemongers and terrorists abroad. Intelligence officials know of such connections dating back to at least 1987, when a meeting of US white supremacists and Arab radicals -- united in their opposition to Israel -- took place in Libya. More recently, a meeting between US and European Holocaust deniers was to have taken place in Beirut. But under pressure from American Jewish groups, the Lebanese government refused permission for the meeting.

Still, the messages of Pierce of the National Alliance, former Ku Klux Klan leader David Duke, and other right-wing extremists have been broadcast from Iran and Iraq.

"We are also concerned with some people in the Middle East who have begun reproducing the propaganda of American right-wing extremists -- alleging Israeli complicity in the 9/11 attacks, for example," says Mark Pitcavage of the Anti-Defamation League, a historian specializing in antigovernment radicals.
.
.
.
There is also concern that European right-wingers -- philosophical soulmates of the National Alliance, Aryan Nations, and other US white supremacist organizations -- may have helped Osama bin Laden. Ahmen Huber, a Swiss national reportedly connected to both Islamic fundamentalism and the neo-Nazi movement there, was questioned last week about his financial support for Mr. bin Laden's Al Qaeda terrorist organization.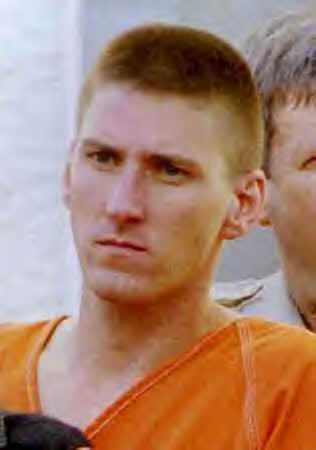 More on racial profiling
Don't believe all the pious speeches about our cherished constitutional rights. Americans have favored racial profiling since 9/11 because they hate foreigners more than they love freedom. This confirms that xenophobia is a core American value.
From the letters to the LA Times, 10/6/01:
"When Racial Profiling Is Appropriate," Opinion, Sept. 30: Vikram David Amar asked, "How do we know how we would react if a different and less dark ethnic or racial group were tied to a terrorist act?" We can answer that question easily because Timothy McVeigh—male, white, American, veteran, militia member, blew up the Oklahoma federal building. We did not and will not racially profile white Americans.

Is racial profiling a product of insidious American racism? You bet it is. America should have totally supported the Durban conference on racism because America is intrinsically racist in all facets—overt, subtle and institutionalized. Racial profiling in a free and diverse society is never appropriate, never warranted and never beneficial.

DONNA J. WARREN
Los Angeles
I wrote the following letters to the LA Times, 9/24/01:
Americans are discussing the "need" for racial profiling of Arab Americans after Terrorist Tuesday. What comes next after special ID cards and "special surveillance"...concentration camps? In WW II, Japanese Americans fit the profile of someone who supported Japan: They were Japanese. Where does it end?

I wonder if those supporting racial profiling would've supported it against all young white males with military service. Because that was the terrorist's profile after the Oklahoma City bombing. Somehow I can't see Anglo American military veterans volunteering to be singled out for extra government scrutiny. Not without a firefight, anyway.

Those who support racial profiling are saying "The needs of the many outweigh the needs of the few." As an Anglo American citizen, I have no use for racial profiling, even after the terrorist attacks. The only thing I need is "liberty and justice for all."
Here's America's racial profile for you: Anyone who's not white and Christian is suspect. From Indians to blacks to Muslims, our xenophobic fear of anyone different is a recurring theme. If you changed "redskin" to "Taliban," the following could've been uttered in supposedly enlightened 2001:
[E]very redskin must be killed from off the face of the plains before we can be free from their molestations. They are of no earthly good and the sooner they are swept from the land the better for civilization.

Major John Vance Lauderdale, US Army surgeon, 1866
Evil Muslims everywhere?
Whether these "foreigners" are American citizens or not is a detail to many. As we've all heard by now, "they" are all the same. Michael Ramirez proves the point with his editorial cartoons: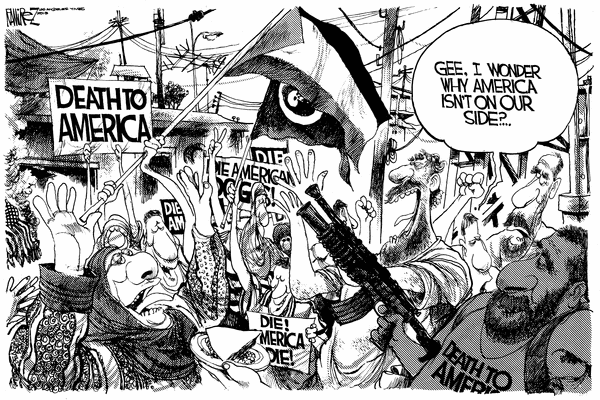 Cartoon Fanned the Flames of Intolerance

I often find Michael Ramirez's political cartoons to be juvenile, knee-jerk reactions to world events, but the Sept. 15 cartoon (Commentary) was especially reprehensible. Though civilized people were shocked and appalled to see the TV footage of a group of Palestinians celebrating the deaths of innocent American civilians in last week's terrorist attacks, Ramirez's cartoon, with its caricatured racial depictions of Arabs, was reminiscent of the anti-Semitic cartoons popular in Germany in the 1930s. We know the carnage that resulted from those dehumanizing depictions. I would encourage Ramirez and The Times to be more thoughtful and less reactive, lest their justifiable condemnation of people who cause or celebrate death instead ends up fanning the flames of racism and intolerance.

Tom Jessor, letter, LA Times, 9/19/01

The actions of Muslim terrorists are no more representative of the majority of Muslim people than the actions of Timothy McVeigh were representative of the majority of patriotic Americans. Targeting all Muslims and Arabs for blame is about as smart and effective as it would have been to "hunt down and punish" all white American males after the Oklahoma City bombing.

Too many of us keep referring to the Palestinians who were dancing in the streets. Have we already forgotten the Gulf War and how many of us were celebrating those bombings? Innocent people were killed there as well. This is a very complex issue. It's not something we can resolve by racial profiling.

Daniel Appleby, letter, LA Times, 9/19/01
*****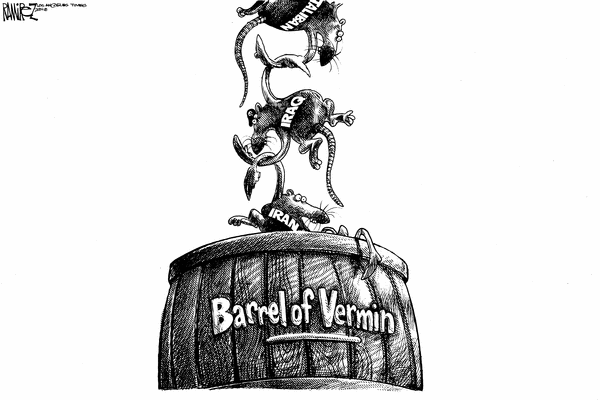 'Humans as Vermin' Cartoon Is Hateful

Michael Ramirez has done it again (Commentary, Sept. 23). An offensive and bigoted political cartoon depicted Iraq and Iran following the Taliban as rats being dumped into the "Barrel of Vermin." The Taliban terrorists are certainly to be condemned, but blaming other nations or a region is simply hatemongering.

It is shameful that The Times prints such irresponsible and despicable messages.

Gail de Mallac, letter, LA Times, 9/26/01

The Ramirez cartoon was a stunning disappointment. Middle East governments (and peoples) as rats in a vermin barrel? At best it's derivative: That's how the Nazis portrayed Jews in the 1930s, and that's how we portrayed the Japanese in the 1940s.

In reality we human beings are a far more murderous species than rats—perhaps the most dangerous species on Earth. All of us also have the potential for reasoned responses based on careful thought. One critical step in stifling thought and cranking up the murder machine is to cast other human beings as threatening animals. As long as we countenance cartoons like Ramirez's we reduce our search for answers to knee-jerk impulses.

Sam Coleman, letter, LA Times, 9/26/01

What an arresting contrast between Ramirez and Arianna Huffington ("With No Lobby, the People Are Unheard"), both of whom appeared on the same page. Huffington consistently invites us to think, to go beyond the superficial—as she did with her provocative views on the gaps in our national security and the role of special interests in our political system.

Ramirez, equally consistently, invites us not to think and to champion the prevailing prejudices of the day—as in his cartoon dismissing the Taliban, Iraq and Iran as vermin. If The Times wanted to show us the difference between mindless patriotism and courageous and thoughtful citizenship it could hardly have done better.

Roger Carasso, letter, LA Times, 9/26/01
Ironically, Ramirez published a cartoon in August 2001 showing God above the world saying "love thy neighbors," or words to that effect, and Christians, Jews, and Muslims misinterpreting his message. Now Ramirez has proved the problem with his preaching. He can mouth the words like a parrot, but he doesn't understand or believe them. Like the Christian in his August cartoon, he thinks whole nations full of Muslims are subhuman.
More examples of Muslims as vermin
An alleged letter from an SP Forces GI in Afganistian:
Informal SITREP—Backdoor message from a SOF guy on the ground—November 11, 2001

These scurrying rats have no idea what they're in for. We are but days away from cutting off supply lines and allowing the eradication to begin. I dream of bin Laden waking up to find me standing over him with my boot on his throat as I spit a bloody ear into his face and plunge my nickel plated Bowie knife through his frontal lobe. But you know me. I'm a romantic.

I've said it before and Ill say it again: This country blows, man. It's not even a country. There are no roads, there's no infrastructure, there's no government. This is an inhospitable, rockpit place ruled by eleventh century warring tribes. There are no jobs here like we know jobs. Afghanistan offers two ways for a man to support his family: join the opium trade or join the army. That's it. Those are your options. Oh, I forgot, you can also live in a refugee camp and eat plum-sweetened, crushed beetle paste and squirt mud like a goose with stomach flu if that's your idea of a party.

But the smell alone of those "tent cities of the walking dead" is enough to hurl you into the poppy fields to cheerfully scrape bulbs for eighteen hours a day.

And let me tell you something else. I've been living with these Tajiks and Uzbeks and Turkmen and even a couple of Pushtins for over a month and a half now and this much I can say for sure: These guys, all of em, are Huns. Actual, living Huns. They LIVE to fight. Its what they do. Its ALL they do.

They have no respect for anything, not for their families or for each other or for themselves. They claw at one another as a way of life. They play polo with dead calves and force their five-year-old sons into human cockfights to defend the family honor. Huns, roaming packs of savage, heartless beasts who feed on each other's barbarism. Cavemen with AK 47's. Then again, maybe I'm just cranky.

I'm freezing my fanny off on this stupid hill because my comes up in a few hours. Oh yeah! You like to write letters, right? Do me a favor, Bizarre. Write a letter to CNN and tell Judy and Bernie and that awful, sneering, pompous Aaron Brown to stop calling the Taliban "smart." They are not smart. I suggest CNN invest in a dictionary because the word they are looking for is "cunning." The Taliban are cunning, like jackals and hyenas and wolverines. They are sneaky and ruthless and, when confronted, cowardly. They are hateful, malevolent parasites who create nothing and destroy everything else. Smart. Pfft. Yeah, they're real smart. They've spent their entire lives reading only one book (and not a very good one, as books go) and consider hygiene and indoor plumbing to be products of the devil. They're still figuring out how to work a Bic lighter.

Talking to a Taliban warrior about improving his quality of life is like trying to teach an ape how to hold a pen; eventually he just gets frustrated and sticks you in the eye with it.

Saucy Jack
More dark-skinned dangers
In "U.S. Pays the High Price of Empire" (LA Times, 9/18/01), Pat Buchanan hinted that all foreigners are as dangerous as the Muslim "vermin." Some responses to Buchanan's hatemongering:
According to Buchanan, "Interventionism is the incubator of terrorism," and the only people we have to fear in our nation are all those "undocumented aliens." If we bury ourselves in a cozy shell of isolationism, then all our problems will go away. And to think this guy ran for president three times and millions of people voted for him.

Ralph S. Brax, letter, LA Times, 9/22/01

Buchanan asked how many undocumented immigrants are ready to carry out attacks.

It seems that Buchanan is referring to some attack somewhere that I am not aware of. Please let the world and myself know where it happened. From the facts that have been reported in the news on the recent terrorist activity in the U.S., one came from a white middle-class man born in the U.S. This was the Oklahoma massacre. The other apparently was a group of foreign students who were here legally and living in affluent neighborhoods. Not much different than the one I am sure Buchanan lives in.

How Buchanan has made the connection from a group of hard-working people (undocumented immigrants) perhaps out picking lettuce or washing his car to a cold-blooded set of massacres is truly beyond my limited intelligence. So please forgive my ignorance when I ask that he explain.

Antonio Hernandez, letter, LA Times, 9/22/01
Our xenophobic values stem from our Judeo-Christian roots. The endless conflict in the Middle East shows that hate is a millennia-old response to the "other." When one side deems itself the chosen people, as Judeo-Christians have, conflict is sure to follow.
In other words, if you think Israel was founded on high-minded ideals like the US, and Israelis want only peace and brotherhood like Americans, think again. An article published around 10/1/01 shows how Israelis and Americans share a bond of hatred:
Vigilantes take up arms, vow to expel 'Muslim filth'

By Jack Kelley
USA TODAY

HEBRON, West Bank — After a quick prayer, Avi Shapiro and 12 other Jewish settlers put on their religious skullcaps, grabbed their semiautomatic rifles and headed toward Highway 60.

There, they pushed boulders, stretched barbed wire and set tires afire to form a barricade that, they said, would stop even the biggest of Palestinian taxis. Then they waited for a vehicle to arrive.

As they crouched in a ditch beside the road, Shapiro, the leader of the group, gave the settlers orders: Surround any taxi, "open fire" and kill as many of the "blood-sucking Arab" passengers as possible.

"We are doing what (Israeli Prime Minister Ariel) Sharon promised but has failed to do: drive these sons of Arab whores from the Land of Israel," said Shapiro, 42, who moved here with his wife and four children 3 years ago from Brooklyn. "If he won't get rid of the Muslim filth, then we will."
Just how ignorant are Americans, anyway?
Ironically, Americans are so ignorant of world affairs that they don't know who exactly they hate. But they sure hate somebody. After 9/11 they lashed out at Sikhs, Hindus, even American Indians because "they" are all the same.
An article suggests just how blind and unthinking Americans are. From the LA Times, 9/16/01: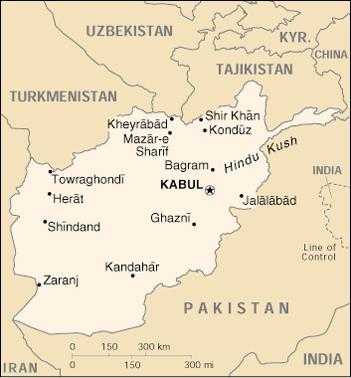 TERROR'S AFTERMATH
Rattling Sabers of Bigotry

By GERALDINE BROOKS

Geraldine Brooks is a former Middle East correspondent for The Wall Street Journal and the author, most recently, of "Year of Wonders."

SAN FRANCISCO — I spent last week on a road trip I never expected to take. Like thousands of others with busted flight itineraries, I passed my hours in a rented car with the radio on and the voices of America filling my ears.

Driving through the mountains of Oregon and the flat, golden fields of California, when the steady familiarity of Noah Adams and Terry Gross dissolved into static, I would hit the "seek" button and find myself in the foreign territory of small-town talk-back.

Much of what I heard only added to last week's burden of despair. To a deafening rattling of sabers was added a cacophony of ignorant statements. On a so-called Christian station, I heard a preacher tell his listeners that Islam was a cult that worshipped the moon and preached total destruction of Jews and Christians. Callers seemed baffled about which religion the terrorists might have adhered to—"Islam or Muslim?"—or asked which Middle Easterners they'd seen on TV celebrating the bombing: "Is it the Israelis who don't like us, or the Palestinians?" It wasn't just ordinary folk who seemed at a loss. A congressman asked plaintively: "Who are these people and why do they hate us?" A former National Security Administration official, apparently unaware that Algeria's government is waging bloody war against Islamic extremists, named that country as a potential state sponsor of Tuesday's bombing.

When George W. Bush mentioned that he had been seeking cooperation from Pakistan's president, Pervez Musharraf, I remembered how, when running for president, he had not been able to come up with that gentleman's name. Then, he seemed unruffled by his ignorance, and Americans mostly seemed inclined not to mind it. We have all been fat and happy and self-absorbed, watching "Survivor," driving gas-guzzling SUVs and eating our super-sized takeout meals, as networks cut their foreign news bureaus and all the miserable little wars in poor and dusty places got pushed to the back shelves of our conscience like unread books.
Hate continues in 2002
An article published sometime in mid-2002 details America's continuing hatred of Muslims:
How Islam-Bashing Got Cool
President Bush no longer seems able to restrain anti-Islamic rhetoric

By Deborah Caldwell

In the last six weeks, a major Protestant leader has described the Prophet Muhammad as "demon-possessed pedophile;" a well-known conservative columnist suggested that Muslims get "some sort of hobby other than slaughtering infidels;" the head of a conservative activist group suggested American Muslims should leave the country; and evangelist Franklin Graham described Islam as inherently violent.

Meanwhile, the University of North Carolina is being sued by the Family Policy Network, a conservative group, for asking incoming freshmen to read a book called "Approaching the Qur'an: The Early Revelations, " an assignment Fox News Network's Bill O'Reilly compared to teaching Hitler's "Mein Kampf" in 1941. On Wednesday, a North Carolina state legislator told a local radio station his view: "I don't want the students in the university system required to study this evil."

Islam-bashing, it appears, is suddenly not just acceptable, but almost fashionable among conservatives. This isn't a matter of commentators criticizing Muslim extremists. These are remarks that attack Islam, Muslims, the Qur'an, and the Prophet Muhammad as pervasively and inherently bad.

President Bush's repeated attempts since Sept. 11 to describe Islam as a "religion of peace" initially helped quell anti-Muslim rhetoric. But now, conservatives seem to be increasingly ignoring Bush's approach. "The White House has lost control of the issue," says John Green, an expert on religion and politics at University of Akron. "Islam bashing has become more public, and it seems to be more accepted."

And there is a limit, Green notes, to how vehemently Bush is likely to disagree with these conservatives and Christians, since they make up his political base.

The latest round began in June, when the Rev. Jerry Vines, the former president of the Southern Baptist Convention—the nation's largest Protestant denomination, with 15 million members—described Islam's founder as a "demon-possessed pedophile." Vines, pastor of the 25,000-member First Baptist Church in Jacksonville, Fla., added that "Allah is not Jehovah either. Jehovah's not going to turn you into a terrorist that'll try to bomb people and take the lives of thousands and thousands of people." Days later, the SBC's current president, the Rev. Jack Graham, pastor of the 20,000-member Prestonwood Baptist Church in Plano, Texas, agreed with Vines.

Ari Fleischer, the President's spokesman, was compelled to differ with the SBC leaders, even though in remarks to the convention a day after Vines' comment, Bush praised Baptists for being "among the earliest champions of religious tolerance." Of the Muhammad comment, Fleischer said: "It's something that the president definitely disagrees with. Islam is a religion of peace, that's what the president believes."

A week after Fleischer's remarks, the hugely popular televangelist Benny Hinn said during an appearance at a Dallas arena: "This is not a war between Arabs and Jews. It's a war between God and the devil."

Evangelical Christians have always believed that Islam is a wrong religion, and refuse to accept Allah as the same as the Christian God. Conservative Christians actively proselytize among Muslims in this country and abroad. But lately, many Christian commentators are pushing these views in broader, secular formats.

Shortly after the attacks, Franklin Graham was forced to apologize for describing Islam as a "wicked, violent religion." But in his new book, "The Name," released Monday, he writes: "Islam—unlike Christianity—has among its basic teachings a deep intolerance for those who follow other faiths." On Fox News Network's "Hannity & Colmes" program this week, Graham said: "I think it's [terrorism] more mainstream. And it's not just a handful of extremists. If you buy the Qur'an, read it for yourself, and it's in there. The violence that it preaches is there."

Hannity responded: "But this then raises a question. If this is not, Reverend, the extremist fanatical interpretation of the Quran, then we do have a big problem." Graham replied: "Big problem." This week, in an interview with Beliefnet he reiterated his opinion, saying, "I believe the Qur'an teaches violence, not peace."

At the Christian Booksellers' Association meeting in Anaheim last month, retailers sold an array of books and tapes describing Islam as a violent religion—and many of these books will be marketed not just in Christian bookstores, but also in malls nationwide. For instance, Hal Lindsey, author of the 1970s best-seller, "The Late Great Planet Earth," has come out with a new book called "The Everlasting Hatred: The Roots of Jihad." Titles by other authors include "Religion of Peace, or Refuge of Terror," "War on Terror: Unfolding Bible Prophecy," and "Islam and Terrorism." Among the tapes available was "Terrorism: The New War on Freedom."

But it's not just Christians. Soon after Vines' comments, a new cascade of public anti-Muslim comments poured forth.

In a late June interview with NBC's Katie Couric, columnist Ann Coulter said of Muslims: "I think it might be a good idea to get them on some sort of hobby other than slaughtering infidels." That comment followed Coulter's comments about Muslims last September: "We should invade their countries, kill their leaders, and convert them to Christianity."

Last month, William Lind of the Free Congress Foundation suggested that "Islam is, quite simply, a religion of war," and that American Muslims "should be encouraged to leave. They are a fifth column in this country."

Also in July, a Secret Service agent admitted scrawling "Islam is Evil" and "Christ is King" on a Muslim prayer calendar while searching the Michigan home of a man charged with smuggling bogus checks into the United States. The agent was put on leave pending the investigation, and officials said he could be fired and face criminal charges. Around the same time, Peter Kirsanow of the U.S. Civil Rights Commission suggested that another terrorist attack on U.S. soil could stir public support for ethnicity-based internments as during World War II. "If there's another terrorist attack and if it's from a certain ethnic community . . . that the terrorists are from, you can forget about civil rights."

Says Salam Al-Marayati, executive director of the Muslim Public Affairs Council, a lobbying group: "It is the fad now to bash Islam and Muslims."

As these events unfolded, representatives from the American Muslim Political Coordinating Council wrote a letter to the President, begging for a meeting with the Administration. AMPCC, which includes both Democrats and Republicans, is comprised of representatives of the Muslim Public Affairs Council, the American Muslim Council, the Council on American-Islamic Relations, and the American Muslim Alliance. Last week, the President's scheduler responded—Bush said he was too busy to meet, according to Al-Marayati.

"Either there's negligence or deliberate exclusion," says Al-Marayati, a Democratic insider and moderate Muslim. "There needs to be unequivocal denunciation of these statements. The President needs to make a decision to clear himself of this kind of vitriol, or basically say he agrees, because I don't think there's any room for having it two ways on this issue."

Of course, whenever an Administration loses control of an issue, it's not good news for a President. But usually, "losing control of an issue" means an Administration is losing traction as a President moves ahead with policies, or has lost control of a legislative agenda.

The problem for this Administration is that Islam is a much bigger issue. "It is really a different thing because the President can't control the agenda the same way," Green says. "What the President wanted to do after Sept. 11 was persuade Americans, particularly conservatives, to behave themselves and be civil and restrained about Islam because our domestic and foreign policy is very delicate right now. Here we are making war on Afghanistan and talking about making war on Iraq, so it's important to make a distinction between terrorists who happen to be Muslims, and Islam," Green says. "Having a positive rhetoric on Islam is pretty important."

American Muslims say they're feeling the change in Americans' attitude toward their faith in the last year. After Sept. 11, most Americans swallowed hard and—with President Bush leading the way—decided that anti-Muslim bigotry was wrong. During the fall, he repeatedly called Islam a "peaceful religion," hosted a Ramadan dinner at the White House, and described the Muslim scripture as the "holy" Qur'an.

"That helped to tone down a lot of the animosity," says Hodan Hassan, communications coordinator for the Council on American-Islamic Relations, a Washington lobbying group. "But now, when you have the ratcheting-up of anti-Islam rhetoric and a continuing state of alert and continual warnings from the FBI about Muslim terrorists—that combination is worrying for us. When you dehumanize a whole sector of society, it's a lot easier to lash out."

Until recently, CAIR members handled the backlash with letter-writing campaigns or by asking media outlets or commentators to retract comments Muslims perceived as unfair. Now, Hassan says, the anti-Islam fervor is too widespread to deal with.

"It seems to have gone beyond the evangelical sector and to some of the political commentators," she says. "We routinely get emails from Muslims around the country complaining about their local talk radio basically demonizing Islam. That's been worrying. What's new is the viciousness of it and the fact that it's spreading to relatively well-established leaders."

Asma Gull Hasan, author of "American Muslims: The New Generation," says she's noticing an uptick in hate mail at her website these days. Some are from evangelical Christians, but many are what she calls "live free or die" Americans—secular conservatives who believe all Muslims are inherently anti-American.

"There's really no convincing any of these people," says Hasan, who appears frequently on cable and radio talk shows. "It's pretty nasty email. There's definitely a movement happening."

Hasan traces the upsurge in anti-Islam rhetoric to the escalation of the war in Israel.

"From the beginning, the evangelicals didn't like the things Bush said about Islam, and talk show conservatives didn't either. But when the Middle East violence happened, they felt they could connect it all together," she says. "It made it very easy for people to make a neat parallel that we were attacked by suicide bombers, and Israel was, too."

Hasan says she has appeared numerous times recently on talk radio shows where the interviewer says the purpose is to teach the audience about Islam. "Then I get on and it's a blood bath," she says. And the rhetoric has ratcheted up in recent weeks, Hasan says.

Last week on a Denver radio show, for instance, the interviewer asked Hasan if she is a Muslim first or an American first, and she said she is both. Soon after, a caller said he is Catholic first and that being American is a distant second. Hasan said she then asked the caller to give an example of ways his religion conflicts with being American. His response was that he wants to be able to protest peacefully at abortion clinics; the host asked if he would blow up a clinic. And the caller said yes, if he thought it would do more good than harm.

"Can you imagine if a Muslim said such a thing?" Hasan wonders.

The problem, say Muslims like Hasan, is that moderate voices like hers aren't heard enough. That seems to be the viewpoint of the Bush Administration, even if the White House isn't meeting with American Muslim leaders. Richard Land, a prominent Southern Baptist with close ties to the Administration, says "one of our basic strategies should be to damage the radical [Muslim] voices and support the moderate voices.... My perspective is that the President did what he probably had to do in the wake of Sept. 11. He grew up coming to understand what happened to Japanese-Americans after Pearl Harbor and not wanting that to happen again."

Land says he doesn't disapprove so far of Bush's stance toward Muslims.

"He's supposed to be President of all the people," Land says. "As far as I'm concerned, what he's done to date has not been a problem. But I'm afraid that his comment that Islam is a religion of peace is more a wish than a fact. I don't think evangelicals are very happy about it, but there are so many other things they are happy about. Now, if he started showing up at worship services at mosques that would be another thing."

Green says Bush remains in a tricky political position with conservatives for the foreseeable future.

"To the extent that this grousing becomes common, this presents a problem for the President with the war on terrorism," Green says. "It's important for him to maintain this distinction between Islam and terrorism. If a very important part of his political base equates them, that makes the President's job very difficult."

And Bush can't exactly repudiate conservatives, because he needs them politically.

"It may have been that these people were held in check by the President's request that they behave themselves [early on]. I suppose you could fault Bush to some extent" for not keeping the lid on the dissent, Green says.

And here, he repeats what most Americans, at heart, believe: Sure, there are legitimate religious differences between various faiths, but the genius of the United States is that we tolerate each other. And so, Green says, if we're going to deal with terrorism and threats to our freedom, people who hate each other's beliefs in this country are simply going to have to make an effort to understand each other.

And in the end, that means they're going to have to put up with Islam, and with American Muslims-whether they like it or not.
Summing up the hate
From the LA Times, 7/6/02:
THE NATION
Deluge of Hate Crimes After 9/11 Pours Through System

Courts: Officials have three times the cases involving Arab-looking victims as at this time a year ago.

By RICHARD A. SERRANO, TIMES STAFF WRITER

DALLAS — Mark Anthony Stroman was an easy case. A white supremacist, in the days after Sept. 11 he walked into a succession of convenience stores in the Dallas area and killed a clerk from Pakistan and another from India, and he partially blinded a third from Bangladesh.

Tried, convicted and sentenced to death, Stroman voices no remorse. He recalls telling each of his victims, "God bless America."

As the incidence of hate crimes against suspected Middle Easterners subsides, authorities are beginning to prosecute cases growing out of more than 420 investigations nationwide. Although some offenders show no regret, many others are expressing embarrassment over their hostile acts in the wake of the terrorist attacks on the World Trade Center and the Pentagon. Joe Montez drew two years' probation for telephoning a truck stop in Hewitt, Texas, on Sept. 17. After asking whether the clerks were Iranians, he said, "There's a bomb where you're standing.... There's a bomb in your building."

Montez knows he should have controlled his Sept. 11 anger. "I made a mistake," he said in an interview. "I'm trying to put all that behind me."

The threats and retaliations have come in many forms: a call left on the voicemail of the president of the Arab American Institute in Washington. An anthrax hoax letter that turned up at an Arab American restaurant in Madison, Wis. Physical attacks, arson, hate messages on the Internet.

Proving a hate crime can be especially difficult. Authorities must show that a victim was purposely selected because of race or religion.

Nevertheless, officials have opened three times as many investigations into hate crimes with Arab victims since Sept. 11 as in the same period the previous year. They include 350 federal cases and 70 by state and local authorities.

Even with offenders such as Stroman locked away, many advocacy groups still feel the bias, even people from South Asia, such as Indians and Pakistanis, who often are mistaken for Arabs.

Nihad Awad, executive director of the Council on American-Islamic Relations in Washington, said his organization has heard almost 60,000 reports since Sept. 11 of some kind of harassment against American Muslims. They range from violence to slurs to job discrimination, he said.

But non-Muslims also have come to the aid of victims, including the owners of Curry in a Hurry, a Salt Lake City restaurant that was set afire Sept. 13.

The eatery was filled with customers, though none was injured. Diners helped douse the blaze and later returned to paint and rebuild the structure. Others sent cards, flowers and presents.

"If the building had gone down, I'd have lost my business," Mona Nisar said. "My whole family would be starving."

A Pakistani, she was surprised to learn that she knew the assailant, who sometimes ate there. "He was our friend. But he was just too upset about what happened."

James Herrick, 32, pleaded guilty to filling two jars with gasoline and torching the restaurant.

"My actions were in response to the attacks of Sept. 11, 2001, against the World Trade Center towers and the Pentagon," he told the judge.

Making clear that the arson was indeed a hate crime, he said he believed the Nisar family was "'of Middle Eastern heritage."

Herrick sent an apology letter to the Nisar family, and in court his fiancee hugged some of the family members.

On Jan. 7, he was sentenced to 51 months. Prosecutors filed a court memo that read: "We were compelled to respond quickly to deter the perceived growing backlash against innocent members of our community. These hate crimes are noxious to the principles of liberty and freedom embodied in our Constitution."

In Seattle, when a mosque was attacked, neighbors began security patrols to prevent another assault.

On Sept. 13, Patrick Cunningham, 54, tried to burn cars in the mosque parking lot; when that failed, he shot at worshippers.

He pleaded guilty May 9; he is scheduled to be sentenced in August, with a possible sentence of five to seven years.

"In his mind," the plea agreement said, "he did not distinguish between the terrorists believed to be responsible for the attacks and people of the Muslim faith."

Prosecutor Don Currie said Cunningham "believes he made a horrible mistake." Defense attorney Olaf Hansen said his client had family in New York, but no one hurt or killed Sept. 11: "Something just snapped with him. It was a pretty crazy time then."

Mosque director Hisham Farajallah said members have forgiven Cunningham. "It's obvious he did this out of revenge, hatred and anger," he said. "But to me it was out of ignorance."

Then there is Stroman, 32. The father of four offers no apologies, even from his death row cell, where he keeps photos of the burning towers. He also has a jailhouse tattoo commemorating Sept. 11.

"I feel terrible about the victims of 9/11," he said, beating his fist to control his anger. "Every time I see another picture of someone falling head first from the towers, I feel awful. And every time I think about that young man who said, 'Let's roll,' I think, he's my hero."

Authorities in Dallas said Stroman was affiliated with white supremacist and neo-Nazi groups, was a repeat petty offender and kept a large cache of semiautomatic firearms.

Prosecutor Greg Davis said Sept. 11 was simply the perfect trigger for Stroman. "Nine-eleven gave him a natural excuse," Davis said.

On Sept. 15, he killed a store clerk from Pakistan with a single shot to the head. On Sept. 21, he blinded a clerk from Bangladesh in the right eye. On Oct. 4, he killed a clerk from India who had become a U.S. citizen 12 years ago.

His trial lasted less than a week; the jury deliberated less than an hour. He arrived on death row April 5.

"When they stick a needle in my arm, it won't even matter; that's just going to sleep," Stroman said of his execution.

"But those people who fell from the towers, they suffered. Those people who died in the Pentagon, they suffered. Those people who tried to take back that plane over Pennsylvania, they suffered."

On the day of his arrest, Stroman was planning a visit to a local mosque, he said. "I was going to go in shooting Arabs."

Copyright 2002 Los Angeles Times
Comment: "In his mind...he did not distinguish between the terrorists believed to be responsible for the attacks and people of the Muslim faith" applies to most Americans, sadly. In fact, these numbskulls didn't distinguish between Muslims and Sikhs, Hindus, or anyone who looked "swarthy." Some didn't even distinguish between Asian Indians and American Indians. How mindlessly stupid can you get?
Proving the point, hate crimes against both Middle Easterners and American Indians have soared since 2001. First, from the LA Times, 11/26/02:
Hate crimes and other acts of vengeance skyrocketed nationwide against Muslims and other immigrants from the Middle East after the Sept. 11 terrorist attacks, according to a long-awaited FBI report released Monday. The FBI found that while attacks against Muslims had previously been the least common hate crime against a religious group—just 28 in 2000—the number of incidents surged to 481 in 2001, an increase of 1,600%.
From Indianz.com, 11/26/02:
FBI report cites increase in hate crimes

According to the Uniform Crime Reporting (UCR) program, Native Americans were disproportionately affected by bias crimes. Although less than 1 percent of the general population, 1.8 percent of hate crimes were anti-Indian, the FBI said.

In the year 2001, the FBI listed a total of 80 incidents involving 100 victims who were American Indian or Alaska Native. This is up from 57 incidents and 64 victims in 2000.
Addendum 2004
The war on Iraq and the Abu Ghraib torture scandal show that little has changed. Norman Solomon describes the racism behind our wars in This War and Racism. An excerpt:
Soueif added: "There have been reports of U.S. troops outside Fallujah talking of the fun of being a sniper, of the different ways to kill people, of the 'rat's nest' that needs cleaning out. Some will say soldiers will be soldiers. But that language has been used by neocons at the heart of the U.S. administration; both Kenneth Adelman and Paul Wolfowitz have spoken of 'snakes' and 'draining the swamps' in the 'uncivilized parts of the world.' It is implicit in the U.S. administration's position that anyone who does not agree that all of history has been moving towards a glorious pinnacle expressed in the U.S. political, ideological and economic system has 'rejected modernity'; that it is America's mission to civilize and to punish."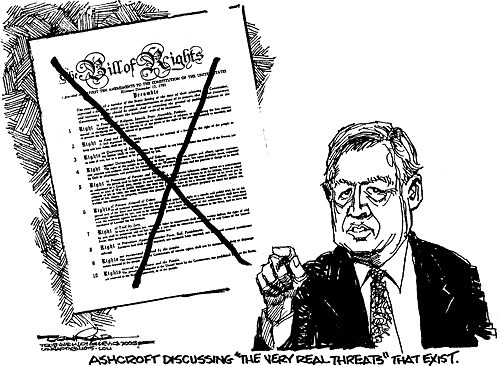 A column in the Miami Herald makes the problem explicit:
Posted on Wed, Dec. 22, 2004

ROBERT STEINBACK

CIVIL LIBERTIES
Some of us would still deny rights

The next time you're in a restaurant or movie theater, consider this. If a study released by Cornell University last week is accurate, the person either on your left or your right likely would approve of denying certain civil rights to American citizens based on ethnicity.

So this is how little we've progressed since the racially motivated internment of American citizens with the outbreak of World War II.

Call me crazy, but it disturbs me that 44 percent of respondents to the poll agreed with one or more of the following statements: Muslim Americans should be required to register their whereabouts with the federal government; mosques should be surveilled by U.S. law enforcement agencies; the government should profile citizens as potential threats because they are Muslim or of Middle Eastern heritage; and Muslim organizations should be infiltrated by undercover agents to monitor their activities.

Why not, I figure 44 percent of you are saying, if it makes our country safer from the threat of a terrorist attack? Which is to say, Don't the ends justify the means?

Set aside for the moment how different the poll results would have been if "Christian Americans," "churches" or "Jewish organizations" were substituted.

The poll question suggests that after more than 228 years, Americans still haven't grasped what it means to be an American.

No particular ethnicity or religious affiliation is required to be a U.S. citizen; you'd think we'd know that by now. The United States was conceived as a nation of principles, not tribes. Yet 44 percent of us believe rights in this country should be rationed by tribal affiliation.

But our motives are good, you might be saying. Those who have nothing to hide should have nothing to fear, you might argue.

It's so easy to justify why other people should tolerate having their rights compromised. But consider some other findings of the poll: Six of 10 Americans feel individuals shouldn't be allowed to stage protests or publicly criticize the government during a time of war or crisis. (None, evidently, thought this might encourage a government to create a crisis.) A third of respondents felt the media shouldn't cover those protests or criticisms. More than a third felt it was acceptable for government to curtail certain un-American activities even if they're constitutionally protected. Almost half would give the government more freedom to monitor e-mails and online transactions.

Off to the gulag

These results had nothing to do with being Muslim or Middle Eastern. If you publicly criticized government action in a time of war or crisis, six of the 10 people near you would approve of your being dragged off to the gulag. And 63 percent wouldn't mind if you were held indefinitely as a suspected terrorist.

We in this country have developed admirable cultural qualities — but not from any innate ethnic superiority we possess. That can't be, as we are an amalgam of all ethnicities.

Any superiority American culture can claim came exclusively from the principles upon which our social institutions were built. Individually, we are just as prone to racism, extremism, fanaticism, injustice, hatred and brutality as anyone else in the world. What has set us apart are the grand tenets that have tempered our worse tendencies, civilized us and — over time — elevated us above the tribal grunting of our forebears. Scrape away at those principles, and you scrape away at the only thing that ennobles us as a people.

The problem is figuring out whether it's the person on your left or on your right who needs to understand that.
Addendum 2006
From Reuters by way of Yahoo News:
In U.S., fear and distrust of Muslims runs deep

By Bernd Debusmann, Special Correspondent
Fri Dec 1, 9:05 AM ET

WASHINGTON (Reuters) -- When radio host Jerry Klein suggested that all Muslims in the United States should be identified with a crescent-shape tattoo or a distinctive arm band, the phone lines jammed instantly.

The first caller to the station in Washington said that Klein must be "off his rocker." The second congratulated him and added: "Not only do you tattoo them in the middle of their forehead but you ship them out of this country ... they are here to kill us."

Another said that tattoos, armbands and other identifying markers such as crescent marks on driver's licenses, passports and birth certificates did not go far enough. "What good is identifying them?" he asked. "You have to set up encampments like during World War Two with the Japanese and Germans."

At the end of the one-hour show, rich with arguments on why visual identification of "the threat in our midst" would alleviate the public's fears, Klein revealed that he had staged a hoax. It drew out reactions that are not uncommon in post-9/11 America.

"I can't believe any of you are sick enough to have agreed for one second with anything I said," he told his audience on the AM station 630 WMAL (http://www.wmal.com/), which covers Washington, Northern Virginia and Maryland

"For me to suggest to tattoo marks on people's bodies, have them wear armbands, put a crescent moon on their driver's license on their passport or birth certificate is disgusting. It's beyond disgusting.

"Because basically what you just did was show me how the German people allowed what happened to the Jews to happen ... We need to separate them, we need to tattoo their arms, we need to make them wear the yellow Star of David, we need to put them in concentration camps, we basically just need to kill them all because they are dangerous."

The show aired on November 26, the Sunday after the Thanksgiving holiday, and Klein said in an interview afterwards he had been surprised by the response.

"The switchboard went from empty to totally jammed within minutes," said Klein. "There were plenty of callers angry with me, but there were plenty who agreed."

Polls Show Widespread Anti-Muslim Sentiment

Those in agreement are not a fringe minority: A Gallup poll this summer of more than 1,000 Americans showed that 39 percent were in favor of requiring Muslims in the United States, including American citizens, to carry special identification.

Roughly a quarter of those polled said they would not want to live next door to a Muslim and a third thought that Muslims in the United States sympathized with al Qaeda, the extremist group behind the September 11, 2001, attacks on New York and Washington.

A poll carried out by the Council on American-Islamic Relations (CAIR), an advocacy group, found that for one in three Americans, the word Islam triggers negative connotations such as "war," "hatred" and "terrorist." The war in Iraq has contributed to such perceptions.

Klein's show followed a week of heated discussions on talk radio, including his own, and online forums over an incident on November 22 involving six Muslim clerics. They were handcuffed and taken off a US Airways flight after passengers reported "suspicious behavior" that included praying in the departure gate area.

The clerics, on their way to a meeting of the North American Imams Federation, were detained in a holding cell, questioned by police and FBI agents, and released. Muslim community leaders saw the incident as yet more evidence of anti-Muslim prejudice.

Ignorance Seen as Key Problem

Several American Muslims interviewed on the subject of prejudice over the past few weeks said ignorance was at the core of the problem.

"The level of knowledge is very, very low," said Mohamed Esa, a U.S. Muslim of Arab descent who teaches a course on Islam at McDaniel College in Maryland. "There are 1.3 billion Muslims in the world and some people think they are all terrorists."

Hossam Ahmed, a retired Air Force Reserve colonel who occasionally leads prayer meetings for the small Muslim congregation at the Pentagon, agreed. "Ignorance is the number one problem. Education is of the essence."

There are no hard figures on how many Muslims have been subject to harassment or prejudice and community leaders say that ugly incidents can prompt spontaneous expressions of support. Such as the e-mail a Minneapolis woman sent to CAIR after the imams were taken off their flight.

"I would like to ... help," the e-mail said. "While I cannot offer plane tickets, I would be happy to drive at least 2 or 3 of them. My car is small, but at least some of our hearts in this land of the free are large."

And optimists saw signs of change in the November 4 election of the first Muslim to the U.S. House of Representatives, which has 435 members.

Democrat Keith Ellison, a 43-year-old African-American lawyer, did not stress his religion during his campaign for a Minnesota seat, but said his victory would "signal to people who are not Muslims that Muslims have a lot to offer to the United States and the improvement of our country."

Copyright (c) 2006 Reuters Limited. All rights reserved. Republication or redistribution of Reuters content is expressly prohibited without the prior written consent of Reuters. Reuters shall not be liable for any errors or delays in the content, or for any actions taken in reliance thereon.

Copyright (c) 2006 Yahoo! Inc. All rights reserved.
Addendum 2007
From the NY Times:
Abandon Stereotypes, Muslims in America Say

By NEIL MacFARQUHAR
Published: September 4, 2007

ROSEMONT, Ill., Sept 3 — It is time for the United States to stop treating every American Muslim as somehow suspect, leaders of the faith said at their largest annual convention, which ended here on Monday.

Six years after the Sept. 11 attacks, Americans should distinguish between mainstream Muslims and the radical fringe, the leaders said.

"Muslim Americans feel an increasing level of tension and scrutiny in contemporary society," said Ingrid Mattson, president of the Islamic Society of North America, the largest Muslim organization in the United States and the convention organizer.

The image problems were among the topics most discussed by many of the 30,000 attendees. A fresh example cited was an open letter from two Republican House members, Peter Hoekstra of Michigan and Sue Myrick of North Carolina, that attacked the Justice Department for sending envoys to the convention because, the lawmakers said, the Islamic Society of North America was a group of "radical jihadists."

The lone Muslim in Congress, Representative Keith Ellison, Democrat of Minnesota, the keynote speaker here, dismissed the letter as ill informed and typical of bigoted attacks that other minorities have suffered.

Leaders of American Muslim organizations attribute the growing intolerance to three main factors: global terrorist attacks in the name of Islam, disappointing reports from the Iraq war and the agenda of some supporters of Israel who try taint Islam to undermine the Palestinians.

American Muslims say they expect the attacks to worsen in the presidential election and candidates to criticize Islam in an effort to prove that they are tough on terrorism.

Zaid Shakir, an African-American imam with rock star status among young Muslims, described how on a recent road trip from Michigan to Washington he heard comments on talk radio from people who were "making stuff up about Islam."

Among the most egregious, he said, was from a person in Kentucky who denounced the traditional short wood stick some Muslims use to clean their teeth, saying, "They are really sharpening up their teeth because they are planning to eat you, yes they are."

Representatives of at least eight federal departments and agencies attended the convention, their booths sandwiched among hundreds of others from bookstores, travel agencies, perfumeries, clothing designers and real estate developers.

Mark S. Ward, who runs programs in Asia and the Middle East for the Agency for International Development, said Washington had to compete for influence abroad with militant groups that are expert at delivering humanitarian services.

Mr. Ward said he hoped more American Muslim organizations would apply to help distribute overseas aid.

A few people approached the Federal Bureau of Investigation booth to voice dismay at its presence, said a recruiter, David Valle, but most expressed pleasant surprise.

"A lot of folks think we want to hire them to spy on their community, spy on their families," he said. "We want to dispel any myths they might have about the F.B.I."

The Justice Department responded to Mr. Hoekstra and Ms. Myrick's letter by noting that broad community contact in areas like voting rights was an important part of its mission.

That theme was echoed by Daniel W. Sutherland, chief officer for civil rights and liberties at the Homeland Security Department. Mr. Sutherland told a luncheon audience that the government needed to dispel prejudice and misconceptions to steer the public discussion about fighting terrorism to "a higher level."

Sometimes frustration with the government boiled over. At a seminar on charitable giving, Ihsan Haque of Akron, Ohio, asked a Treasury Department representative, Michael Rosen, how to avoid being prosecuted for donating to Muslim charities. When Mr. Rosen said the government did not have the resources to check the million or so charities in the United States, Mr. Haque shouted, "And I do?"

Muslim leaders described the government relationship toward Muslim organizations as contradictory. The government seeks to foster greater civic engagement, because a lack of engagement is widely considered a big cause of Muslim extremism in Europe. A Department of Homeland Security official moderated a panel on aiding engagement.

Muslim groups are often treated as suspect, speakers said. In a trial that started in July in Dallas, federal prosecutors named the Islamic Society of North America as part of an effort to raise money for groups the government considers terrorists, but did not charge it with wrongdoing.

The Justice Department has to decide on its law enforcement side what it considers a target, said Khurrum Wahid, a prominent Muslim defense lawyer.

"Are they going to continue to say that the higher degree of religiosity you have the higher likelihood that you are a threat, because that's the message they've sent," Mr. Wahid said.

Rabbi Eric H. Yoffie, president of the Union for Reform Judaism, denounced by name Christian fundamentalists like Pat Robertson and Franklin Graham, as well as Dennis Prager, a well-known radio host who is Jewish.

"The time has come to stand up to the opportunists, the media figures, the religious leaders and politicians who demonize Muslims and bash Islam, exploiting the fears of their fellow citizens for their own purposes," Rabbi Yoffie told the opening session.

The Koran tells Muslims to abstain from drinking alcohol and to lower their gaze in modesty when meeting a member of the opposite sex, but some college-age Muslim men and women at the convention stayed up late into the night drinking, talking and getting to know one another.

"If you keep your gaze lowered all the time, you might just walk into a wall," said Hazem Talha, a high school senior from Atlanta who said he was here for the religious lectures.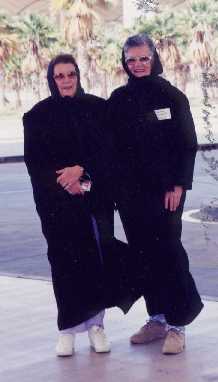 Who's the terrorist?
Incidentally, if anyone's wondering, the swarthy fellow at the beginning of this posting isn't one of the terrorists. It's an artist's rendition of what Jesus really looked like. His Semitic background, of course, is the same background that gave birth to Judaism and Christianity...and Islam.
Some scholars claim Jesus married and had children...so the terrorists may be related to him biologically as well as culturally. And they're doing God's bidding just as Jesus urged—carrying God's word to the people. Their methods are different, but their goals are the same.
Islamic terrorists supposedly want to destroy civilization. Jesus also wanted to destroy the secular society around him and replace it with the Kingdom of God. According to George W. Bush, that would make him the first terrorist.
As for the blatant terrorist supporters at right...think twice before you start stoning them. They're both white, upper middle-class Republicans from California on a vacation in Saudi Arabia. They're tourists, not terrorists. The woman on the far right, in fact, is Mom.
But we're all smart enough not to judge people based on appearances, right? Good Americans wouldn't condemn Mom or Jesus without knowing them first, would they? Sure they wouldn't.
Related links
The Muhammad cartoons
Understanding Islam
Terrorism: "good" vs. "evil"
Highlights of the US report to the UN on racism
Right-wing extremists: the enemy within

Readers respond
"I see nothing wrong with profiling Arabs. ... Let's concentrate law enforcement where it's needed."

---
* More opinions *
| | | |
| --- | --- | --- |
| | . . . | |
---
Home | Contents | Photos | News | Reviews | Store | Forum | ICI | Educators | Fans | Contests | Help | FAQ | Info
All material © copyright its original owners, except where noted.
Original text and pictures © copyright 2007 by Robert Schmidt.
Copyrighted material is posted under the Fair Use provision of the Copyright Act,
which allows copying for nonprofit educational uses including criticism and commentary.
Comments sent to the publisher become the property of Blue Corn Comics
and may be used in other postings without permission.