Home | Contents | Photos | News | Reviews | Store | Forum | ICI | Educators | Fans | Contests | Help | FAQ | Info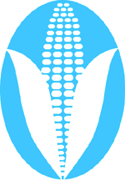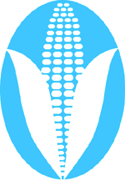 Stereotype of the Month Entry
(10/20/03)
---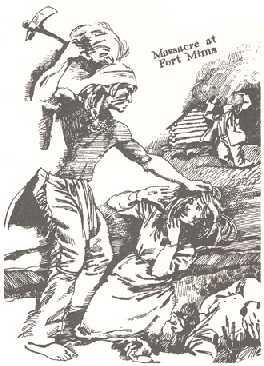 Another Stereotype of the Month entry:
Why the Protest of Viroqua High School's "Little Mary Sunshine"?

By Barbara E. Munson (Oneida)

Inside the Temple Theater, a Viroqua High School student actor strikes a pose meant to evoke the image of an "Indian Chief" as a "Noble Warrior". Students sit cross-legged "Indian Style", speaking broken English and lacerated Lakota and of course greeting each other with "How". One scene in the Viroqua High School production of "Little Mary Sunshine" suggests that Indian people think that alcohol is sacred, another scene alludes to Indian abilities as "great scouts". Students portray characters with names like "Chief Brown Bear" and "Yellow Feather". There are the obligatory tipi and feathers.

Outside the theatre, Indian tribal members from several Wisconsin tribes: Oneida, Ho-Chunk, Stockbridge-Munsee and various bands of Lake Superior Chippewa stand in protest. Many of the Indians who are protesting are in academic fields. There are administrators and student advisors from four different UW campuses, and professors active and retired. There are two board members from Wisconsin Indian Education Association. There are American Indian college students and their non-Indian allies from the student body, faculty and staff of the UW-LaCrosse, UW-EauClaire, UW-Stout and UW-Oshkosh. Finally, there are family and local allies of an Indian student and an Indian teacher, who are past and current complainants against the Viroqua School District.

It is ironic hearing comments from a few people entering the theater suggesting that the protestors should "Get a Life", or saying "Why don't you do something positive? You know, do something about alcoholism on the reservation." If any group of people is doing something to work with Indian people as they move out of a lengthy history of oppression and begin to fulfill their potential and their dreams, it is these Indian educators and students, and their allies.

It is no mistake that the production of "Little Mary Sunshine" performed by a group of high school students, brought Indian educators and college students to Viroqua. The production is replete with and reinforces the very stereotypes that the American Indian Studies Statutes were created to counter. These statutes, enacted in 1989, are a focal point of Indian education in our state. The statutes mandate schools to teach about Wisconsin Indian Tribes, about tribal sovereignty and about human relations as a counter measure to the stereotypes and ignorance that fueled racism against Wisconsin Indian people during the 1980's and early '90's. The UW-System is mandated to prepare future classroom teachers to do this teaching.

Nor was it a spur of the moment decision to protest the play. Many of the protestors were involved in attempts to mitigate the content of the play or to halt the production fully six weeks prior to opening night. That the Viroqua High School production of "Little Mary Sunshine" drew so many to protest speaks volumes about the depth of responsibility educators feel about accurate and authentic representation of Indian peoples and about the depth of discrimination and hostility against this protected class that exists in the Viroqua School District.

What is the Viroqua School District teaching its student body?

The play's director, English teacher Sherry Getter, is not only teaching stereotypes based on ignorance and inaccuracies about Indian people, she is teaching students to be comfortable acting out these stereotypes. "Little Mary Sunshine," first performed in the 1950's, is the artistic parallel to a black face Minstrel Show, only this time it is Indian people who are the butt of jokes that demean on the basis of race, ethnicity and religion. The problems with this performance taking place in Viroqua go beyond a single teacher's unfortunate play selection and insistence that "the show must go on." The Viroqua School Board, by choosing to change the venue for the high school play, under the pretense that doing so absolves the district from culpability, is teaching students to be hypocritical and dishonest and to zealously do whatever is necessary to work their will at the expense of others from a protected class. This is an extraordinary example of the exercise of a power differential which is at the heart of oppressive discriminatory practices. The choice of this play after the district was sanctioned for promoting similar stereotypes of Japanese people in a past production involving selections from "The Mikado" indicates that the district is not learning from its earlier mistakes. All these lessons rest on a contentious history of stereotyping American Indian people through the misguided use of the Viroqua School District's "Blackhawk" logo. Has living under an "Indian" logo stereotype inured administration, faculty and students to the very nature of racism?

In addition to the American Indian Studies Statutes teaching mandates, the Viroqua School Board is responsible for upholding the Pupil Non-Discrimination Statutes protecting members of protected and minority classes from stereotyping and harassment. The Viroqua School District is also expected to supply teaching materials that contain accurate and authentic information about diverse populations and to provide learning environments that encourage the successful achievement for all students intended by the No Child Left Behind Law of 2003.

Finally this blatant insult to Indian people with egregious disregard of core education policies was done for the purpose of public entertainment.

What remedial action will the Viroqua School District take so that students so exposed, unlearn racism and become responsible and effective citizens in an increasingly inter-connected world?

Barbara E. Munson, Chair
WIEA "Indian" Mascot and Logo Taskforce
231 Steeple Road
Mosinee, WI 54455
(715) 693-6238
Correspondent Jon Brewer adds:
The bad thing is, the paper didn't even record the play's jokes about rape and incest. For example, there's one scene where a girl's uncle offers her trinkets in exchange for sexual favors.

*sigh* And this is what they call comedy?
More on the play's content
From Mike Two Horses:
Folks, the following is disgusting, a "play" that is in production at Viroqua High School in Viroqua, Wisconsin. There's further information, contact addresses and phone numbers, at the bottom. This travesty also makes ugly misuse of Dakota/Lakota/Nakota language. Let them hear our outrage!

mth

-----Original Message-----

From: Deborah_Kelly [mailto:deborah_kelly@y...]

Sent: Monday, October 20, 2003 1:45 PM
To: nafps@yahoogroups.com
Subject: [nafps] Little Mary Sunshine

The characters in this play are as follows:

Yellow Feather is the "savage" Indian who was supposedly killed, but who has vowed to come back and rape Little Mary Sunshine. His father is Chief Brown Bear who believes that his son, Yellow Feather, is truly dead. He decides to adopt Billy, one of the Forest Rangers, as his son to take the place of Yellow Feather.

In this play "Kadota," "Dakota," and "Lakota" are used interchangeably. Chief Brown Bear speaks in fragments when speaking in English, as does Ernestine, who is a German opera star. This play is not only hateful of "Indian" people, but is also misogynist (the female characters are either whores or madonnas, or as in the case of Ernestine asexual) and anti-German.]

The following are actual quotes from the play:

(The lights come up and BILLY is seen coming out of the Teepee dressed in an Indian suit. He is followed by CHIEF BROWN BEAR.)

BILLY. (Wiping brow and coughing.) Ah, fresh air. Your Teepee's a little stuffy, Chief. Tell me, do you always keep your horse in there with you?

CHIEF BROWN BEAR. Indian pony's good animal. He likes me. He likes you too.

BILLY. Well, as long as he likes us, that makes all the difference. Yes, sir, that was quite a ceremony, Chief, quite a ceremony. I feel like an Indian already. (Assuming Indian pose.) How's this?

CHIEF BROWN BEAR. You are Indian. I give you wisdom and courage. I give you manly strength. (He takes out some dried raisins and blesses the food.) Toonk-ah-she-lah, Walk-on, Than-kah, tah-tee-ah-dotah, oon-chee mah-kah, wo-peelah. Me-tah-kee-yay oh-yah-sin.

BILLY. Oh?

SNIPPED

(Music in, ME, A HEAP BIG INJUN? Should not be read as such, but rather as "I'M A HEAP BIG INDIAN"? The song is sung and danced by BILLY as CHIEF BROWN BEAR watches and beats the rhythm on a small tom-tom.

(1st Refrain)

BILLY.

I'M A HEAP BIG INDIAN
I'M A BIG KADOTA INDIAN THROUGH AND THROUGH.
A FEATHER IN MY HAT I COULDN'T WEATHER
BUT NOW I WEAR A HAT IN MY FEATHER.
I'M A HEAP BIG INDIAN
AND WE HEAP BIG INDIANS KNOW A THING OR TWO
WE HAVE A SPECIAL LANGUAGE THAT I ONLY MASTERED NOW;
INSTEAD OF SAYING `HOW D'YA DO?' WE INDIANS JUST SAY `HOW'.
OH, I'M A BIG KADOTA
I'M A HEAP BIG INDIAN THROUGH AND THROUGH.

Here's the contact info:

It's the

Viroqua Area School District:
115 N. Education Avenue
Viroqua, WI 54665
608-637-1186

The High School, wherein this play is being produced and performed as part of an English class -- that means that federal money is being used here -- is at 100 Blackhawk Drive, Viroqua, WI 54665, 608-637-3191.

Deborah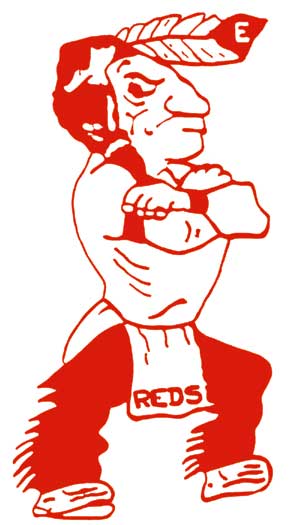 School play is canceled....
Apparently, the show still must go on. Another report from Mike Two Horses:
Rob, there's a whole new set of stuff going on with this....There's also a Yahoo group specifically working on this problem, including the upcoming Broadway version, at Stop "Little Mary Sunshine."

Little Mary Sunshine, an off-Broadway play that ran in the late 1950s and early 1960s and which contains subject matter concerning, among other things, sexual assault committed against a white woman by a Native American, was being produced at a Wisconsin high school by an English class. The play is racist, demeaning to both women and to American Indians, and is highly inappropriate in a diverse America in the 21st century. The administration and faculty of Viroqua High School and the Viroqua Area School District (contact information below) had for a time shown themselves to be deaf to complaints and had gone out of their way to prevent discussion of the play at board meetings. However, after emails and phone calls from concerned individuals and groups around the country, and at least one visit from the Native American Student Association at the University of Wisconsin at La Crosse, the high school principal cancelled the play's production at the school.

But that's not the end of the story: the Viroquans are adamant about putting this piece of racist trash on anyway.

According to Deborah Kelly, who lives in Viroqua and who has been involved in a continuing clash with the school district over the issue of the sports team name and mascot, "This play will now be performed in a posh, newly remodeled theatre with comfortable seats and without the smells of children and public school lunchroom food. (The performance was originally slated for the elementary school cafeteria.)" The play is now going to be produced by the group that puts on Viroqua's "Wild West Days," a group associated with Aryan Supremacists.

Kelly continues, "Paul Menn, a local doctor who believes he is a cowboy as evidenced by his normal garb (even within his clinic that is garishly decorated in the Western theme) of Western wear is quoted in the most recent local media release as saying, 'If people get upset that Wild West Days is involved then we'll take the heat. But this is a situation where the community has to stand up with us for what is right. There are also issues of freedom of speech, freedom of assembly and freedom of opinion at stake. It would be terrible if we were afraid to stand up for what we believe in.' This is an illustrative, close-to- perfection statement of what this community sees as at stake here, i.e., their power as the descendents of those who killed to steal what they now claim as theirs."

The story barely disguises writer Rick Besoyan's contempt for Dakota (Sioux) people — Besoyan renamed his imaginary "tribe" the "Kadota," and the "Indian language" used is definitely Dakota/Lakota (Dakota and Lakota are mutually intelligible dialects of the same language), though there are some invented words and the sentence structure is definitely English (Dakota/Lakota, like most American Indian languages, is verb- or process-based, not noun- or thing-based) — evinced by the "Kadota" characters' pidgin dialogue, ridiculous names, and the stereotypical "good-Indian/bad-Indian" dichotomy.
Rob's comment
Sadly, Mike Two Horses has now passed on. If I hear any more news about "Little Mary Sunshine," I'll post it here.
Note: The images above aren't from the play, but they might as well be. These cartoon Indians are the reality in many people's minds.
Related links
Tipis, feather bonnets, and other Native American stereotypes
The big chief
Savage Indians

---
* More opinions *
| | | |
| --- | --- | --- |
| | . . . | |
---
Home | Contents | Photos | News | Reviews | Store | Forum | ICI | Educators | Fans | Contests | Help | FAQ | Info
All material © copyright its original owners, except where noted.
Original text and pictures © copyright 2007 by Robert Schmidt.
Copyrighted material is posted under the Fair Use provision of the Copyright Act,
which allows copying for nonprofit educational uses including criticism and commentary.
Comments sent to the publisher become the property of Blue Corn Comics
and may be used in other postings without permission.