Home | Contents | Photos | News | Reviews | Store | Forum | ICI | Educators | Fans | Contests | Help | FAQ | Info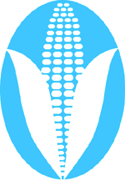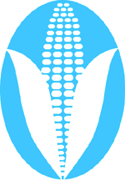 Stereotype of the Month Entry
(3/15/00)
---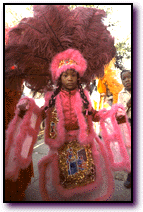 Another Stereotype of the Month entry:
Check out the "Mardi Gras Indians" [a site formerly located at www.fattuesday.com]. Black people dressing as "Indians" for Mardi Gras. The practice dates back to the early 1900s, when an influx of Haitians came to New Orleans. Haitian voodoo societies have very similar costumes, but it's African in origin, not American Indian.

My main complaint about them is that they're doing a Haitian voodoo ritual with African roots, and calling it Indian. Most people look with a kinder eye on black wannabes than on white wannabes, but I don't like this coopting with voodoo.

Their usual story that they're doing this to honor the Indians who helped them in slavery. The problem with that story is that the way they dress has nothing to do with the way any local tribes dress. It looks vaguely Sioux but it looks exactly like African-based costumes worn by members of Haitian voodoo societies on special occasions. My theory is that the custom of Mardi Gras "Indians" started with the Haitian influx and they called themselves Indians rather than what they really were, a voodoo society, figuring Indians would be more acceptable than voodoo.

A Native woman from New Orleans
Rob replies
An article from the Advocate, 2/24/01, confirms the stereotyping:
Big Chief says tradition drives Mardi Gras Indians

By AMY WOLD, Advocate staff writer

Each year Allison 'Tootie' Montana, Big Chief of the Yellow Pocahontas tribe in New Orleans, meticulously creates a costume with hand-strung beads and ornaments for the Mardi Gras Indian festivities on Fat Tuesday.

Since 1947, Big Chief Allison "Tootie" Montana, 78, of the Yellow Pocahontas tribe in New Orleans, has continued a family tradition he traces back at least 140 years.

Through designing and constructing a new suit almost every year of the 50 he spent masking, Montana has helped to keep the history of Mardi Gras Indians alive.

He will display some of his beaded costumes, demonstrate songs and dances and discuss that history at a free event at 2 p.m. today at the Bluebonnet Regional Library.

Edna Jordan Smith, who teaches ancestral research skills at the library, organized Montana's presentation.

"I have found that Baton Rouge and New Orleans are really two different areas when it comes to knowing culture," Smith said. So, Smith said, she wanted to help educate people about this portion of African-American history. "I've met young people and older people who never heard of the New Orleans Mardi Gras Indians."

Mardi Gras Indians started in the 1800s as the African-American community's answer to the Mardi Gras parades and as a way to show respect to the Native Americans who sheltered, helped and supported African-Americans during slavery, Smith said.

On Mardi Gras morning, the "tribe's" Big Chiefs, Spy Boys, Flag Boys and Wild Men start their march into other "tribe's" neighborhoods looking for a confrontation. The Spy Boys serve as the lookouts and march three blocks from the Big Chief. When they spot another tribe, the Spy Boy signals to the Flag Boy, who in turn signals the Big Chief that they're about to meet another tribe. The Wild Man keeps the crowd open so the Big Chief can pass.

"Your biggest point was to catch another chief in his neighborhood," Montana said. If you knew you were "prettier," you could show up the other chief while he was surrounded by his neighbors. There's no official judging, but the people know who wins, he said.

"He'll know you're prettier than him," Montana said. "The city knows who the man is."

Being the "prettiest" is now the mark of who wins the tribal battles, but that wasn't always the case.

"Long time ago, you didn't have to be pretty, it was about fighting," Montana said. "It's a serious game they used to play out there."

The Mardi Gras Indian day was a time to repay old grudges and decorated guns and knives were part of the costume.

"People used to enjoy Carnival through the shutters," Montana said.

When Montana first started masking at age 24, his mother would pin a Catholic medal over his heart and pray for him until he got home.

"I stopped the fighting," Montana said. "Rather than fighting, we fight with the suit. 'Get prettier than me.'"

Montana started masking in 1947, a year after returning from work in the shipyards of California during World War II.

That year, his father was asked to help start a new tribe in the 8th Ward, and Montana decided to get involved too and masked for his first time.

"A little two-week-old suit," Montana said. Since that first time, Montana has started his suits the night after Mardi Gras and works on them all year. Although Montana hasn't masked in the last couple of years, he hasn't given it up yet.

"I intend to come back next year because the people don't seem to want me to quit," Montana said. However, he said, he's going to change the way he makes the suit to make them lighter than the usual 100 to 200 pounds.

"It's going to be just as pretty, but it won't be as heavy," Montana said.

The suits Montana used to make involved a long front and back apron covered with sequins, beads and stones. The covering was heavy and would knock against his legs all day. By the time he would get home, Montana said, the knees of his pants would be worn through and his knees would be scratched. The apron wasn't the only part of the costume that was heavy.

"When I put that crown on my head it stayed on until I came home," Montana said. "I'd feel like my legs would go down a couple inches."

Walking around looking for other tribes would involve traveling five or six miles, he said.

"Not only walking, but when you meet another tribe, you're dancing," Montana said.

Copyright © 2001, The Advocate.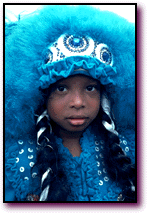 Wild 'n' crazy dancing machines
"Big Chief?" "Wild Men"? Let's list the past and present stereotypes in the Yellow Pocahontas tribe's portrayal of real Indians:
Pocahontas is a representative Indian. (Why name the "tribe" after an Eastern Indian if you're supposedly honoring Southern Indians?)
Indians all belong to tribes. (Nations, bands, villages, clans, and families are other possibilities.)
Indian tribes have "Big Chiefs" (i.e., the Big Kahuna) who make all the decisions. (Most Indian groups were more egalitarian than their Euro-American counterparts.)
Indians are "wild men" and "spy boys" who carry guns and knives, sneak into enemy territory, and fight. (Many Indians were hunters and gatherers, farmers, or traders, not warriors.)
Indians wear beads, loincloths (aprons), and other decorative embellishments. (The people in the pictures look nothing like any kind of genuine Indians.)
Indians sing and dance in elaborate ceremonies. (No more than anyone else, and when they do, each action has a meaning. It isn't for show.)
While all these points may have been true of Indians at times, they're also part of the general stereotype. As I've said many times, something can be "true" yet still be stereotypical. Many tribes had chiefs, for instance—but portraying only chiefs is stereotypical.
Proud whooping birds
Here's more evidence of how the Mardi Gras Indians stereotype real Indians. From one of their websites, Mardi Gras Indians: Tradition and History:
"The Mardi Gras Indians are comprised, in large part, of the blacks of New Orleans' inner cities."

Comment: Blacks, **not** Indians or black Indians.

"Their 'Krewes' are named for imaginary Indian tribes according to the streets of their ward or gang."

Comment: Inventing imaginary tribes trivializes real tribes...and it proves the krewes aren't emulating any real or known Indians.

"The Mardi Gras Indians named themselves after native Indians to pay them respect for their assistance in escaping the tyranny of slavery."

Comment: "Named themselves after native Indians"...as opposed to "Named themselves after themselves because they are native Indians."

"It was often local Indians who accepted slaves into their society when they made a break for freedom. They have never forgotten this support."

Comment: You don't acknowledge another people's support if you're a member of that group yourself. The Mardi Gras Indians are imitating real Indian culture.

"The greeting of the Big Chiefs of two different tribes often starts with a song, chant, ceremonial dance, and threatening challenge to 'Humba'—the Big Chief's demand that the other bow and pay respect. The retort is a whoop and equally impressive song and war dance with the reply, 'Me no Humba, YOU Humba!'

Comment: Chants, whoops, a war dance, and Tonto talk. Four more blatant stereotypes to add to the growing list.

"Each Spy Boy has a method to signal potential trouble or approaching rival Indian tribes...by whooping, hollering, dancing, and using hand language."

Comment: This reinforces the given stereotypes and adds one more: hand language. (Is this the authentic hand language used by some Indian tribes? You can bet it isn't.)

"This communication network is important as it allows the Big Chief time to adjust his suit, don his headdress, and prepare a song for an impending meeting with a rival tribe."

Comment: A headdress is a classic Indian stereotype—perhaps the classic stereotype. Less obvious but still a stereotype is the idea of two "Indian" peacocks strutting their stuff to prove which "tribe" is best. This pure animalistic behavior denies that Indian cultures were sophisticated or civilized. It equates Indian behavior with the mating rituals of animals.
A better way to honor Indians
If the "tribe" wants to honor Indian cultures, they should acknowledge all aspects of those cultures, not just the dancing and costumes. From their cosmological beliefs to their farming practices to their bedroom habits, the Indians they're "honoring" were complex people. Presenting them only as carefree revelers who frolic in "pretty" outfits is stereotypical. It diminishes and trivializes real Indian culture.
Even if Southern Indians have a long history, do the Mardi Gras traditions honor them any more than the typical sports mascot does? How authentic are the role-playing, the dances, and the peacock-like costumes? (The latter look like something a Las Vegas showgirl might wear, to me.) Did these Mardi Gras "Indians" consult the local Choctaw and Chickasaw elders before "honoring" them? All very doubtful, I'd guess.
For more on what's wrong with dressing up and pretending you're someone you're not, see Indian Wannabes and Imitators.
More on the Mardi Gras Indians
Mardi Gras Indian stereotypes
Phony Indians "honor" real Indians
Mardi Gras Indians on video
Faux "Indians" at risk?

Readers respond
"Mardi Gras Indians do not refer to their selfs as part of a Krewe."
"You are applying outside standards to judge a culture that you do not belong to."
"I must say that your contributor is false."
"[T]his tradition is not...never meant to be a stereotype nor a representation of traditional indian culture."

---
* More opinions *
| | | |
| --- | --- | --- |
| | . . . | |
---
Home | Contents | Photos | News | Reviews | Store | Forum | ICI | Educators | Fans | Contests | Help | FAQ | Info
All material © copyright its original owners, except where noted.
Original text and pictures © copyright 2007 by Robert Schmidt.
Copyrighted material is posted under the Fair Use provision of the Copyright Act,
which allows copying for nonprofit educational uses including criticism and commentary.
Comments sent to the publisher become the property of Blue Corn Comics
and may be used in other postings without permission.