Home | Contents | Photos | News | Reviews | Store | Forum | ICI | Educators | Fans | Contests | Help | FAQ | Info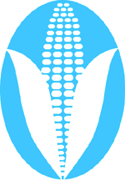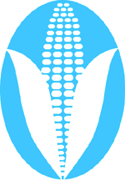 Native Plays and Other Stage Shows
(5/1/07)
---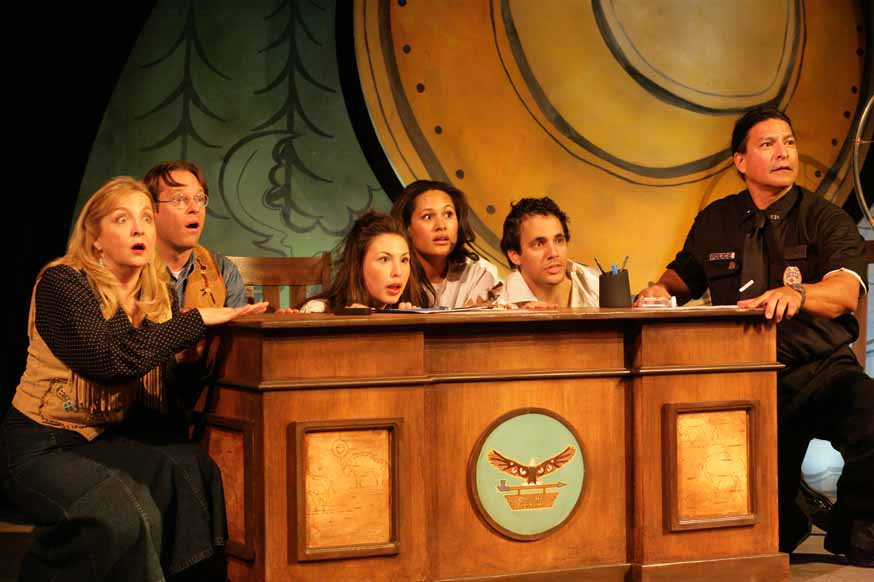 Two-woman Native sketch comedy
Bringing trickster tales to life
Native theatre festival in NYC
Anti-tobacco talent show
Raven's Radio Hour
Aboriginal playwright teaches Indians
Preview of Salvage
Some thoughts on Caliban
Unto These Hills closes
Three plays about two worlds
Upcoming drama at the Taper
Shakespearean Indians
Sacagawea the musical
Variety reviews Ishi play
The Indian and the White Guy
Hiawatha sails into sunset
King Lear with Eskimos
Review of Ishi play
Chickasaws renovate theater
Gay theater does Ishi
Romantic play in West Virginia
Roanoke play must go on
Native Voices takes Australia
Native playwrights express themselves
Indian actress in Broadway hit
Play comments on globalization
Navajo boarding school play
Hopi puppet shows
WagonBurner Theater Troop
Young Native Voices
Review of Teaching Disco
Pix of Teaching Disco
Dances with teen angst
Lakota teens dance troubles away
Native firebrand is artistic force
Studi's one-man show
Shakespeare, Aleutian-style
Breakout comedy duo
Musical comedy about Jackson
Arctic similar to Sahara
NAACP protests Ten Little Indians
Ojibwa teens put on a show
Five plays at festival
Looking for an authentic Indian
Playwright started as Navajo tooth
Tohono O'odham in immigration play
Hotbed of Native theater
Play about Cherokee hero
Indian Blood hits the road
"Sacagawea" retires
Indians learn about Indians
A Penobscot in Paris
No conflict in Yellow Robe's dramas
Sex and scheming in Taos
Shakespeare's Native play
Audiences weep over Greene
Right approach to Native theater
Non-Indian performs Ponca story
Reality show within a play
Taos version of Dangerous Liaisons
"Super Indian" on the Web
Graham Greene as Shylock
Beach family tackles suicide
Merchant of Venice trailer
Black Indian storytelling theater
More Native plays
More Native theaters
From satire to Shakespeare
What's an Indian Woman to Do?
Video of Peltier play
Peltier play on the move
Blue Jacket a white man?
All about Native Voices
Ohio plays feature Indians
Ramona remains relevant
Oldest stories get staged
Native Voices on MySpace
Everyone loves Hiawatha
My take on Berlin Blues
Omaha kids hit Broadway
Pix of The Berlin Blues
Review of The Berlin Blues
Trickster: the musical
More on Peltier play
Play of Prison Writings
Another review of Wakonda's Dream
Review of Tlingit Macbeth
Review of Ponca opera
Macbeth in Tlingit
Opera opens in Omaha
A month of plays
Super plays debut
The plays are the thing
Super diva
Plays preserve culture
"Super Indian" poster
Update on "Super Indian"
"Super Indian" premieres
Greene tackles Merchant of Venice
Another review of Indian Blood
An Indian off-Broadway

A leading Indian playwright
Some articles on William S. Yellow Robe Jr. and his plays:
Funny, it doesn't look like a social commentary

01:00 AM EST on Friday, January 28, 2005

BY CHANNING GRAY
Journal Arts Writer

A shaman who likes to take a nip, a shameless huckster hawking tourist trinkets, an acerbic poet, a "half-breed" student. All characters — real but fictionalized — in William S. Yellow Robe Jr.'s Better-n-Indins, which is getting its first full showing at Perishable Theatre this month and next.

The play, which has been in the reading and workshop stage for some time, deals with misconceptions about, even the total ignorance of, native Americana.

Using a revolving set and a generous dose of humor, Yellow Robe, who appears as a sort of emcee, leads us through a museum of changing exhibits that debunk stereotypes and poke fun at Indian ways.

Nick Bear, as Greg Jones, shows up at a powwow in an outfit that looks more like a Christmas display from Wal-Mart, with lights and all.

The play, in other words, is a series of fast-paced vignettes, some of which hit the mark, and others which fall wide of the target and seem pretty amateurish.

TWO YOUNG WOMEN meet at a powwow. Krista Weller as Nina Paints the Sky has lost her husband and kids in a car wreck. She takes self-conscious Janelle Tibs, played by Marcella, under her wing and, by placing an eagle feather in her hair, gives her the confidence to dance.

At the end of the skit, it seems Weller, too, might have died in the car accident, and was in fact a beneficent spirit looking to help a troubled sister.

The dialogue is thin, as Marcella explains how, as a Goth teen from the city, she doesn't fit in. And the acting is none too strong.

That is one of the drawbacks of this production, that most of the cast — almost all newcomers to the Perishable stage — is marginal at times.

The play, for example, could have done without the section where Weller and Marcella play two bickering schoolgirls, with Weller insisting how she may not look like an Indian but is a half-breed from the Delaware nation.

The skit tries for a "funny you don't look Indian" routine, but breaks down into some inane conversation.

TOM BUCKLAND, who is otherwise the technical director at Trinity Rep, stands out as the fast-talking proprietor of Sacred Sam's trading post, and, in one of the funniest skits of the night, really shines as the host of a game show in which contestants are shown pictures of people and have to guess whether they are Native Americans. Losers get a broken treaty that strips them of their rights.

Again, the idea is that you can't tell Native Americans by how they look (kinky hair, blue eyes), although this time the subject is handled in a much more clever, amusing way.

Buckland is a hoot as the host, with sidekick Shiny Wolf, played by Bradley Thoennes, another solid comic presence. Buckland's got the mannerisms, the inflections down cold.

At Sacred Sam's, Buckland sells brown contact lenses so tourists can look like Native Americans. There's brown, dark brown and "how much peyote have you eaten" darkest brown.

THOENNES AND BUCKLAND turn up again together as two white agents from the Bureau of Indian Affairs trying to figure out a way to apologize for all the government has done to wrong Native Americans. After failing to come up with the right spin, they decide they'll get a Native American to do the apologizing for them.

Yellow Robe, in his role as narrator, introduces the episode by explaining that at one point the BIA employed no Native Americans in its higher ranks, only as janitors and the like.

Yellow Robe, playwright in residence at Trinity Rep and a member of the Assiniboine Tribe from Montana, speaks from authority. He said he applied for a job at the BIA.

Occasionally the play, directed by Bob Jaffe, is sprinkled with what appears to be autobiographical information such as this. At one point, Yellow Robe tells how his grandfather as a boy was packed off and sent to live 1,000 miles from home, presumably at a government school, until he was of legal age.

Between vignettes a voice comes over the PA system announcing things like, "It is now 8 p.m., are you sure the person sitting next to you is not native?"

Otherwise, Better-n-Indins is something of a kaleidoscopic undertaking, more a series of scattered impressions and snappy one-liners than a single arching story.

The thing is, Yellow Robe's self-depricating humor many a time saves even the weaker moments. It's a funny, sometimes touching play that's worth a look.

Better-n-Indins runs through Feb. 26 at Perishable Theatre, 95 Empire St., Providence. Tickets are $20, $15 for students and seniors. Call ArtTix at 621-6123.
*****
From TwinCities.com:
Posted on Thu, Sep. 22, 2005

Where American Indian meets African-American

BY DOMINIC P. PAPATOLA

Theater Critic

Penumbra Theatre Company and playwright William S. Yellow Robe Jr. have put a lot of weight on the shoulders of the first show of the theater's new season.

Playing in St. Paul, the world premiere of "Grandchildren of the Buffalo Soldiers" aims to address the sometimes contentious but inextricably linked relationship between American Indians and African-Americans. And when it goes out on the road as part of Penumbra's first-ever national tour, the goal of the play is nothing less than to help Indians claim their voice and tell their own stories through theater.

The story of "Grandchildren" — a tale of a wanderer who returns home to the reservation for the naming ceremony of his young niece — shares some biographical details with that of its author. Yellow Robe, born and raised on the Fort Peck Indian Reservation in Montana, claims both Assiniboine and African-American heritage.

Like other descendants of marriages between Indian women and "Buffalo Soldiers" — black soldiers who were assigned to the west in the years after the Civil War — Yellow Robe endured racism from all sides. His play addresses what it means to be an Indian, what it means to be a warrior, what it means to live in a culture within a culture.

Though Yellow Robe has been addressing these issues as a playwright for 20 years, it's been difficult to break the message out to mainstream audiences. He knows of no major Indian theater companies in the country and said most plays on the subject of his people are "either historical dramas or magical mystery tours," with Indians portrayed as mystics or seers.

"Grandchildren of the Buffalo Soldiers," is, instead, a contemporary, earthy, warts-and-all look inside a community, written with an undeniably strong sense of voice from that community.

On the surface, it might seem an unlikely production for Penumbra. But artistic director Lou Bellamy insists the play's issues of familial struggle and intercultural racism put "Grandchildren" squarely into Penumbra's wheelhouse and give the theater a chance to see through new eyes.

"Black folks," he said, "have always had to deal with the hybridity of their race — whether that's skin color, hair texture, names — and there's always been a link between many black people and native culture. A number of black writers have written about that coming together, but not many native people have."

The production has been a leap of faith. Bellamy, Yellow Robe said, is one of the few directors he's ever worked with who approached the work with enough humility to say, "I don't know, but I'm willing to learn."

Working on the play has prompted some cast members to examine their own histories. Longtime Penumbra company member Jim Craven plays Craig Robe — the character that most closely stands in for the playwright.

"I've always known that my great-grandmother was Kiowa Indian," Craven said, "and I've had bits and pieces of cultural understanding of that part of my history. But I never paid much attention to it. As an actor, I just used it when I needed it."

But as part of his preparation for "Grandchildren," Craven traveled West to walk where the Buffalo Soldiers walked. Though the weeklong trip mirrors his character's journey only in miniature, he says, "it opened a window to a huge passion that I have to bring to this role."

"Grandchildren of the Buffalo Soldiers" is being co-produced with Trinity Repertory Company of Rhode Island, and, following its performances at Penumbra, will tour to cities, college campuses and reservations across the country.

Yellow Robe acknowledges the inherent limitations of the play. Noting that the Indian community is no more monolithic than any other cultural subset, he concedes that "This is not the quintessential play for all native people, and what I know is hard to translate into the mainstream."

Still, both he and Bellamy expect the unvarnished candidness of the play will generate reactions both positive and negative. They hope those reactions are strong enough to encourage others to come forward with their own stories and tell them in their own ways.

"We have to take ownership of our voice," Yellow Robe said, "and that's what we're trying to do with this tour."

Theater critic Dominic P. Papatola can be reached at dpapatola@pioneerpress.com or at 651-228-2165. What: "Grandchildren of the Buffalo Soldiers"

When: Opens Friday, runs through Oct. 15

Where: Penumbra Theatre Company, 270 N. Kent St., St. Paul

Tickets: $32

Call: 651-224-3180
*****
'Buffalo Soldiers' play confronts the struggles of families with mixed heritage

Thursday, November 10, 2005

"I'm a large man. There's no way I can hide," says playwright William Yellow Robe. "When you're in a classroom and you're dark and 18 other class members are all white, there's no way you can hide."

Yellow Robe's never really been interested in concealing his identity, formed partly by his mix of American Indian and black heritage. But the road for him and others born into multiethnic families can be difficult.

You're not black enough. You're not Native enough. You don't fit.

These are the struggles of Craig Robe, the protagonist of Yellow Robe's latest play, "Grandchildren of the Buffalo Soldiers," who returns to his tribe's reservation in search of community. As descendants of an American Indian woman and a buffalo soldier, the Robe family has struggled for acceptance in their tribe and with one another.

The play, being staged tonight and Friday at the Lied Center, asks audiences to consider issues of racial and cultural identity, particularly among mixed-heritage families, which, incidentally, are increasing in Lawrence. According to statistics released this year by Lawrence Public Schools, the percentage of multiethnic students in local elementary schools far outpaces those in junior highs and high schools.

"When an audience comes in there, hopefully they might be able to find themes or issues or characters or dialogue that they can identify with," Yellow Robe says from his home in Connecticut. "I hope there are some audience members who like it. And then I hope there are audience members who hate it so much that it will encourage them to write their own play.

"What's happened within indigenous literature is that our voice has been appropriated by non-Natives, and we allow them to do it. But there comes a time when we have to be able to express our own voice and to maintain our own voice."

'Walking one path'

Yellow Robe, who serves as a guest faculty member at Brown University and other institutions and who has written more than 10 plays about Native issues, penned "Grandchildren of the Buffalo Soldiers" at the request of his ailing wife. Before she died, she asked him to write a show that went beyond the typical racial dichotomy.

"The whole issue of 'breed' was always boiled down to an issue of white and native," Yellow Robe says. "They never saw the idea of someone being part Native and African-American or part Native and Asian American, part Native or Latino American. In other words, we were never really accepting the fact that we now had relations with the world."

Personally, Yellow Robe has always been pretty sure where he stands. He was raised to be Assiniboine, first and foremost, without denying the three-eighths African-American blood in his veins.

"Part of the problem is that there is this belief of being caught in two worlds, but you've got to pick one," he says. "The logic behind that is if you're jumping from one path to another path, you're not really walking one path.

"The play talks about being able to love and respect those aspects of your life and not to hide them and to lie about them."

Yellow Robe left the Fort Peck Indian Reservation when he was 18 to attend Northern Montana College. He remembers "major problems" there with Native and white relations, and he says things got violent on occasion. But he's moved on.

"You get to that point where the anger wears off," he says. "The most important thing is you don't forget. I always tell my students even if a person has a BA, MA or Ph.D. doesn't mean they have enlightenment."

Local ties

Twenty years ago, Yellow Robe says, very little was widely known about the buffalo soldiers, so named by American Indians, who thought the black soldiers — with their dark, curly hair — resembled the regal animals.

"Now it's the catchphrase of historians," he says.

In 1992, Colin Powell, then chairman of the Joint Chiefs of Staff, spearheaded a movement that ended in the erection of a buffalo soldiers memorial at Fort Leavenworth, where one of the regiments of black soldiers began in 1866.

But the relationship between these soldiers and Native people hasn't been explored much, he says. Nor does the play take a historical look at that interaction. But a tie exists between issues in the show and the past in this area.

"We have a similar situation that happened right here in Leavenworth," says Phyllis Bass, director of the Richard Allen Cultural Center in Leavenworth.

It seems the oldest recorded black family in the city descended from a black militiaman and his Cherokee wife.

"Her father and brother tried to prevent him from taking her off the reservation," Bass says.

Nevertheless, the couple arrived in Leavenworth on horseback in 1855, and she never went back to the reservation.

Yellow Robe and the cast of "Grandchildren" toured the museum and gave a talk there on Tuesday. A buffalo soldier exhibit is on display through Monday in the Lied Center lobby.

Cleansing experience

Despite its reference to the buffalo soldiers — revered by some for fighting for their country and reviled by others for killing American Indians — the play really confronts contemporary struggles.

"I've always been amazed that when we perform in different communities, some community members will come up to me and say, 'You know that's exactly what happened to my son' or 'That's what happened to my nephew' or 'That's the very issue that I'm having problems with now,'" Yellow Robe says.

In this way, he says, "Grandchildren of the Buffalo Soldiers" has value for everyone.

"It is about a young man who returns, but it's not about racial identity; it's a question of humanity," he says. "He comes back to clean his heart — a heart that's been contaminated by racism, stereotypes, myths and misconceptions.

"So this man goes through this process of trying to cleanse himself of all these poisons."

Who among us doesn't have some poison to shed?
*****
Playwright discusses biracialism

By Ashley Zuzek, The Dartmouth Staff

Published on Wednesday, January 18, 2006

William S. Yellow Robe, Jr., author of the play "Grandchildren of the Buffalo Soldiers," discussed the psychology of racial duality during a Tuesday night discussion at the Hopkins Center and emphasized the need for Americans of mixed blood to identify with a single race rather than getting lost between the two.

Having mixed blood, Yellow Robe said, "has created a psychology that no one has dealt with. People go into this panic of being too native or not being native enough."

Yellow Robe, who is both Native American and African American, described the difficulty of being biracial during his discussion, "Claiming Our Relations."

While Yellow Robe identifies more with his Native American ancestry than his African American ancestry, he is not ashamed of his mixed race.

"I honor it and I never deny it," he said. However, he cautioned that people of mixed race should not "straddle both paths," and that he has never regretted identifying with his Native American side.

Yellow Robe's play, which will be performed in Spaulding Auditorium on Thursday, addresses this difficulty by showing characters who are "struggling with humanity" rather than defining themselves by the color of their skin.

"What the play does more than anything else is expose hatred," Yellow Robe said. "You can't really heal yourself until you know that you're wounded."

Yellow Robe drew upon his own experience as a mixed-blood Native American to create the play. Living on a reservation until he was 18 years old, Yellow Robe learned by interacting with other Natives that his racial identity significantly influenced his view on life.

"Even though we were from the same tribe, our perspectives were so different," Yellow Robe said about his conflicts with a white and Native American friend.

Although being biracial makes the formation of one's identity difficult, Yellow Robe said that it has also offered him the opportunity to represent the people of his tribe.

"You've got to stand up and speak for yourself so you can speak for your people," Yellow Robe said.

Yellow Robe discussed not only the uniqueness of having mixed blood but also the importance of maintaining one's identity. Through colonialism, he said, people have modified their cultures to make life easier without thinking of the consequences.

In a different vein, Yellow Robe read several poems to the audience about his wife, who passed away of breast and liver cancer. One poem, entitled "Prep Work," particularly emphasized Yellow Robe's Native American philosophy because it stressed the importance of release by encouraging his wife to "Just let go."

Yellow Robe's diverse discussion of racial issues had both personal and wider implications.

"He was dealing with a lot of concepts that have been left out of the historical explanation of this country," said James Novakowski '09, who first encountered Yellow Robe in his Native American Studies class. "I even felt resistance to some of the things he said. It was interesting to listen to him and to observe my own reactions."

The discussion, while centered on Native American and African American relations, also applied to other ethnicities.

"I thought a lot of the conflicts he mentioned for America are the same as those for China," Erin Gu '09, who was raised in China, said. "It's always a question whether you are too resistant to westernization and therefore not advancing technologically. It may shed light onto some of our problems and make the transition easier."
Related links
Free downloads on Natives in plays
TV shows featuring Indians
The best Indian movies
Comic books featuring Indians

---
* More opinions *
| | | |
| --- | --- | --- |
| | . . . | |
---
Home | Contents | Photos | News | Reviews | Store | Forum | ICI | Educators | Fans | Contests | Help | FAQ | Info
All material © copyright its original owners, except where noted.
Original text and pictures © copyright 2007 by Robert Schmidt.
Copyrighted material is posted under the Fair Use provision of the Copyright Act,
which allows copying for nonprofit educational uses including criticism and commentary.
Comments sent to the publisher become the property of Blue Corn Comics
and may be used in other postings without permission.