Home | Contents | Photos | News | Reviews | Store | Forum | ICI | Educators | Fans | Contests | Help | FAQ | Info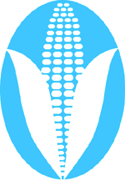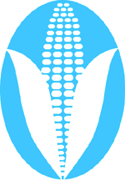 Peace Party
---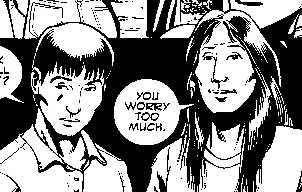 Belgium is a very important comic strip country. Tintin, in my language Kuifje: the guy with the little white terrier, Asterix, the old Belgian who with his friend Obelisk and their dog Idéefix defeat the Romans, Suske and Wiske are all Belgium products just as chocolate, lace and beer. In the 3 cartoons I just mentioned there is no sex and only tempered down, partially good-humored violence. There is also a younger generation of Art strips and urban comics where well-endowed babes, gratuitous sex and random violence abound (or was it the other way around?). There are also some really beautiful and well made 'adult' cartoons…
Then why am I writing about an American comic called Peace Party? Because it is good, different, thoughtful and fun. And for you, dear readers of The Standard, it might be a bonus that it's location is Arizona (the North East) and its protagonists are two Hopi cousins. Billy Honanie who works as a lawyer in Phoenix, the other Drew Quyatt was raised and lives on the reservation. They do battle with all kinds of evil. Yet being Hopi, they do not choose the path of violence. After a freak accident both hero's are given magical powers. The weatherman is Billy who influences the clouds and other phenomena and Drew has a special relationship to animals and rattlers are his special friends.
Car chases, close escapes, good one liners and no boring stereotypes, what more can you want… These Indians are highly articulate and witty, not the usual cliché with a hooked nose guy with a headdress saying "eugh" while brandishing a tomahawk. In Suske en Wiske and if I remember correctly also in TinTin there are always scenes in which the 'locals' are portrayed as really stupid or ghastly. In Africa there are always bones through peoples nose and big round kettles for stewing up whites: clothes, shoes, cameras and all… Of course they never get eaten, because a good strong guy or the superior wit of the white folks will always get them out of trouble. In other words: they are highly politically incorrect and not really clever.
Blue Corn Comics is unique in that it works with a board of Indian advisors and cultural experts to check the story and depictions for mistakes and cultural sensitivities. One learns a lot in these comic's and they are fast paced, enjoyable and with an eye for detail. An example: remarks about the state of the sagebrushes, strange weather patterns, the over exploitation of the land, the water and the Peabody Coal Mine. All of this a very natural part of the story which is good-humored and irreverent and never preachy.
In Peace Party the hero's work together. They are not the rugged lone individualists that will safe the world with superior violence. They use magic and wit instead of blasting guns. The magic makes for nice drawings too. Up to now no sex nor romance. In each issue you can also find some extra dialogue between Billy and Drew, showing for instance their different reactions to the powers bestowed upon them, background information on Leonard Peltier and much more.
Blue Corn Comics also has an interesting website for you webbies: previews, discussions, information, contests, help for teachers wanting to use the material in the classrooms, point of views on actual Indian issues. Their website is: www.bluecorncomics.com. Check it out. You'll have some fun.
All the best from
Annmarie
Toots and Vee
---
* More opinions *
| | | |
| --- | --- | --- |
| | . . . | |
---
Home | Contents | Photos | News | Reviews | Store | Forum | ICI | Educators | Fans | Contests | Help | FAQ | Info
All material © copyright its original owners, except where noted.
Original text and pictures © copyright 2007 by Robert Schmidt.
Copyrighted material is posted under the Fair Use provision of the Copyright Act,
which allows copying for nonprofit educational uses including criticism and commentary.
Comments sent to the publisher become the property of Blue Corn Comics
and may be used in other postings without permission.