Home | Contents | Photos | News | Reviews | Store | Forum | ICI | Educators | Fans | Contests | Help | FAQ | Info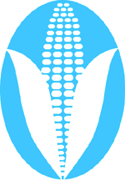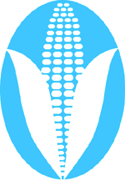 Stereotype of the Month Entry
(6/9/06)
---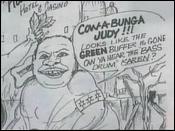 Another Stereotype of the Month entry:
Davie mayor calls cartoon in Hard Rock casino noise debate 'racist'

By John Holland
South Florida Sun-Sentinel

June 9, 2006

DAVIE — The cartoon couldn't be more jarring, depicting a powerful leader of the billion-dollar Seminole Tribe's gaming empire as a drum-beating, half-naked barbarian.

Beside him in a canoe sits Davie town council member Judy Paul, wearing a swimsuit and holding a martini. The image of the Seminole Hard Rock Hotel & Casino hovers above.

A debate over noise in Davie has turned shrill.

"I think it's offensive ... racist," Davie Mayor Tom Truex said of the cartoon, which has become the symbol in a small group's fight to cut noise spilling into Davie neighborhoods from the Hard Rock complex. It began circulating about two months ago.

Truex has already met with Max Osceola, the leader depicted in the cartoon who has a longtime relationship with Davie. The mayor apologized on behalf of the town.

Truex and Paul said the cartoon was distributed by Karen Stenzel-Nowicki, who recently was appointed to the town's Planning and Zoning Board. Truex wants her removed from the board.

At Wednesday's Town Council meeting, Truex expressed his outrage about the cartoon, a copy of which shows it was sent from a fax machine and has "Stenzel-Nowicki" and the fax number printed on it.

Stenzel-Nowicki, who was present at the meeting, sat quietly but said nothing. She could not be reached for comment on Thursday.

She has been sharply critical of Paul, saying she hasn't done enough to stop the noise.

Stenzel-Nowicki wants Davie to consider filing legal action, even though the tribe is immune from lawsuits.

"This woman, Nowicki, is angry at me that I didn't do it her way," Paul said Thursday. "I tried to meet with the Seminoles, and they are really making efforts to be a good neighbor. The truth is, there are only about four people who have been complaining; the rest of the neighborhood has no problem with the noise."

Osceola, a longtime member of the Seminole Tribal Council and a well-known figure around Broward County, said the tribe has spent $500,000 on landscaping to curb noise and has dramatically cut back on fireworks shows and nighttime music performances near the outdoor pool area, which is closest to Davie homes.

Osceola hasn't seen the cartoon and doesn't want to.

"Historically non-natives have tried to ridicule or make fun of natives, so I just consider the source," he said.

Osceola said the tribe is working to cooperate, but emphasized the Seminoles have the final word on noise levels and anything else affecting the 3,000-member tribe. Over the years, the tribe has won repeated legal battles with Broward County, the state and the Broward Sheriff's Office.

"Back in B.C. — before Columbus — we were a sovereign nation, and that hasn't changed and won't change," Osceola said. "The noise level may not be what Davie wants or what the Seminoles want, and that's too bad. We respect their request, we're doing the best we can, and that's all you can ask of an individual or organization."

John Holland can be reached at jholland@sun-sentinel.com or at 954-385-7909.

Copyright (c) 2006, South Florida Sun-Sentinel
*****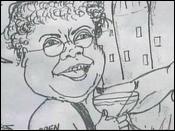 Jun 9, 2006 11:12 pm US/Eastern

Cartoon On Hard Rock Casino Noise Called Racist

Only On 4
The Casino Includes A Hotel And Entertainment Complex

Carey Codd
Reporting

(CBS4 News) DAVIE The mayor of the Town of Davie says the fight to abate noise caused by the Seminole Hard Rock Casino has turned racist after a city official circulated a satirical cartoon of the tribal council member in charge of the casino.

Max Osceola, the tribal council member that runs the Seminole Hard Rock Hotel and Casino is satirized in a cartoon character on a fax sent to councilwoman Judy Paul. The Mayor suspects Planning and Zoning Board member Karen Stenzel-Nowicki is behind the cartoon after the fax contained her name on it. Osceola is drawn as a half-naked Indian beating on drums in a canoe, while Paul is on his side, wearing a swimsuit and holding a martini.

Stenzel-Nowicki is not happy with the way negotiations are going between the casino and the town in efforts to stop noise coming from outdoor concerts, cars leaving the complex and other noise created by entertainment complex.

A handful of neighbors have been complaining about the noise and the landscaping buffer zone, which was torn by Hurricane Wilma. The landscaping acted as a barrier between the noise and the neighborhoods and has not been replaced since. The buffer zone is one of the topics depicted in the cartoon.

At Wednesday's Town Council Meeting, Mayor Tom Truex expressed his disgust over the cartoon calling it racist.

"We shouldn't condone it," said Truex. "Anybody that is circulating that.. I don't want them on the town board."

Truex has already met with Osceola and apologized to the leader, who has had a longtime relationship with Davie.

Stenzel-Nowicki says she did not send the fax and called the cartoon a 'non-issue', but says the larger issue is the noise abatement problem.

"This isn't just about a decibel reading," said Stenzel-Nowicki. "This is about what this is doing to our lives, our families, our properties, our property values, every aspect of the community."

Osceola was not available for comment to CBS4 News. Other officials from the casino did not offer comments either.

An item involving the cartoon will be brought up at the town council meeting Wednesday, June 21.

Reports of the tribe working with the town do exist, even though the tribe is immune from any lawsuits.

(© MMVI, CBS Broadcasting Inc. All Rights Reserved.)
*****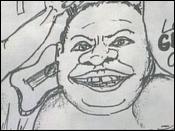 Racist cartoon or free speech?

Davie Mayor Tom Truex wants a member of the town's planning board removed because he thinks she passed along a racist cartoon.

BY JENNIFER LEBOVICH
jlebovich@MiamiHerald.com

The cartoon shows a leader of the Seminole tribe, shirtless, banging on a drum as his canoe passes the Seminole Hard Rock Hotel & Casino.

Davie Councilwoman Judy Paul is depicted sitting at the other end of the boat, the words "open space princess" tattooed on her arm, a cocktail in hand.

Mayor Tom Truex is condemning the depiction of Seminole Tribe of Florida Council member Max Osceola as racist. At tonight's 6:30 meeting, Truex will ask the council to remove Karen Stenzel-Nowicki from the Planning and Zoning Board. Truex believes Stenzel-Nowicki sent the cartoon to someone who passed it along to Paul. "I think it just portrays a Native American in a negative sense that's sort of a racial stereotype," Truex said.

A resident of the town's east side, Stenzel-Nowicki has been complaining about noise coming from the casino complex.

Truex said Stenzel-Nowicki told him she did not draw the cartoon. But, he said, "it's my understanding she faxed it."

Stenzel-Nowicki, when reached by phone, told a reporter to contact the American Civil Liberties Union, because "this is construed as a freedom of speech issue."

She declined to comment further.

A majority vote of the council is required to remove Stenzel-Nowicki from the board.

Councilman Bryan Caletka appointed Stenzel-Nowicki to the board after he was elected in March. Her experience as a real estate agent, working on the east side of Davie, and her previous work for a builder made her an ideal candidate, Caletka said.

Caletka said that while the cartoon isn't nice, he doesn't believe it warrants her removal from the board. "I think it's a mean-spirited cartoon, but after examining the cartoon, I do not believe Native Americans are being singled out."

Osceola said he hasn't seen it but others have described it to him.

"I don't need to see it," Osceola said. "They're stereotyping natives. They think every native lives in a tepee and has drums as a musical instrument. That's the uneducated non-native trying to stereotype us."

Osceola said the tribe has taken steps to reduce noise from the Hard Rock and to address the concerns of the casino's neighbors.

"We've done everything we can," he said. "We may not agree that the level [of noise] is appropriate, but I think we can agree that both sides have tried to address the issue. That's all you can ask for any human."

An ACLU representative will attend tonight's meeting to discuss the freedom of speech issues.

But if Stenzel-Nowicki circulated the cartoon, she would likely not be protected by the First Amendment because of her role on a public board, said Bob Jarvis, a professor of constitutional law at Nova Southeastern Law School.

One exception is if a person is acting as a whistle-blower, but Jarvis said that probably would not apply here. The town charter stipulates board members serve at the "discretion" of the town council, said Braulio Rosa, town spokesman.
*****
Cartoon prompts debate

Davie panel member's future unsure

By Thomas Monnay
South Florida Sun-Sentinel

June 22, 2006

DAVIE · Council members debated late Wednesday night whether to remove zoning board member Karen Stenzel-Nowicki, who is accused of circulating an offensive cartoon.

Mayor Tom Truex pushed for Stenzel-Nowicki's removal because she's a public figure and he said the Planning and Zoning Board deals with important development and code issues.

A decision was postponed until the council's next regular meeting on July 5.

The controversial cartoon depicts Seminole Tribe leader Max Osceola as a drum-beating, half-naked barbarian. Next to him in a canoe sits Councilwoman Judy Paul, wearing a swimsuit and holding a big martini.

"I believe it's a racist cartoon," Truex said before the meeting.

Stenzel-Nowicki admitted sending the cartoon to a private citizen.

"I did not do what I am being accused of and I will defend myself," she said. "This is a freedom of speech issue."

Board members advise the town on general issues and serve at the pleasure of council members.

Stenzel-Nowicki's supporters defended her, saying she has the right to express herself. They said the alleged act did not occur in her capacity as a board member.

"It's her opinion. That's protected speech," said Barry Butin, co-legal panel chair of the Broward County chapter of the American Civil Liberties Union.

Paul also has called for Stenzel-Nowicki's removal.

A copy of the cartoon traced it back to a fax number identifying the sender as Stenzel-Nowicki. The transmission time and date shown was 3:52 p.m. April 24. Among other things, the cartoon reads: "Cow-a-bunga, Judy!!! Looks like the green buffer is gone. Can ya hear the `bass drum,' Karen?"

That reference appears to coincide with a campaign Stenzel-Nowicki has been leading for several months to stop noise from the Seminole Hard Rock Hotel & Casino from coming to her neighborhood, less than five miles away.

Copyright © 2006, South Florida Sun-Sentinel
*****
Posted on Wed, Jul. 26, 2006

DAVIE

Cartoon debate ends in resignation
Karen Stenzel-Nowicki, who irked some for circulating a political cartoon, resigned from the Planning and Zoning board.

BY NIKKI WALLER
nwaller@MiamiHerald.com

A Davie gadfly and activist, who sparked criticism for circulating a cartoon depicting a councilwoman in a canoe with a Seminole Tribe leader, has stepped down from the town's planning and zoning board.

In a letter sent to town officials Monday, Karen Stenzel-Nowicki gave no reason for the resignation, which is effective immediately.

But Councilman Bryan Caletka, who nominated the east side resident to the board, said Stenzel-Nowicki told him that she's irritated at members of the Town Council who tried to remove her from the board.

`GROUP OF NUTS'

"She just doesn't feel like serving a group of nuts like the Davie council," said Caletka. "She thinks the whole thing was absurd, and I agree with her."

The resignation comes three weeks after Town Council members voted 3-2 not to dismiss her from the board.

Mayor Tom Truex, who along with Susan Starkey voted to kick Stenzel-Nowicki off the board, said he felt the cartoon was racist and put the town in a bad light.

The cartoon, which council members believe was drawn by Stenzel-Nowicki's husband, shows Councilwoman Judy Paul, the words "open space princess" tattooed on her bicep, sitting in a canoe with Max Osceola, a Seminole Tribe leader, in front of the Seminole Hard Rock Hotel and Casino.

NOISE COMPLAINTS

Stenzel-Nowicki has waged a long, public struggle with the tribe over noise emanating from the casino that disrupts her East Davie neighborhood. She has said she put her home up for sale to escape the noise. She did not return phone messages Tuesday.

Paul voted to keep Stenzel-Nowicki on the board — partly because she circulated the cartoon before her appointment to the board.

Neither Paul nor Osceola could not be reached for comment Tuesday.

Truex said his feelings on the cartoon haven't changed since the vote, but declined to comment on Stenzel-Nowicki's departure.

Planning and Zoning Board chairman Mike Bender said Caletka will have to select another nominee.

"It's a shame to lose somebody who's intelligent and talented," said Bender. "But we don't play politics on our boards. You represent the town and you have to represent it in good taste."
Rob's comment
In addition to portraying Osceola as a half-naked savage, the cartoon portrays council member Paul as a modern-day Cleopatra enjoying the casino's largesse. The implication is that the Seminoles have bought and paid for her. Maybe they have, or maybe she supports the tribe for legitimate reasons.
Related links
Tipis, feather bonnets, and other Native American stereotypes

---
* More opinions *
| | | |
| --- | --- | --- |
| | . . . | |
---
Home | Contents | Photos | News | Reviews | Store | Forum | ICI | Educators | Fans | Contests | Help | FAQ | Info
All material © copyright its original owners, except where noted.
Original text and pictures © copyright 2007 by Robert Schmidt.
Copyrighted material is posted under the Fair Use provision of the Copyright Act,
which allows copying for nonprofit educational uses including criticism and commentary.
Comments sent to the publisher become the property of Blue Corn Comics
and may be used in other postings without permission.