Home | Contents | Photos | News | Reviews | Store | Forum | ICI | Educators | Fans | Contests | Help | FAQ | Info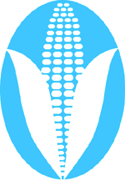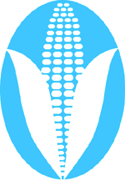 Stereotype of the Month Entry
(7/27/05)
---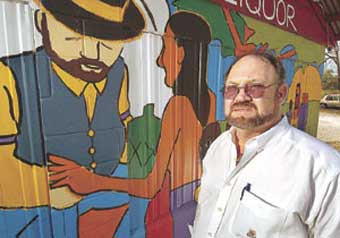 Another Stereotype of the Month entry:
From the Native Times:
Hugo mural draws fire from Choctaw women
Object to depiction on liquor store

HUGO OK
Sam Lewin
7/26/2005

Julia Durrence doesn't consider herself to be easily offended.

Neither does Rose Harris.

But both women, each a mother of two, separately came to the conclusion that something is wrong with a mural outside of West Main Liquors in the Sooner State town of Hugo, a small burg of several thousand people situated on the Texas/Oklahoma border.

The mural depicts a white settler selling liquor from a wagon to an Indian man wearing traditional clothing. A Native woman accompanied by several children appears to be waiting in the background for the sale to be completed.

The soft-spoken Durrence recalls the first time she drove by the store.

"I was wondering if it was appropriate," she told the Native American Times. "I am not the type of person that likes to make controversy. But I would see it everyday and it just wasn't right."

Harris feels the same way. A nurse at a Choctaw clinic, Harris also found the mural in poor taste, to say the least.

"I think it is demeaning to Indian women," Harris said. "It shows an Indian woman waiting with her kids for her husband to buy liquor. Indians already have this stigma and all he is doing is portraying a stereotype."

"He" is Bob Almond, the owner of West Main Liquors. Reached by the Native American Times for comment, Almond hung up the phone after using profanity to curse those who might have a problem with the mural.

Harris has better luck.

"I talked to him. He told me that his wife is Indian and that [the mural] depicts part of our culture," she said. "I don't think he realizes what he is portraying."

Durrence says she is frustrated because the Choctaws, based in the nearby town of Durant, have made strides to reduce the abuse of drugs and alcohol among tribal members.

"It's a stereotype," Durrence said. "It is what we have been trying to get away from. People drive up and down that road coming from Texas everyday and that is what they see when they come to Oklahoma."
*****
From NewsOK.com:
Mural on Hugo liquor store decried as racist

By Penny Cockerell
State Correspondent

HUGO -- A liquor store mural has sparked cries of racism and bad taste despite the shop owner's insistence that he was only trying to beautify an ugly side of the city.

Bob Almond had the mural painted on the side of West Main Liquor store more than a year ago. However, it has just now caught the attention of some Choctaw Indians. They find it offensive and have rallied to pressure Almond to whitewash the mural.

One drove from the West Coast to join the fight and said she met several from other states and a variety of races, who joined local Choctaw Indians to complain to Almond, the Hugo Chamber of Commerce and the Choctaw leadership.

The mural, which cost Almond $800, depicts a white man selling whiskey from the back of a wagon to an Indian. The mural also depicts three black men, two standing in line and apparently wearing Indian robes, a white man drinking from a bottle and an Indian family in the background.

"The depiction is racist and it is sexist and it's unfortunate that the owner of the store doesn't have the ability to see that. There's this ingrained kind of insensibility that it's OK to have stereotypes against Indians," said Senna Heyatawin, a Choctaw Indian from the West Coast. "I'm sure he probably didn't think it was racist, God bless him for that, but it is."

Indeed, Almond says he had no racist intentions and will paint out the Indians, women and children. Many of his customers are American Indians, he said, and they've never complained. He also said "two carloads of full-blooded Choctaw women" came to look at the mural and saw nothing wrong with it.

But two women who were offended have called and threatened to burn his store down, he says. Another woman called from Durant and threatened to bring in the NAACP.

"They talked to me like I was some kind of animal," Almond said. "I'm married to an Indian lady, been married 38 years to her. I was raised with Indians, grew up with them and didn't mean to offend anybody."

Political correctness

Almond said he simply wanted the mural to reflect his business of selling liquor and he chose to add all races to be politically correct.

"I have probably got 50 full-blood Indian customers and not a one of them ever said a thing about that mural," Almond said. "Eighty-five percent of my customers are black and, in fact, I had one guy get mad while it was being painted because he hadn't painted the black man yet. He said, 'You better put a black man in that.'"

Leaders of the Choctaw Nation spoke with Almond, who agreed to change the mural — that is, if he can get past his wife, Sheila Almond, a Chickasaw Indian, who thinks the mural ought to stay.

"The Indians need to stop and think where their heritage is," Sheila Almond said. "As far as the drinking is concerned, all the Indians drink. And the blacks drink and they're intermixed with the Indians. I don't see the big uproar about the thing. It's just a painting and if the women in Hugo don't like it, they need to take another route to work."

Her husband also lambasted the Choctaw community for putting casinos everywhere, which creates gamblers who can't feed their children or pay their bills.

And he said he's cared for homeless Indians when members of their own tribe would just drive past them.

"These homeless Indian boys that's been on this street, I've helped them more than anyone down here," Almond said.

Private business

Hugo has no ordinance addressing murals. City Manager David Rawls said West Main Liquor is a private business and the owner can do what he wants, as long as it isn't obscene.

"Art tends to be different things for different people," he said. "But if the Indian population is offended by it, I personally would side with them."

So most likely this weekend, Almond will head outside with a paintbrush and change the mural that he said was a poorly done job in the first place.

"I'll just paint them all white," he said. "And someone will gripe about that, I'm sure."
*****
Tribe: Mural to be painted over
Painting drew objections, "It put a little fire in me," says tribal member

Native American Times
8/10/2005

The owner of a controversial painting in Southern Oklahoma has agreed to paint over the piece, a Choctaw Nation spokeswoman says.

"Bob Almond said he would change the mural. He said he never intended to offend anyone," Choctaw spokeswoman Judy Allen told the Native American Times.

The story began when two Choctaw women expressed concern over the images depicted on the building that houses West Main Liquors in the town of Hugo, a community of several thousand people on the Texas/Oklahoma border. The mural shows a white settler selling liquor from a wagon to an Indian man wearing traditional clothing. A Native woman accompanied by several children appears to be waiting in the background for the sale to be completed.

Another member of the tribe, Roger Anderson, read the story in our Aug. 5 edition. It tapped into a well of Native pride, he says.

"Considering everything the Choctaw people overcame all these years I felt compelled to do something. It was disrespectful to my mother, my father, my grandparents and it put a little fire in me," Anderson said. "The Choctaw people have been doctors, lawyers, accountants, engineers and business people. After all these years of being successful we are being portrayed as drunken Indians. That's not right."

Anderson got on the phone and the web, contacting various tribal officials.

He sent Allen the story. She called Almond, the owner of the store. Allen said it was "very easy" to convince Almond that the mural was inappropriate.

That reaction sharply contrasts with the response the Native American Times received when we contacted Almond for the original story. He hung up the phone after using profanity to describe anyone who might take issue with the mural.

Anderson says he is grateful to Julia Durrence and Rose Harris, the two women that publicly objected to the mural, and to the NAT for running the story.

"You don't see things like that in the Tulsa World or the Daily Oklahoman," he said. "My mother-in-law works in Hugo. What would my kids have thought if they had seen it when we were visiting?"
Rob's comment
Note that the white man in the mural is larger than and looms over the Indian. This suggests the mural represents a paternalistic attitude toward Native people.
Even if it's historically accurate, the mural is in bad taste. A liquor store mural depicting Indians buying alcohol is like a hospital mural depicting a car crash.
Related links
Drunken Indians

---
* More opinions *
| | | |
| --- | --- | --- |
| | . . . | |
---
Home | Contents | Photos | News | Reviews | Store | Forum | ICI | Educators | Fans | Contests | Help | FAQ | Info
All material © copyright its original owners, except where noted.
Original text and pictures © copyright 2007 by Robert Schmidt.
Copyrighted material is posted under the Fair Use provision of the Copyright Act,
which allows copying for nonprofit educational uses including criticism and commentary.
Comments sent to the publisher become the property of Blue Corn Comics
and may be used in other postings without permission.