Home | Contents | Photos | News | Reviews | Store | Forum | ICI | Educators | Fans | Contests | Help | FAQ | Info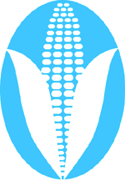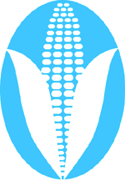 Stereotype of the Month Entry
(4/12/02)
---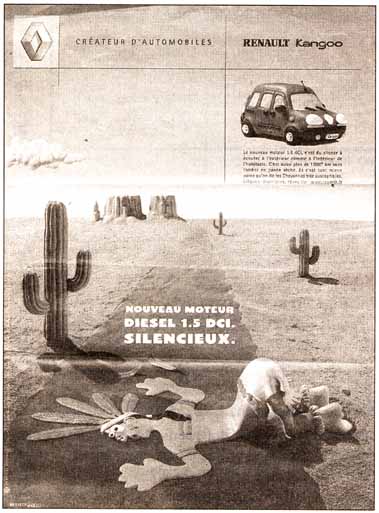 Another Stereotype of the Month entry:
Renault use Indian stereotype in its advertising

Posted: April 12, 2002 -- 7:00AM EST
by: Robert Taylor / Staff Reporter / Indian Country Today

Oui, je suis très susceptible.

French auto manufacturer Renault released a March 11 advertisement in the television magazine Telestar for their "Kangoo" model. The ad, originally published in French, says the car is as silent on the outside as it is on the inside and can go 1,000 kilometers before it needs refueling.

The ad goes on to say the gas mileage is a good thing " because people say the Cheyenne are very touchy." The graphic background is a clay figure of a stereotypical Indian man wearing a loincloth and feathers, with an ear to the ground, whose head has been flattened by the silent new car.

It is not surprising that Renault officials in the United Kingdom and France, including the corporate director of communications, failed to respond to initial inquiries for comment. Pierre Zigmant, a spokesman for Renault, requested more information on the ad and said Renault was "investigating" the situation with its marketing department.

The world has become a small place with the expansion of the Internet and more Native Americans are receiving higher education than ever before ... some of us can actually speak and read French. The executives at Renault who approved this advertisement obviously failed to consider its inherent bigotry, but also failed to realize that American Indians and Indian Country Today have friends and subscribers in France who would bring it to our attention.

The question now is what will Renault do in the form of an apology, especially to the Northern and Southern Cheyenne Tribes. There are several prominent Americans, including Sen. Ben Nighthorse Campbell, who are members of either of the Cheyenne Tribes, who are likely to be outraged.
Comment: More problems with this ad:
The Cheyenne didn't live in what looks like the Sonora Desert of Arizona. The Indians who did and do live there never looked like the stereotypical "brave."
Using the historical "brave" sets Indians in the past, as if they no longer exist today.
Showing the Indian getting run over makes him appear stupid. Apparently he didn't see the car coming and didn't wonder about the unnaturally smooth "trail" he found. The implication is that he's a savage with no notion of modern life.
The ad's using the Indian's crushed torso to convey a commercial message is morally dubious. Indians aren't cartoon characters like Wile E. Coyote, who gets up and resumes the chase after an anvil flattens him. Indians are real people. Should any ad use a person's suffering or death to sell a product?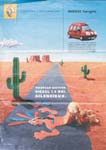 Renault apologizes, sort of

Renault apologizes for offensive ads

Posted: April 21, 2002 -- 1:00PM EST
by: Robert Taylor / Staff Reporter / Indian Country Today

French auto manufacturer Renault and its advertising agency, Publicis, are to be commended for their timely response and attempt at an official apology to Indian country for a series of offensive advertisements.

The apology was spurred by a critical examination of the advertisements in the April 10 Indian Country Today. Requests for a response from Renault sparked an internal investigation that is leading to the termination of the ads. The ads had been appearing in, among others, the popular French television magazine Telestar and were provided to us by a subscriber in France.

The apology, reprinted below, unfortunately has failed to bring closure to the issue. The Renault apology states that the Indian depicted in their ad is an adaptation of the character "Bison Fûté" ("Smart Buffalo"), the mascot of the French government's National Traffic Center. The center's website, http://www.bison-fute.equipment.gouv.fra, features an absurd version of the caricature.

Accordingly, the government of France should follow the precedent set by Renault: it should pull this offensive object off state-sponsored material and apologize to American Indians.

Nous nous souviendrons. (We will remember.)

The Publicis apology follows:

"We received your mail dated March 29th. Please accept our apologies for having offended your community and yourself. It was not our intention to do so.

"The purpose of the ad (whose publication will stop in a few weeks) was only to show the silence of the Kangoo's new diesel engine by using a cartoon-like creative device. Indeed for us the use of modeling clay clearly establishes a distance with real life situations.

"Additionally, the Indian depicted is a reference to a French national cartoon character called 'Bison Fûté' who gives traffic directions on TV on the eve of long weekend migrations to the countryside. French people immediately see the reference that is a positive and friendly one. Understandably enough, this reference does not carry the same positive connotations for your people. So again, let me renew my apologies for having offended your community with an ad that was not meant to cross the Atlantic.

"Best regards."

Renault spokesman Pierre Zigmant added:

"I hope this letter will convince you that Renault and Publicis did not have any intention of being injurious to the Native American community, which clearly enjoys a very favorable image in our country, due to its ancestral wisdom, its traditional responsible attitude towards nature and the environment, and its proverbial bravery."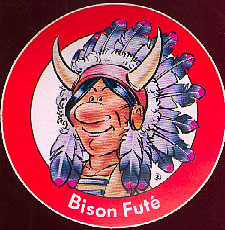 Rob's comment
Taylor is right. The stereotypical Indian character's reference to another stereotypical Indian character is no defense. Not meaning harm and not knowing any better aren't valid excuses.
Renault's apology is weak if you think about it. "We were stereotyping Indians just like all French people stereotype Indians. We think our stereotypes are fun and friendly. And you weren't supposed to see them." It's hardly the epitome of contrition.
Related links
French "Smart Buffalo" resembles big-nosed aardvark
Team names and mascots

---
* More opinions *
| | | |
| --- | --- | --- |
| | . . . | |
---
Home | Contents | Photos | News | Reviews | Store | Forum | ICI | Educators | Fans | Contests | Help | FAQ | Info
All material © copyright its original owners, except where noted.
Original text and pictures © copyright 2007 by Robert Schmidt.
Copyrighted material is posted under the Fair Use provision of the Copyright Act,
which allows copying for nonprofit educational uses including criticism and commentary.
Comments sent to the publisher become the property of Blue Corn Comics
and may be used in other postings without permission.