Home | Contents | Photos | News | Reviews | Store | Forum | ICI | Educators | Fans | Contests | Help | FAQ | Info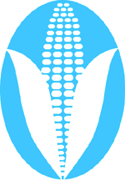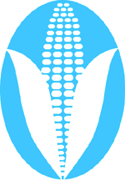 Stereotype of the Month Entry
(11/17/00)
---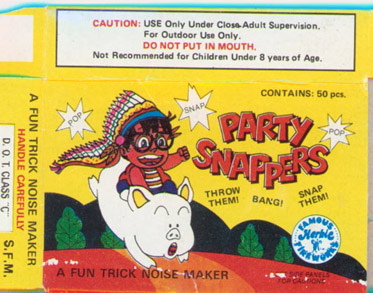 Another Stereotype of the Month entry:
Dear Robert,

As my original email explained, I was taking my son on vacation to our native land. He wanted to stop at South of the Border in SC to pick up some fireworks. I agreed, pulled off I-95, and allowed him to go in by himself. He came out with a bag and I didn't check it until we got down to St. Helena's Island. When I saw this, I exploded more than the snap-caps could have. I was furious. We stopped on the way back so that I could go through every item South of the Border had—if they had had another item like that I would have screamed so loud it would have been heard in Wash, DC—much to my teenage son's embarrassment.

Fortunately for them, there was nothing else, not even a demeaning Indian picture reference on any other product. I still was and am furious, which is why I sent this to you. I mean—this piece of garbage insults everybody, even pigs. The product was made in China, the manufacturer is Herbie Fireworks, and no other identity on the box....It still infuriates me. Such trash should be outlawed.

As I previously explained, I used to teach Cartooning and Animation at the college level. I have a verifiable background in this area. I have a sense of humor that can be very, very flexible, but this, this, enraged me. When I first discussed it with my son, I asked him—he, who is Tsaligi/Chicora-Waccamaw/Ojibwe/Cree from me (even though I am blonde—hence the sense of humor)—a child who was raised to respect and know his blood, his traditions, and (being 14 y.o. and patronizing a mother who he feels is crazy at times)—I asked my baby, my flesh and blood what he thought of this he said "Mom. I think it is healthy, because it shows that these can help you when you are dressed with your tradition and want to express yourself. It also shows children who don't know what a real Indian looks like." I think you can realize now my total anger, my total repulsion, at this.

I apologize. I do not usually allow my anger to show like this. I usually do not allow something like this to get to me, I try to be objective, but when my own son tells me things like he is telling me I become undone....Sorry I went into such detail. Cartooning and animation is/was such an important issue with me because it is something that is so understood by everyone.

Elizabeth
Rob's comment
Besides misusing the chief's headdress, which is reserved for worthy leaders, this Party Snapper wrapper reinforces a common stereotype. Having the Indian cause or cheer the pops while astride a strange animal (a pig!) makes him look violent, uncouth, and ridiculous. Who else rides a pig while wearing a bullet headdress and celebrating explosions except a madman?
Related links
Uncivilized Indians
Savage Indians

---
* More opinions *
| | | |
| --- | --- | --- |
| | . . . | |
---
Home | Contents | Photos | News | Reviews | Store | Forum | ICI | Educators | Fans | Contests | Help | FAQ | Info
All material © copyright its original owners, except where noted.
Original text and pictures © copyright 2007 by Robert Schmidt.
Copyrighted material is posted under the Fair Use provision of the Copyright Act,
which allows copying for nonprofit educational uses including criticism and commentary.
Comments sent to the publisher become the property of Blue Corn Comics
and may be used in other postings without permission.