Home | Contents | Photos | News | Reviews | Store | Forum | ICI | Educators | Fans | Contests | Help | FAQ | Info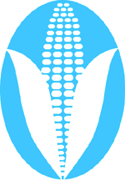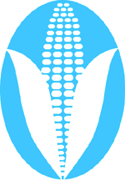 Stereotype of the Month Entry
(10/25/04)
---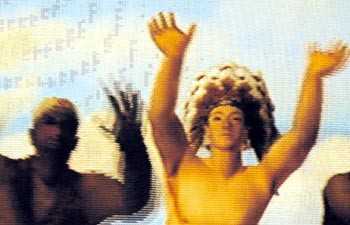 Another Stereotype of the Month entry:
EA Sports game irks officials, tribe

Fans in NCAA Football 2005 seen wearing American Indian regalia

By Phillip Wagner
Central Michigan Life

October 25, 2004

Electronic Arts Sports NCAA Football 2005 is widely known and popular among CMU students all across campus.

But recent information on the video game has CMU officials and members of the Saginaw Chippewa Indian Tribe wishing it weren't.

The game, which features Division I college football teams and home stadiums, depicts CMU fans in stereotypical American Indian regalia cheering the Chippewas.

NCAA Football 2005 is an officially licensed collegiate product by CMU and more than a hundred other universities, yet the contents of the game go against university policy, said CMU tribe liaison Rich Morrison, associate vice president of Public Relations and Marketing.

"There are three cut scenes where there is a student wearing a Native American headdress and face paint," Morrison said. "This violates our university guidelines."

According to a survey conducted three years ago by the NCAA Minority Opportunities and Interest Committee, CMU eliminated all stereotypical American Indian symbols in 1989. This was in response to the Michigan Civil Rights Commission's recommendation CMU drop the Chippewa nickname.

Officials kept the nickname under the conditions CMU offer educational programs on the tribe and eliminate stereotypical logos and symbols.

The EA Sports portrayal of fans is a violation of these conditions, Morrison said.

"I will talk to the General Counsel's office to see what legal action we have," Morrison said. "I hope we can come to some agreement with EA Sports."

Trudy Muller, EA Sports spokesman, said this footage will not be included in future iterations of the game.

"We're sorry if anyone perceived this as offensive," she said. "CMU and its partners will continue to have the same approval process as they have in years past, which has worked successfully with this one exception."

EA Sports has versions of NCAA Football 2005 in Nintendo GameCube, Microsoft X-Box and Sony Playstation 2.

CMU is a member of the Licensing Resource Group, which monitored the logos and images for the university in NCAA Football 2005.

Scenes of CMU games, stadiums, uniforms, and players where shown to CMU officials but the scenes of fans in Native American attire were added later, Morrison said.

"I guess they just figured 'Hey, their nickname is the Chippewa, so let's add a fan with a headdress,'" he said.

Muller admitted the scenes, cut to as a reaction to a play, were not something the university approved before the game hit stores.

Similarly, Joe Sowmick, public relations director for the Saginaw Chippewa Indian Tribe, said he plans to bring this issue to the tribal council's attention.

"We are very concerned," he said. "We are going to give this the serious attention it deserves."

Sowmick said the tribe feels representations like those in the video game insult the Chippewa nation.

"There is a reason our native people go to ceremonies like powwows. We get an opportunity to wear our regalia that comes with who we are and what we are," he said. "To think this would be a way to honor people, would be like going to New Orleans Saints game with a Pope's habit. There are far more positive ways to portray support for your teams."

Sowmick said the depictions do not honor the relationship the tribe has with the university.

"The students, faculty, administration are all respectful of this relationship," Sowmick said. "This is another example of people trying to portray something that is not there."

Sowmick said he is concerned the portrayal in NCAA Football 2005 could lead to students dressing this way at CMU athletic events.

West Bloomfield sophomore Jared Parko did just that at an Oct. 11, 2003 home football game against Northern Illinois University.

Parko dressed in head feathers and a self-made macaroni chest plate. University officials later said he did not violate CMU's student code of conduct.
Protest leads to change

Native American image eliminated in 2006 game

By David Harris
Life Sports Editor

July 27, 2005

Saginaw Chippewa Indian Tribe spokesman Joe Sowmick was disgusted with what he saw in the 2005 Electronic Arts Sports NCAA Football game.

A fan at a CMU home football game was shown in a Native American headdress and face paint.

The scene was immediately taken out and does not appear in the 2006 version of the game, which was released earlier this month.

"When you see those things out there, you have to step up to the plate and take action," Sowmick said. "I am glad to see that EA Sports complied."

Sowmick called the scene depicted in the 2005 game a "disservice to the tribe and CMU."

Steve Smith, director of broadcast media services, said the scene was against university policy.

"That was not something we approve of or endorse," he said.

Smith said EA Sports has worked closely with Mark Lagerwey, director of publications, to ensure no stereotypes appeared in the game.

Lagerway is in charge of CMU trademark and licensing.

EA Sports sent versions of both Sony Playstation 2 and Microsoft's X-Box to CMU.

"I wasn't worried because EA Sports was interested in doing things the right way this time," Lagerwey said.

A person from the sports information office played both versions of the game to review it.

They found no such stereotypes in either version, Lagerwey said.

"EA Sports was very forthcoming to make sure things were done correctly," he said.

EA Sports was not available for comment Tuesday.

NCAA committee sends recommendations

Native American mascots have been a hot button topic with the NCAA as well.

All NCAA institutions, including CMU, with Native American nicknames, logos or mascots were required by the NCAA to assess their use of the nickname and submit a report to the NCAA by May 1.

Those reports were reviewed at a June 20-22 conference of the NCAA Minority Opportunities and Interests Committee. That committee sent recommendations to the Executive Committee Subcommittee on Gender and Diversity Issues for review at its Aug. 3 meeting.

The recommendations were not released because they have not been finalized.

Smith did not know what those recommendations would be.

He will meet with Derek van der Merwe, associate athletic director of compliance, to discuss the possible recommendations tomorrow.

© 2005 Central Michigan LIFE
Related links
Team names and mascots

---
* More opinions *
| | | |
| --- | --- | --- |
| | . . . | |
---
Home | Contents | Photos | News | Reviews | Store | Forum | ICI | Educators | Fans | Contests | Help | FAQ | Info
All material © copyright its original owners, except where noted.
Original text and pictures © copyright 2007 by Robert Schmidt.
Copyrighted material is posted under the Fair Use provision of the Copyright Act,
which allows copying for nonprofit educational uses including criticism and commentary.
Comments sent to the publisher become the property of Blue Corn Comics
and may be used in other postings without permission.