Home | Contents | Photos | News | Reviews | Store | Forum | ICI | Educators | Fans | Contests | Help | FAQ | Info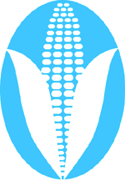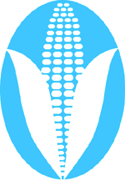 Stereotype of the Month Entry
(10/17/04)
---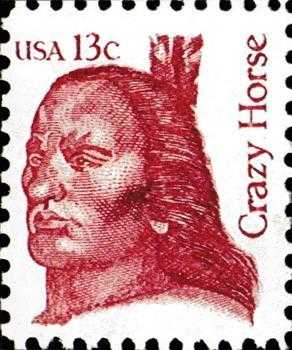 Another Stereotype of the Month entry:
From the Lincoln Journal Star:
NE—Crazy Horse descendants ask Paris strip club to stop using name

SIOUX FALLS, S.D.—Descendants of the storied American Indian warrior Crazy Horse want an upscale Paris strip club to stop using his name, saying it's disrespectful to him and his offspring.

The nightclub, Crazy Horse Paris, was established in 1951 and is well-known for adult entertainment similar to that featured at casinos in Las Vegas. It's located near the Champs-Elyses, the Seine River and the Pont de l'Alma bridge, where Lady Diana was killed.

Crazy Horse was an Oglala Sioux warrior known for fighting the U.S. military in the 1800s. One of his descendants and an executor of his estate, Harvey White Woman, has written club owners, asking that they change the name.

He said the request was prompted by an HBO cable television special that featured the club and its dancers wearing what looked to be feathered headdresses, a revered native symbol.

"I saw the name and I said, 'That's not right.' When you say the name Crazy Horse, you don't conjure up nightclubs. You conjure up the warrior," he said in a telephone interview from his home in Kyle on the Pine Ridge Indian Reservation.

White Woman said he decided to write the club before taking legal action, something Crazy Horse's descendants have done in the past.

In 1992, Hornell Brewing Co. of Brooklyn, N.Y., started bottling "The Original Crazy Horse Malt Liquor." The family sued and the case has largely been settled because the company agreed to stop using the name and pay family members $150,000, White Woman said.

Another case involves Liz Claiborne's Crazy Horse line of clothing.

White Woman said the family is less likely to succeed in stopping the use of that brand because it's not directly tied to native culture, as was the case with the beer—and apparently the nightclub.

Crazy Horse Paris is owned by the founder's three children, who did not want to comment, according to an e-mail from one of them, Sophie Bernardin.

But its Internet site offers a history of the club, its show style—dubbed "art of the nude dance"—and how the late Alain Bernardin came up with the idea for the show more than 50 years ago.

"Bernardin was fascinated by the America of the cowboy saloons and the myth of the Far West," the site states. "Bernardin wanted to do something different, based on the idea of an American style striptease."

White Woman said, "If it's being used as an attachment to the native culture, then that's when we can get them."

His letter was to be delivered to the club's owners this week by Alfred Red Cloud, a descendant of another revered Oglala Sioux leader, Chief Red Cloud.

Alfred Red Cloud, who also lives on the Pine Ridge reservation, traveled to France on behalf of author and photographer Serle Chapman, whose book about native culture, "We The People," is being released in a French edition.

As part of the release, Chapman was chosen as one of America's 50 most influential writers and invited to attend a major literary festival this week in Paris.

Chapman said he couldn't attend because of health reasons but sent Red Cloud in hopes of drawing attention to the issue of the nightclub name.

"Red Cloud and Crazy Horse are the two most significant names in Lakota history," he said in a telephone interview.

Crazy Horse "was totally committed to the traditional Lakota way. What they are doing is the antithesis of that, that if they had any understanding, you would hope they would see fit to change the name."

Red Cloud, who wrote a new introduction for the French edition of "We The People," said in a statement before he left South Dakota that he would "try and bring the Crazy Horse name home where it belongs."

In June 2001, as part of the club's 50th anniversary, it duplicated the club and its show at the MGM Grand in Las Vegas. The dancers are known as the Crazy Horse Dance Troupe but the show is called La Femme.

"Direct from the original Crazy Horse in Paris," MGM's Web site touts.

(AP Writer Jean-Michel Comte and Photographer Laurent Emmanuel contributed to this story)
*****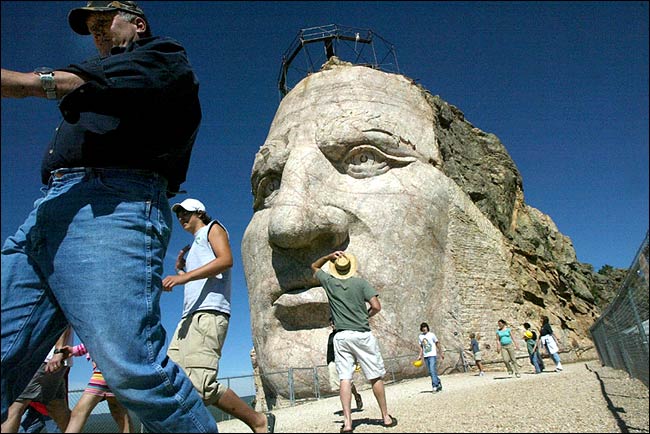 Sioux chief takes Paris club to task

SUSAN BELL IN PARIS

A NATIVE American chief is demanding that the Crazy Horse, a celebrated Paris cabaret famous for its glamorous nude showgirls, change its name because he says it is offensive to his Sioux ancestors.

Wearing a traditional feather headdress, Alfred Red Cloud, a chief of the Sioux Oglala tribe from South Dakota, travelled to Paris this weekend to deliver a letter from Harvey White Woman, a descendant of the heroic 19th century Sioux leader Chief Crazy Horse, to the owners of the cabaret on the exclusive Avenue George V, near the Champs Elysées.

"I have been sent on a mission by my elders, my people, my tribe to deliver this letter," Chief Red Cloud said before reading it aloud in front of the small crowd which had gathered before the cabaret on Saturday afternoon.

"My family was offended because it is a show which is irrespectful of our honourable chiefs," the letter began.

"When the name Crazy Horse is mentioned, it evokes the man who led our people during the 1800s and who courageously fought the American armies so that his people could live in the traditions and the culture which we continue to honour today."

The letter from Harvey White Woman, a descendant of Crazy Horse's uncle, Little Hawk, continued: "I saw on HBO (an American cable channel) a programme showing your night club where women could be seen apparently wearing feather headdresses.

"My family is offended each time there is a lack of respect towards our culture and towards our venerable leaders. I want the young people of my tribe to remember Crazy Horse as a warrior and a strong chief, not as a Paris night club."

After delivering the letter to manager, Jacques Asplanato, who promised to pass it on to the cabaret's owners, Chief Red Cloud accepted an invitation to tour the Crazy Horse. He examined with interest the numerous photographs of celebrities from around the world who have visited the night club but declined to stay for the show.

"Seeing women dancing naked with Indian headdresses is shocking, because for us Crazy Horse is the name of a great warrior who vanquished American soldiers at the Battle of Little Big Horn in 1876," he said.

He added: "For us women are sacred. They are the guardians of the generations to come, the mothers, grandmothers, aunts. We have a great respect for women. One cannot use this name in this way and use women in this way. Crazy Horse is a sacred name for our people, nobody uses it among us, even our people do not use this name. The elders want me to bring this name back home where it has its place."

Chief Red Cloud said he hoped to have a response from the cabaret's owners by today when he is scheduled to return to the US.

"I need this reply for my people," he said. "If I don't get an answer, I will be back and next time with more chiefs and perhaps we will take legal action," the Sioux chief said. "Ten years ago an American company wanted to call its beer Crazy Horse. We took legal action," he added.

The company, Hornell Brewing, which had started bottling "The Original Crazy Horse Malt Liquor" were forced to give up the name and ordered to pay $150,000 (£83,141) to the warrior's descendants.

"I am not trying to get the establishment closed down. It's just about getting the name changed. That's all we want," Chief Red Cloud said.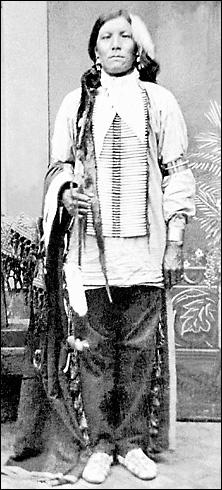 Rob's comment
I investigated the club's website, including its written history and the pictures of the feathered dancers. The history didn't offer any linkage to Indians except the owner's general fascination with the Old West. The dancers looked like the kind of plumed beauties you could see at any exotic show, with or without the Western connection. They didn't look like faux Indian maidens.
So the club doesn't seem to be claiming a connection to the real Crazy Horse. But the use of the name is still stereotypical for what it implies. As with the malt liquor and the fashion line, "Crazy Horse" is supposed to represent wildness, freedom, passion, excitement. The "Crazy" part is obvious and the "Horse" part subtly suggests sexual vigor.
The thinking is same kind that leads people to name cars, military vehicles, and sports teams after Indians. As I've said before, you'll probably never see "soft" products such as tissue paper named after Crazy Horse. Nor will you see cars, drinks, or nightclubs named after Sitting Bull, who's more famous than Crazy Horse or Red Cloud. A crazy horse is something wild and free, while a sitting bull is something stoic and unmovable.
This is not to say Crazy Horse wasn't an exciting leader or a passionate warrior. But he was also a thoughtful strategist and a contemplative spiritual man. His name refers not to his personal qualities but to a dream he had.
"Crazy Horse" is a popular product name because it exemplifies the image of Indians as irrational, unbridled animals. It would be hard to come up with a more frenzied name. ("Wild Wolf"? "Bipolar Bear"?) Even though the name is real, using it to indicate a "wild 'n' crazy" product is stereotypical.
Related links
Liz Claiborne ignores CRaZY HORSE clothing protest
Savage Indians

---
* More opinions *
| | | |
| --- | --- | --- |
| | . . . | |
---
Home | Contents | Photos | News | Reviews | Store | Forum | ICI | Educators | Fans | Contests | Help | FAQ | Info
All material © copyright its original owners, except where noted.
Original text and pictures © copyright 2007 by Robert Schmidt.
Copyrighted material is posted under the Fair Use provision of the Copyright Act,
which allows copying for nonprofit educational uses including criticism and commentary.
Comments sent to the publisher become the property of Blue Corn Comics
and may be used in other postings without permission.