Home | Contents | Photos | News | Reviews | Store | Forum | ICI | Educators | Fans | Contests | Help | FAQ | Info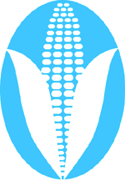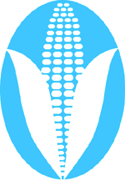 Stereotype of the Month Entry
(1/10/04)
---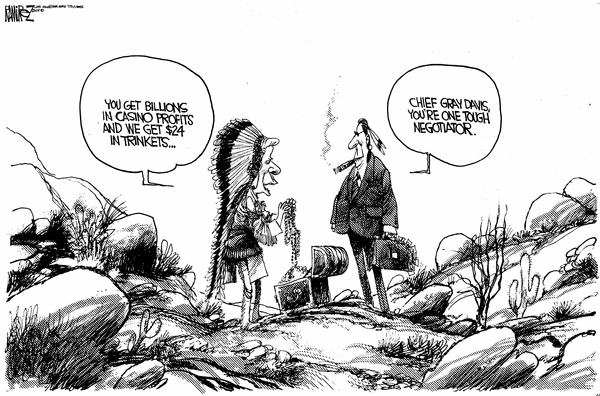 Another Stereotype of the Month entry:
Editorial: Gambling choice
More than money at stake in negotiations
Bee Editorial Staff
Published 2:15 a.m. PST Saturday, January 10, 2004

Gov. Arnold Schwarzenegger has chosen Daniel Kolkey to renegotiate the Indian gambling compacts. He could not have made a better choice.

The former state appellate court justice who served as the state's chief negotiator with the tribes during Gov. Pete Wilson's administration has the experience, the intelligence and the integrity this difficult assignment requires.

As good as Kolkey is, however, there is no denying that California's negotiating position vis-a-vis the tribes has deteriorated dramatically since he last sat at the table. The voters approved a constitutional amendment that gives Indians a wildly lucrative slot machine monopoly in this state. Sloppily drafted compacts negotiated by Gov. Gray Davis weakened the state's position even further. The existing tribe-friendly deals have 17 years to run and tribes, many of them swimming in slot machine profits, are under no compulsion to renegotiate. To make matters worse, just before he left office, Davis rescinded the state's request to renegotiate environmental language in the compacts he signed, giving up the one piece of leverage, weak as it was, that the state had.

While he was highly critical of tribes who supported his opponents during the recall, Schwarzenegger has not shown much appetite for battling with them since his election. He has clearly signaled that what he wants most from any compact renegotiations is a bigger share of the estimated $5 billion in gambling revenues tribes rake in every year. Kolkey has reiterated his boss's view that enhanced revenue is a key state goal.

Given the state's budget mess, the emphasis on money above all else puts California in full beggar mode. That is hardly a strong position from which to negotiate deals to better protect the environment or the interests of local governments and non-Indians affected by large Indian gambling casinos in their communities.

The citizens of California are fortunate to have Kolkey negotiating with gambling tribes on their behalf. But a negotiating strategy that seeks money over and above anything else won't protect the public or the state.
A Native replies

In the Jan. 10 editorial "Gambling choice," The Bee said that tribes have a "wildly lucrative slot machine monopoly" that has tribal governments "swimming in slot machine profits."

Gaming on Indian lands is a government enterprise that generates revenues to provide health care, education and other services to tribal members. The term "profits" does not apply to tribal gaming revenue any more than it applies California's lottery revenue.

We encourage the editors of The Bee to consult the Indian Gaming Regulatory Act of 1988 and tribal-state compacts agreed to more than three years ago for an understanding of the legal basis for gaming on Indian lands.

Not only are tribes not swimming in slot machine profits, but tribal gaming isn't even providing the tribal governments with a budget surplus. Revenue from gaming has not come close to providing most tribes with the services so desperately needed on Indian lands.

- Jacob L. Coin, Sacramento; Executive Director, California Nations Indian Gaming Assn.
Related links
Greedy Indians
The facts about Indian gaming

---
* More opinions *
| | | |
| --- | --- | --- |
| | . . . | |
---
Home | Contents | Photos | News | Reviews | Store | Forum | ICI | Educators | Fans | Contests | Help | FAQ | Info
All material © copyright its original owners, except where noted.
Original text and pictures © copyright 2007 by Robert Schmidt.
Copyrighted material is posted under the Fair Use provision of the Copyright Act,
which allows copying for nonprofit educational uses including criticism and commentary.
Comments sent to the publisher become the property of Blue Corn Comics
and may be used in other postings without permission.