Home | Contents | Photos | News | Reviews | Store | Forum | ICI | Educators | Fans | Contests | Help | FAQ | Info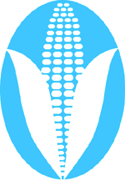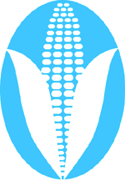 Stereotype of the Month Entry
(10/19/03)
---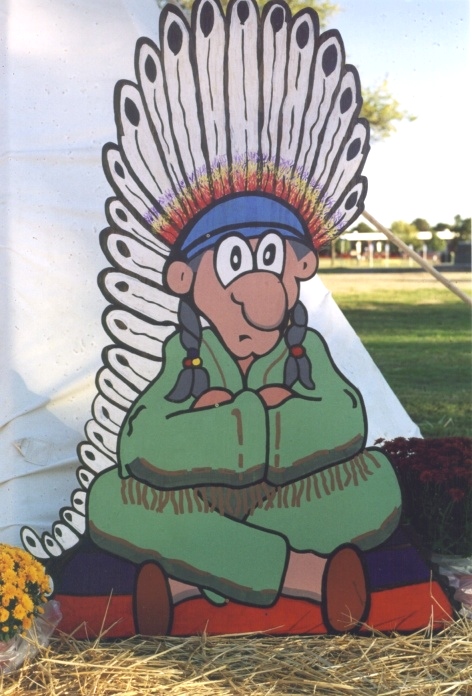 Another Stereotype of the Month entry:
Hutchinson church removes cartoon Indian

Activists say cutout promotes stereotypes

By Matt Moline
Special to The Capital-Journal

HUTCHINSON — The pastor of Hutchinson's Northminster Presbyterian Church on Friday removed a cartoon-style Indian caricature from a church-sponsored pumpkin patch display, ending a controversy brought to light by Kansas Indian-rights advocates.

The Rev. Skip Johnson said he took down the 5-foot-tall cutout in response to criticism that the display represented an unflattering and derogatory racial stereotype.

The congregation's fourth annual pumpkin sale opened last weekend and will continue until the end of the month, occupying rented space at the Kansas State Fairgrounds on Hutchinson's Main Street.

"My hope, my goal, is to convey something or put something up that conveys something more historically accurate and sensitive," Johnson said. "There is a lot of good American Indian art out there, historically accurate and done by people of the culture."

Johnson says he dismantled the plywood image — a bug-eyed, big-nosed chief sitting cross-legged in front of a teepee — after receiving a telephone request at about noon Friday from Gail DuPuis, executive director of the Kansas Native Affairs Office.

Last Monday, Joni Tucker-Nisbeth, the coordinator of the Kansas chapter of the American Indian Movement, spotted the display while driving her 7-year-old son to a dental appointment.

"Our family is multicultural with Cherokee and European roots," Tucker-Nisbeth wrote to the church. "As a family we embrace our American Indian traditions and find it quite offensive when any native people or cultures are used for mockery and fun or entertainment purposes."

Also on Friday, Johnson received a telephone call recommending the removal of the cutout. The call came from Janice Hamby, vice president of Pumpkin Patch Fund-raisers Inc., the North Carolina-based business that will supply pumpkins to nearly 700 not-for-profit groups this season.

Also, a portion of PPFI's revenues are earmarked for use by the Arizona-based Navajo Indian nation, whose members grow some of the 5 million pumpkins that will be sold at fall fund-raising activities by hundreds of church groups nationwide.

"I explained to him that it was his decision, but I told him that even though he did not realize that it was offensive, many Native Americans would," Hamby said. "And by taking that into consideration, he tried to make the Native American connection with the patch, and it dawned on him to remove the caricature."

Johnson said he plans to meet with DuPuis and Tucker-Nisbeth on Tuesday morning to consider alternative Indian-related displays or cultural programs that might be developed before the end of this season's pumpkin patch sale.

© Copyright 2003 CJOnline / The Topeka Capital-Journal / Morris Communications
Joni's view
The inside scoop from Joni Tucker-Nisbeth:
Thanks for this, Rob.

I did not know the offense by this minister and his church was an award winner to Blue Corn Comics. :)

Quite frankly this guy was really a jerk.

After several days dismising my requests and 'entreching' on his part including excuses..."oh, but the kids worked so hard on it..."it was a youth group project" (yikes!) and "it is cute...not offensive."

I called KS Native American Affairs Office and the owner of Pumpkin Patch Inc. A national fundraising effort where chrurches buy their pumpkins from Navajo Nation youth. He still resisted but we pressured him...and he removed it.

thanks

Joni
Related links
The big chief

---
* More opinions *
| | | |
| --- | --- | --- |
| | . . . | |
---
Home | Contents | Photos | News | Reviews | Store | Forum | ICI | Educators | Fans | Contests | Help | FAQ | Info
All material © copyright its original owners, except where noted.
Original text and pictures © copyright 2007 by Robert Schmidt.
Copyrighted material is posted under the Fair Use provision of the Copyright Act,
which allows copying for nonprofit educational uses including criticism and commentary.
Comments sent to the publisher become the property of Blue Corn Comics
and may be used in other postings without permission.