Home | Contents | Photos | News | Reviews | Store | Forum | ICI | Educators | Fans | Contests | Help | FAQ | Info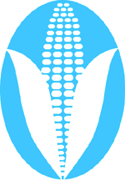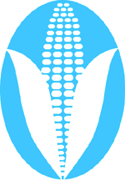 Stereotype of the Month Entry
(9/2/03)
---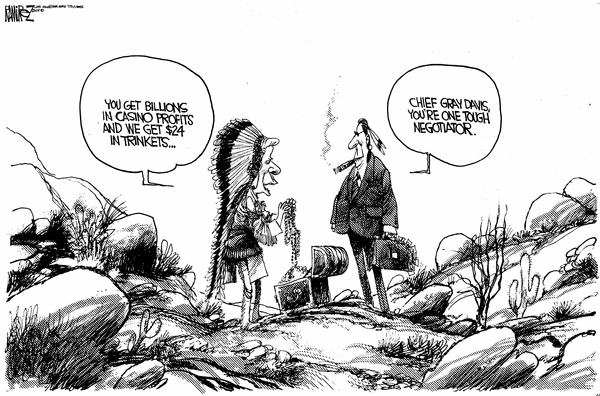 Another Stereotype of the Month entry:
Gubernatorial candidates dance to the tune of the gaming tribes

Published: September 2, 2003, 06:00:25 AM PDT

It didn't take long for the gubernatorial hopefuls to make their pilgrimage to Indian Country, hats in hand and money bags open.

Wealthy gambling tribes have become the biggest campaign contributors to political campaigns in the state. As such, they command attention, respect and fear from those seeking office.

No one knows that better than the candidates who attended the California Nations Indian Gaming Association meeting in Sacramento on Friday. The trade association has been aggressive in defending the sovereign rights of tribes vis-a-vis local government.

According to reports from those at CNIGA's closed-door meetings, Republican Sen. Tom McClintock and Democratic Lt. Gov. Cruz Bustamante drew standing ovations when they made it clear that they favor speeding new gambling compacts and increasing the number of slot machines that tribes can have. Gov. Davis, who negotiated the original tribe-friendly agreements, got a lukewarm reception. He has been under fire for daring to ask tribes to share more of their gambling revenues, estimated to be $5 billion annually, to help the state weather its current budget crisis.

A chastened Davis indicated he's prepared to do tribal bidding in the future, even promising the tribes a role in picking members of the state gambling regulatory commission. The commission is a toothless regulator whose authority has already been undermined by a Legislature awash in tribal campaign contributions. The governor now appears prepared to turn the commission into a virtual lapdog for Indian gambling interests.

Alone among leading candidates, Arnold Schwarzenegger refused to appear at the gathering and says he won't take tribal money. He says it's wrong to take money from groups with which, as governor, he would have to negotiate deals.

Schwarzenegger angered some Indian leaders when he referred to tribes as "special interests." But he's right about that. Tribes alone operate casinos in California. They have a strong special interest in expanding and protecting their lucrative monopoly. As sovereign nations, free to ignore local and state laws — even, some tribes contend, the law that requires them to report campaign contributions to candidates for governor — they are a particularly powerful special interest. The spectacle of politicians grovelling for their money shows just how powerful and potentially corrupting that interest can be.
Rob's comment
The language is this editorial is blatantly inflammatory:
"...tribe-friendly agreements..."
"...daring to ask tribes to share more of their gambling revenues..."
Comment: That is daring since the tribes, as sovereign governments, are under no obligation to bail out other sovereign governments. Moreover, as many have noted, California didn't offer a dime when the tribes needed money. Why should they now help rectify problems they didn't create?
"The commission is a toothless regulator..."
Comment: Arguable. Even if it were true, Indian casinos are regulated at the tribal and federal levels also.
"...a virtual lapdog for Indian gambling interests..."
"Tribes alone operate casinos in California."
Comment: False. There are non-Indian casinos in California.
"...their lucrative monopoly."
"...politicians grovelling for their money..."
Comment: A "monopoly" granted by the voters, that is. And politicians always take money from their constituents. It's how politics works.
Related links
Too-powerful Indians
The facts about Indian gaming

---
* More opinions *
| | | |
| --- | --- | --- |
| | . . . | |
---
Home | Contents | Photos | News | Reviews | Store | Forum | ICI | Educators | Fans | Contests | Help | FAQ | Info
All material © copyright its original owners, except where noted.
Original text and pictures © copyright 2007 by Robert Schmidt.
Copyrighted material is posted under the Fair Use provision of the Copyright Act,
which allows copying for nonprofit educational uses including criticism and commentary.
Comments sent to the publisher become the property of Blue Corn Comics
and may be used in other postings without permission.