Home | Contents | Photos | News | Reviews | Store | Forum | ICI | Educators | Fans | Contests | Help | FAQ | Info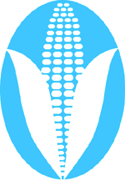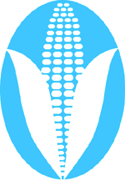 Stereotype of the Month Entry
(3/26/01)
---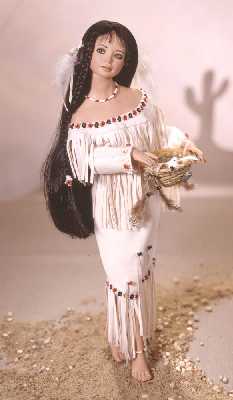 Another Stereotype of the Month entry:
Please look at the items pasted below. I know very well that there are much larger issues, but these are examples of the stereotypes that Native people (esp. women) have to face every day. There are many more of these "Native American Beauties" on this web site. Found an ad in the April 2 2001 issue of "First" magazine and was irritated, then went to the web site and, well, you see.

cheryl
*****
A typical doll from the collection:
Swirling Waters

Welcome to the Old Southwest...and the marriage of an exotic Indian princess. Created for Paradise Galleries by Tom Francirek, celebrated sculptor of elegant ladies, Swirling Waters™ is an authentic Native American bride from her head to her lovely bare feet. She carries a traditional basket of good-luck amulets presented by the women of her tribe. And she cherishes a gentle white dove that symbolizes a peaceful life with her husband.

Crafted from only the finest bisque porcelain, Swirling Waters' complexion appears kissed by the warm sun of her native desert. Long raven hair falls past her waist. Her amber eyes glow with true love, fluttering demurely under silky lashes.
Rob's comment
This doll is about as authentic as a kachina doll made in Taiwan. Let's list some of its flaws and stereotypes:
Southwest Indians generally don't have names of the "Sitting Bull"/"Swirling Waters" type.
"Swirling Waters" is an unlikely name for someone who lives in the arid Southwest.
"Swirling Waters" is the kind of soft, sentimental name Anglos give to Indians but Indians don't give to themselves.
The Southwest tribes generally didn't have chiefs, princesses, or royalty of any kind. The leaders tended to be the male religious priests.
The doll's facial features and body type are much more Caucasian than Indian.
The hair, complexion, lashes and so forth all objectify this female figure as having no mind, personality, or spirit. No individuality, in other words.
The off-the-shoulder dress makes the doll look sexy, not authentic. See the Pocahontas movies for another example of this.
I've never heard of any dove-in-a-basket tradition. See above about soft and sentimental images.
"Good-luck amulets"?! You know those superstitious Indians are always relying on lucky charms and amulets!
More comments on Swirling Waters
A response by e-mail:
I could not agree more on your article on Swirling Waters by Tom Francirek. He has 3 or 4 other "Indian" dolls. Also, why are they all barefoot? I love his caucasian dolls, but these fake "indian" dolls just bug me no end. In a 52 year lifetime of living in the heart of Oklahoma and having seen a large sampling of all the tribes in this area, never have I seen such a non indian in my life. Francirek did work in Paris, France. I wonder which white man conned him into making this series. They are not really his style. You might lodge a complaint with Paradise Galleries.
So he's an Indian? I didn't know that.
I don't think he is an indian. I know he is Canadian, did work in Paris at the wax museum. What I meant was that since he might not know the truth, some money hungry whiteman may have found a "foreigner" who didn't know what the facts were, so he did it. Most USA artists would know better. Go to paradisegalleries.com and see a short blurb on him. He has three more indian ladies that will rub you the wrong way also. Some of the other "indian" dolls there are icky also. It just must be raining fools these days.
Thanks for the information.
Rob
---
* More opinions *
| | | |
| --- | --- | --- |
| | . . . | |
---
Home | Contents | Photos | News | Reviews | Store | Forum | ICI | Educators | Fans | Contests | Help | FAQ | Info
All material © copyright its original owners, except where noted.
Original text and pictures © copyright 2007 by Robert Schmidt.
Copyrighted material is posted under the Fair Use provision of the Copyright Act,
which allows copying for nonprofit educational uses including criticism and commentary.
Comments sent to the publisher become the property of Blue Corn Comics
and may be used in other postings without permission.