Home | Contents | Photos | News | Reviews | Store | Forum | ICI | Educators | Fans | Contests | Help | FAQ | Info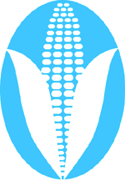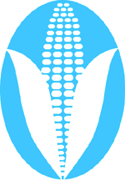 The Comics Fan: Indian Cast Helps Lend
New Comic-Book Series a Multicultural Perspective
Bill Radford, Colorado Springs Gazette, 7/14/99
---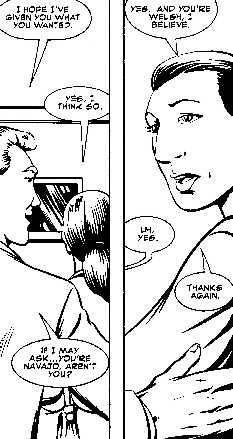 You can learn a lot, Rob Schmidt believes, by looking through someone else's eyes.
Which is why, he says, a multicultural perspective is so important in this oftentimes confusing and violent world. And why he adopted such a perspective in crafting his own comic-book series, "Peace Party," with a cast headed by American Indians.
Schmidt, 41, of Culver City, Calif., stays busy as a free-lance business and computer writer when he's not writing and publishing his own comic-book series. A lifelong comics fan, he remembers having a Hopi/Zuni coloring book and drawing a couple of pseudo-Indian super-costumes when he was a kid. Still, "Like most people, I didn't know or think much about Native Americans. I imagined they were all pretty similar with a vague belief in a 'Great Spirit,' slowly vanishing out there in the desert somewhere."
As he grew up, Schmidt became more interested in real-world political, social and economic issues—"infused with what I'd call a dawning multicultural perspective." So when he began toying with the idea of creating his own comic book, he seized on the idea of making his heroes American Indians. "They'd embody a Native American perspective, or more broadly, a multicultural perspective. That would set my comic apart from most comics, where the predominant themes were 'might makes right,' 'win at all costs' and 'all hail the conquering hero.'"
Determined to depict Indians as they are today, Schmidt immersed himself in research. He has assembled a home library of books and videos on Indians. He regularly reads the Indian Country Today and Hopi newspapers. And through personal contacts and queries on the Internet, he assembled a group of experts to review each script "for accuracy and sensitivity to Native concerns."
Among the members of the "official advisory board" that scrutinized the first issue is the president of American Indians in Film, an Indian performance artist and poet, and an assistant professor of sociology, political science and Native American studies at Montana State University. "I know I have a slight credibility problem not being a Native American myself," Schmidt says. The board "is good for both the credibility of myself and the work."
Schmidt also got a boost from the Puffin Foundation. The group, dedicated to promoting social change through the arts, gave him a $1,000 grant to help with the costs of producing "Peace Party."
If all this sounds like "Peace Party" is a dry treatise on Indian affairs, fear not: The first issue tells a witty, action-packed tale. And ultimately it's a superhero comic—though, as Schmidt notes, a nontraditional one.
The two heroes are Billy Honanie and Drew Quyatt. Billy's a lawyer; Drew's an artist. Billy's a city brat; Drew was raised on the reservation. Mystic powers are bestowed upon the two friends after an encounter with an ancient god, who warns of an upcoming crisis tied to an Indian legend. The two begin to uncover their powers after they end up in the wrong place at the wrong time and find themselves on the run from some sinister folks.
A rich dose of humor helps spice up the first issue. "One of the main myths about Indians is that they're very stoic and uninteresting basically," Schmidt says. "Most people don't realize that they have this whole oral tradition and a great sense of humor as part of their culture."
The first issue also contains several text pieces, including an article on multiculturalism, a mock page from the story's "Justice for All" magazine, letters, "and the proverbial much more. I'm trying to give readers a rich, rewarding experience, one they can't get in a comic that's over in 10 minutes."
Schmidt has "definite ideas" for the first 12 issues and has outlined another 12 issues or so after that. Look for his two heroes to learn more about their powers as they ponder their future and decide whether they really want to be superheroes. "Billy's very resistant to the idea," Schmidt says. "Drew's more gung-ho." The two also become embroiled in a mining controversy that begins to brew in the first issue.
Schmidt plans to donate 10 percent of the profits (if there are any, never a guarantee when it comes to self-published projects) to Indian organizations such as the American Indian College Fund. "I feel some sense of exploiting a people I don't belong to," he explains. "I felt it would be right to give something back to the community."
Issue No. 1 of "Peace Party," a black-and-white book with a color cover, is scheduled to go on sale this week at a cover price of $2.95. It can be ordered through comic-book shops or through the "Peace Party" Web site at http://www.bluecorncomics.com.
This column appears every Sunday. Contact The Comics Fan via e-mail at comics@gazette.com or by fax at 636-0202, or write Bill Radford at P.O. Box 1779, Colorado Springs 80901, or call 636-0279.
Copyright © 1998-1999, The Gazette
---
* More opinions *
| | | |
| --- | --- | --- |
| | . . . | |
---
Home | Contents | Photos | News | Reviews | Store | Forum | ICI | Educators | Fans | Contests | Help | FAQ | Info
All material © copyright its original owners, except where noted.
Original text and pictures © copyright 2007 by Robert Schmidt.
Copyrighted material is posted under the Fair Use provision of the Copyright Act,
which allows copying for nonprofit educational uses including criticism and commentary.
Comments sent to the publisher become the property of Blue Corn Comics
and may be used in other postings without permission.