Home | Contents | Photos | News | Reviews | Store | Forum | ICI | Educators | Fans | Contests | Help | FAQ | Info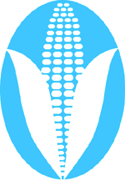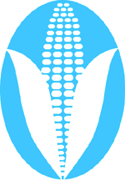 Dances with Teen Angst
Play Says We're All Disco Square Dancers
(2/26/08)
---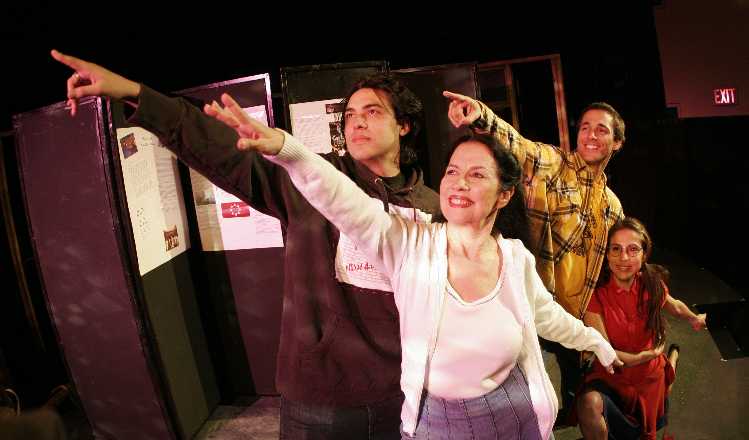 Dances with Teen Angst
Play Says We're All Disco Square Dancers
By Rob Schmidt
Three Lakota youths have only a few days to complete their school assignments. Kenny, the potential dropout, must demonstrate how to disco. Martin, the good boy from a bad background, must teach people to square-dance. Amanda, the brown-skinned girl with white parents, must interview some elders.
Best friends Kenny (Noah Watts) and Martin (Robert Vestal) decide to aid newcomer Amanda (Tonantzín Carmelo) and combine their presentations. If you wonder how these presentations could possibly fit together, well, so do they. Whether the threesome will help, hinder, or hurt each other remains to be seen.
Thus begins Teaching Disco Square Dancing To Our Elders: A Class Presentation. Set on or near a South Dakota reservation, this tender coming-of-age tale has a universal theme. Though playwright Larissa FastHorse (Sicangu Lakota) wrote it for teenagers, it offers smiles and laughs for everyone.
Each youngster faces a challenge. Kenny is threatening to join the delinquents who hang out and smoke all day. Martin's crazy-drunk parents have driven him from his home. Amanda is scared of meeting her birth mother for the first time.
Topnotch cast
The cast is uniformly good, but Carmelo stands out as the awkward, shy Amanda. With her big glasses, pink backpack, and limbs akimbo, she's convincing. It's hard to believe this gawky girl was the fierce Thunder Heart Woman in the Into the West mini-series and the cool, urbane prosecutor in the supernatural thriller Imprint.
Amanda is closest to the playwright's heart and it shows. FastHorse has talked openly about being adopted by a white couple. She knew her Lakota relatives, who lived nearby, so she didn't struggle as much as Amanda does. But she asked herself the same sort of "Who am I?" questions.
Perhaps the best thing about Teaching Disco is how it shatters Native stereotypes. Kenny, Martin, and Amanda are just like kids everywhere. They have the same little crushes, spats, and secrets that seem all-important at the time. Their parents are MIA, they feel like outsiders, and they can't deal with school. If they didn't mention their Lakota background, you probably wouldn't know they were Indians.
The only adult around to supervise things is Kenny's Grandmother Two Hawks (Lavonne Rae Andrews). Andrews shines as a 60-ish woman who doesn't think of herself as a grandma or elder. She's too busy running off to social events to sit in a rocking chair spouting wisdom. But she's there for the children when they need her.
In her sweats or overalls, Grandmother sometimes acts like a big kid too. When she busts out with some disco moves of her own, it's a real hoot. As she reminds us, she grew up in the 1970s, not the 1870s. She lived through Beatlemania and Watergate, not buffalo hunts and Wounded Knee.
A message for kids
Teaching Disco is only the second play FastHorse has written. You wouldn't know that from watching it. It seems about as polished as any veteran's work.
Only a few things mar the otherwise fine production.
The youngsters, especially the boys, seem too sophisticated to be middle schoolers. Even though they goof around and wrestle occasionally, their dialogue is too sharp and knowing. Only Amanda is truly believable as an insecure13-year-old.
The play gets sidetracked whenever FastHorse interjects a social statement. The bits on the white man's land grab, NAGPRA (the Native American Graves Protection and Repatriation Act), and the facetious "Indian Academy" feel forced. There must be a better way to address issues than with these didactic diversions.
Perhaps because of budget or time constraints, Teaching Disco tells rather than shows us the characters' defining moments. Since the conflicts happen off-stage, they don't seem that severe. It's as if the kids are experiencing a bad case of acne or infatuation, not a dramatic turning point in their lives.
But it all comes together in the end. FastHorse finds a way to synthesize the three presentations into a meaningful whole (hence the play's title). The message is that whether we dance to a Lakota tune, a country tune, or our own tune, we're all the same. We're all part of the family, friends, and community that surround us.
*****
Native Voices at the Autry presents
Teaching Disco Square Dancing to Our Elders: A Class Presentation
by Larissa FastHorse (Sicangu Nation)
Directed by José Cruz González
February 8–March 2, 2008
Fridays & Saturdays: 8 pm, Saturdays & Sundays: 2 pm
Student matinees: Tuesdays, Wednesdays, and Fridays: 11:30 am
Autry National Center's Wells Fargo Theater 4700 Western Heritage Way Los Angeles, CA 90027-1462
Related links
Native plays and other stage shows

---
* More opinions *
| | | |
| --- | --- | --- |
| | . . . | |
---
Home | Contents | Photos | News | Reviews | Store | Forum | ICI | Educators | Fans | Contests | Help | FAQ | Info
All material © copyright its original owners, except where noted.
Original text and pictures © copyright 2008 by Robert Schmidt.
Copyrighted material is posted under the Fair Use provision of the Copyright Act,
which allows copying for nonprofit educational uses including criticism and commentary.
Comments sent to the publisher become the property of Blue Corn Comics
and may be used in other postings without permission.